The antimicrobial chemical triclosan is in thousands of products that we use daily: hand soaps, toothpastes, body wash, kitchenware and even some toys. Work in our lab suggests that this compound may have widespread health risks, including aggravating inflammation in the gut and promoting the development colon cancer by altering the gut microbiota, the community of microbes found in our intestines.
Our results, as far as we know, are the first to demonstrate that triclosan can promote the colonic inflammation and associated colon cancer in mice. This study suggests that health authorities must reassess regulation of triclosan for its effect on human health. That's key because it is impossible to avoid contact with this chemical.
Triclosan is one of the most widely used antimicrobials and is incorporated in more than 2,000 consumer products. Millions of pounds of the chemical are used in the U.S. each year. The National Health and Nutrition Examination Survey showed that triclosan was detected in about 75 percent of the urine samples of individuals tested in the United States and that it is among the top 10 pollutants found in U.S. rivers.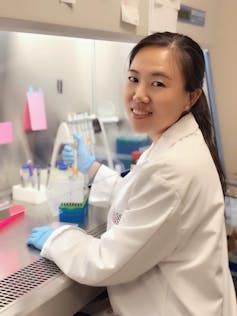 Our lab at the University of Massachusetts Amherst collaborated with scientists from 13 universities to explore the effects of triclosan on inflammation in the colon. We first tested triclosan in normal, healthy mice and found that the chemical caused low-grade inflammation. In our next round of experiments we induced gut inflammation in mice using chemicals and then fed them food containing a low dose of triclosan for three weeks. We also did the same thing with mice that were genetically engineered to spontaneously develop inflammatory bowel disease, which affects some 3 million Americans, and with mice in which we chemically induced colon cancer.
After feeding the mice triclosan at concentrations reported in human blood plasma, the colon inflammation in the mice worsened. The chemical also accelerated the development of colitis – inflammation that leads to rectal bleeding, diarrhea, abdominal pain, abdominal spasms in humans – and the growth of tumors. In one group of mice, it reduced lifespan.
We also wanted to figure how exactly triclosan was causing harm. Because it is a bacteria-killing compound, we thought that it might be disrupting the community of microbes in our guts, which is vital for maintaining good health. The mice that suffered inflammation from triclosan exposure had a lower species diversity of microbes in the gut and lower populations of the so-called "good" bacteria, Bifidobacterium.
Our team and researchers from the University of Wisconsin-Madison used germ-free mice – which have absolutely no bacteria in their gut – and found that feeding triclosan to these animals had no effect. This finding suggests that the harmful effects of triclosan are due to changes in the microbiome. In addition, we found a protein called the Toll-like receptor 4, an important mediator of communication between the microbes and the host's immune system, is critical for the harmful effect of triclosan. Mice that lacked this protein seemed immune to the biological effects of triclosan.
Little is known about the impact of this chemical on human health or other species. Our study indicates there is an urgent need to further evaluate the impact of triclosan exposure and update the potential regulatory polices.