Throughout the US presidential election campaign, many Republicans assured the electorate that once inaugurated, Donald Trump would "pivot" and begin to act like a more conventional candidate. This never happened. Some find that refreshing, others alarming. But the new world of a classically unpresidential president is most dangerous when it comes to Trump's shoot-from-the hip Twitter diplomacy.
Diplomacy is the art of foreign policy signalling, a delicate craft of nuance, protocol, subtlety. Trump is the antithesis of those attributes. In salvos of 140 characters or less, he has already come close to upending decades of American foreign policy, torpedoing compromises carefully carved out through years of negotiation with a single click. From Taiwan to North Korea, he has recklessly trampled into some of the world's diciest diplomatic minefields, Tweeting first and thinking about the consequences later.
This is obviously deeply disturbing on a moment-by-moment basis, but the longer-term damage that Trump is inflicting on American diplomatic power is far subtler and far more worrying.
Whichever way you look at it, the destabilising effect of his cavalier tweeting is profound. If foreign leaders take his tweets seriously, with all the obvious risks that entails, conflicts could suddenly escalate whenever Trump wakes up on the wrong side of the bed and turns to his phone to vent. If foreign leaders learn to ignore the mercurial volatility of his day-to-day tweets, then that may be a boon for short-term global stability – but in the long run, that approach will ensure that the US is no longer able to send clear and credible diplomatic signals.
Diplomatic signals can prevent wars or start them, and mixed signals are particularly risky. In the early 1990s, on the same day that the State Department stressed the US's strong commitment to "supporting the individual and collective self-defence of our friends in the Gulf," another State Department spokesperson stated that "we do not have any defence treaties with Kuwait, and there are no special defence or security commitments to Kuwait". Saddam Hussein believed the latter and invaded Kuwait, sparking the First Gulf War.
The lesson is that diplomatic signalling is already fraught with risk even when communicated through the most careful channels – and Twitter is just about the least careful channel imaginable.
The high road
There are already signs that foreign powers plan to ignore Trump's 140 character rants and instead focus on concrete policy changes. During a recent press briefing, Chinese Foreign Ministry spokesman Geng Shuang made a thinly veiled reference to Trump's tweets: "We don't pay attention to the features of foreign leaders' behaviour. We focus more on their policies." Xinhua, China's state-run news agency added that "an obsession with 'Twitter foreign policy' is undesirable".
These sentiments might sound reassuring, but they don't mean the risk isn't there. So long as foreign powers are unable to distinguish Twitter bluster from official US government policy, the world will over time become a more dangerous place.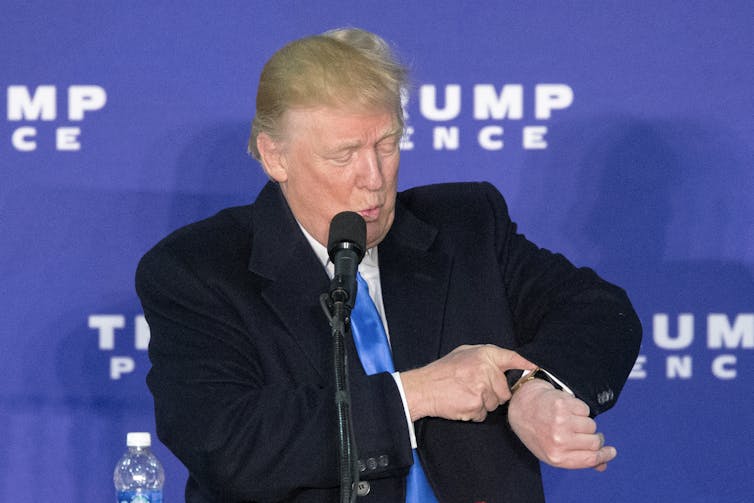 The line between a boastful tweets and an official warning about trade policy or military manoeuvres is one that should never be blurred. Diplomatic protocols exist for a reason: they are the fruit of years of effort to find common ground among countries with varied interests, some of which converge and many which do not. These protocols have for centuries functioned as a guiding compass for diplomatic agents worldwide, dictating how they should act, around whom, and in what setting. They also help mitigate the gravest risks of cultural misinterpretation and linguistic misrepresentation.
When these lines are crossed, the consequences are immediate. George W. Bush famously failed to take off his gloves to shake hands with Slovakia's president in 2005; the incident overshadowed the entire state visit and noticeably chilled the two countries' relations.
The same sensitivities are there with communication through text. It may sound pedantic, but colloquialisms, idioms, and even spelling mistakes can and do spark real and serious conflicts, and these risks are in fact magnified when they occur in a few dozen publicly disseminated words rather than a carefully thought-through diplomatic communiqué.
It's even more terrifying to consider what might happen if Trump's account were hacked. At the end of 2016, the Pakistani defence minister, Khawaja Muhammad Asif, issued a provocative warning to Israel after he saw a fake news story on social media that appeared to contain a nuclear threat from Israel's government. Imagine if a similar threat came directly from Trump's account.
Yet, in spite of these obvious risks, Trump shows a monumental contempt for the convention and protocol on which diplomacy depends. His failure to grasp those rules and norms will have profound consequences for international relations. The more he flouts the basic norms of diplomatic signalling, the more unsafe the world will become.