November 18 2023 marks the 20 year anniversary of the repeal of section 28 in England and Wales. This law silenced any discussion of lesbian and gay matters in schools, and was law for 15 years between 1988 and 2003. It stated that local authorities: "shall not … promote the teaching in any maintained school of the acceptability of homosexuality as a pretended family relationship".
I was a teacher for every year of section 28. And I and other LGBTQ+ teachers feared we would lose our jobs if we were outed in our school workplaces.
The scene was set for section 28 at the Conservative Party conference in 1987, an election year. Margaret Thatcher accused "hard left education authorities and extremist teachers" of taking opportunity away from children. She said: "Children who need to be taught to respect traditional moral values are being taught that they have an inalienable right to be gay."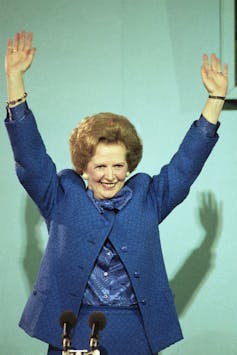 Thatcher's speech came at a moment of moral panic. In 1986 in the House of Lords, gay people were referred to as exhibitionists, "vicious", "aggressive" and "reservoirs of venereal diseases".
Labour authorities funding gay and lesbian groups were mocked and described by the Conservatives as the "loony left".
To erode trust in the Labour party, Thatcher's government accused left-wing local authorities of pushing a lesbian and gay agenda in schools.
A copy of a book about a girl with two dads, Jenny lives with Eric and Martin, was bought for a teachers' centre library in the Inner London Education Authority. National newspapers inaccurately reported that the book was being made available in school libraries – and Kenneth Baker, secretary of state for education, claimed the book was being used as "homosexual propaganda" by Labour local authorities.
Section 28 of the Local Government Act became law in 1988. It had a profound impact on my life. At school, I hid the fact that I lived with my girlfriend. I also pretended not to be interested in promotion to school leadership, because to be a headteacher came with a level of visibility in the school community that was frankly terrifying for me as a lesbian teacher.
Impact on students
I am filled with regret for a life half lived as a teacher, but the regret is not for me: it is for all the LGBTQ+ young people in my schools that I let down.
I knew that young queer people in the secondary schools in which I taught were being harassed in the corridors for being gay, but because of section 28, I ignored the homophobic language. If I thought a young person was about to come out to me, I acted as though I was too busy to talk to them.
In the dedication of my book Pretended: Schools and Section 28, I state:
This book is also for all the LGBTQ+ students in my schools between 1988 and 2003. I am sorry that I let you down. I hope this book will help you to understand why I was not there for you when you needed me most.
My research with other lesbian and gay teachers who experienced section 28 shows that it left a damaging legacy for many of those who taught under this law. I found that only 20% of section 28-era teachers are out to their colleagues at school. On the other hand, 88% of teachers who started after section 28 was repealed in 2003 are out to their fellow teachers in their schools.
Looking back, section 28 was a result of a fight between the right and left of British politics. Now, as the left and right battle to win the next general election, schools, teachers and LGBTQ+ identities are again under the spotlight.
We still await promised government guidance for teachers on gender identity in schools. Once again, they are not being trusted to talk to young people about gender and sexuality.
It is with a heavy heart that I await the political debates that will start as soon as the general election date is set. Spare a thought for those of us listening who are LGBTQ+. We are real people and who we are and who we love should not be used for political point-scoring. Let us at least learn that lesson from section 28.