Shaun Gladwell and Ben Quilty – two of Australia's leading artists – display very different approaches to war at parallel exhibitions opening at Perth's John Curtin Gallery on Saturday.
Gladwell is Australia's foremost video installation artist, whose Approach to Mundi Mundi featured at the entrance to the Australia exhibition at the Royal Academy of Art in London last year.
Quilty is one of Australia's best-known contemporary painters, winning the 2011 Archibald Prize for his portrait of Australian artist Margaret Olley. He also won the prestigious Prudential Eye award earlier this year and his major solo exhibition at the Saatchi Gallery in London closes on Sunday.
Both Gladwell and Quilty were sent to Afghanistan as Australian Official War Artists (Gladwell in 2009 and Quilty in 2011) to spend time with Australian troops. They were then commissioned by the Australian War Memorial to create a body of works based on their experiences. Their two exhibitions are the result of those commissions.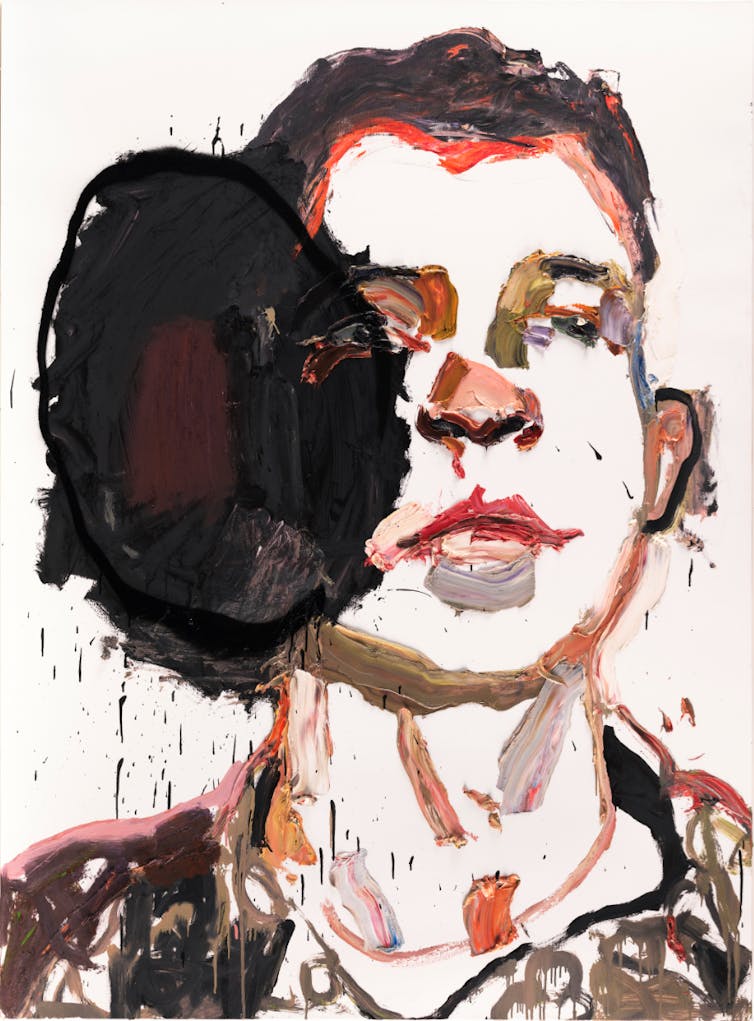 The two artists are similar ages (Gladwell born 1972, Quilty born 1973), both from Sydney, and were even classmates at Sydney College of the Arts in the early 1990s. But their war art exhibitions could not be more different.
Australian audiences may be familiar with Quilty's paintings of returned Australian service men and women, which featured in two Australian Story episodes on ABC 1 in 2012 and 2013. Quilty's paintings – thickly-applied and richly expressive portraits – attempt to capture the vulnerability and fractured lives of returned Australian soldiers.
When I interviewed him last year (see video below) Quilty said:
Some of the works become quite dark because of their experience – it's a cliché from the Vietnam War – that they then suffer the emotional effects from being exposed to the things that they're exposed to … So, to then watch them try to struggle to come back and fit in, and drop, fall, crashing down to the earth with post-traumatic stress disorder is very crushing and confronting.
The soldiers are often painted nude – the result is a series of painted portraits, such as Troy Park, after Afghanistan, 2012.
John McDonald, the Sydney Morning Herald's art critic, wrote last year:
there is something unsettling and confrontational about these portraits, which are so completely different to the standard image of the heroic soldier in uniform.
On the other hand, Gladwell takes a much cooler and analytical approach to war. A central work of his exhibition is a two-screen video installation, called Double Field/Viewfinder(Tarin Kowt), 2009-10. The video is shot just outside the Tarin Kowt base in Orūzgān province, southern Afghanistan, with two Australian soldiers.

Gladwell gave each soldier a video camera and asked them to stalk each other, only ever looking at each other through the viewfinder. The video shows the soldiers' trained bodily movements as they strafe slowly sideways in the dusty sand outside the military base.
This video installation, and many of his other war artist works, examine the complex role of the camera and its viewfinder in contemporary war zones: "The camera has an almost lethal role … a kind of weapon."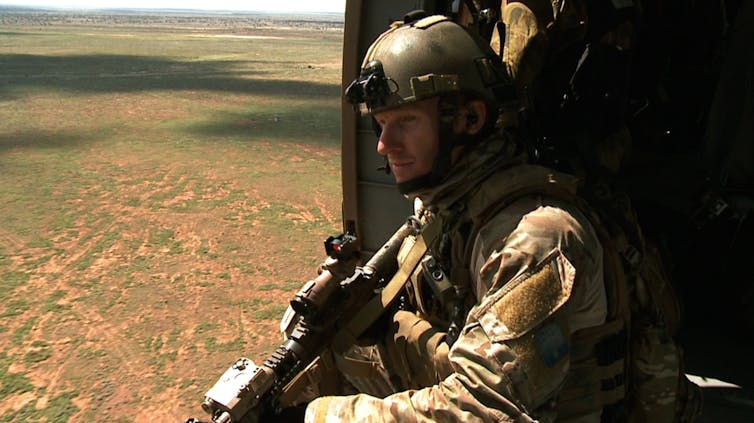 Gladwell was the very first video artist to be appointed as an Official War Artist by the Australian War Memorial in 2009, an appointment that caused some surprise at the time. But the wars in Afghanistan and Iraq, and the broader War on Terror, have been very much fought in the mediated public arena of photographic and video. Think of the live news images of 9/11, videos of the brutal beheadings of western contractors or the photographs from Abu Ghraib prison.
So, what does Gladwell think about the very different approach of Quilty? In an interview last year, shown below, he said:
I liked Ben's work because I think he went for the jugular in a sense, he went for a really humanist approach. He really identified a problem, like a key problem, within the Afghanistan experience for a lot of the soldiers, which is this trauma… I think it was a very powerful response to that experience.
Gladwell's work is more about critically exploring the use of photography and video to portray war, and the inherent complexities and problems involved:
My concerns are very different and I've got a different working methodology, completely different philosophy on it.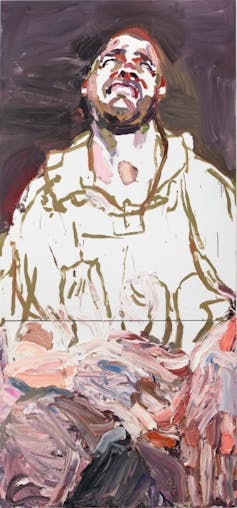 While Quilty's war art is emotionally powerful and wrought with empathy, Gladwell's is much more cerebral and analytical.
Both artists, however, treat the topic of war with a healthy degree of criticality.
Quilty's work has raised public consciousness in Australia about the need to provide real support to returned soldiers suffering from post-traumatic stress disorder. Gladwell's work questions the ethics of using drone technology in contemporary war, and how, in his words, "the doer is removed from the deed".
The difference in the approaches of these two artists demonstrates something important about what artists can bring to the topic of contemporary war. Unlike an embedded journalist in a war zone, the artists' mission is not to simply record, but to consider in a very subjective way, over a longer timeframe, and respond.
The experience of creating work as Official War Artists has had a lasting impact on the work of these two Australian contemporary artists. And, in turn, their work leads us to consider different ways of thinking about contemporary warfare, giving us perspectives that we might not usually see.


Ben Quilty: after Afghanistan and Shaun Gladwell: Afghanistan are at the John Curtin Gallery, Perth, August 2 – September 14.
See also:
Battle lines: the onward march of war art in Australia