In the 65 years since his early death in New York, Dylan Thomas's position in the cultural hall of fame has become firmly established. The favoured poet of rock stars and actors, he inspired Bob Dylan's choice of stage name and his image appeared on the cover of The Beatles' album Sgt. Pepper's Lonely Hearts Club Band.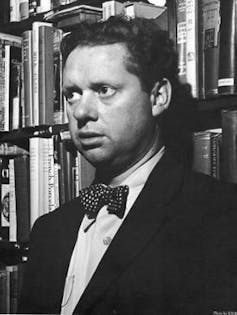 Despite this approval, the legacy of Thomas's writing has endured an uneven fate and the darker, more shocking of his works remain unknown to many – despite them directly influencing some of his most popular pieces.
Only a handful of Thomas's creations are now readily familiar to the general public. Fern Hill, a pastoral poem of apparent childhood innocence from the later part of Thomas's career, is an anthology favourite, beloved by many, including Prince Charles. And Death Shall Have No Dominion and Do Not Go Gentle Into That Good Night are regular choices for funeral services, and have featured in Hollywood movies, recited by George Clooney (in 2002's Solaris) and Michael Caine (in 2014's Interstellar). If you add the "play for voices" Under Milk Wood to the mix, then you have the literary black holes of Thomas's career, threatening to overpower all his other work by their immense gravitational pull.
The beginnings of Llareggub
The amusing, poetic, and immensely popular Under Milk Wood is set in the village of Llareggub. The work has never been out of print since first publication in 1954 and it has been filmed at least four times. It would be difficult to estimate how often it has been performed on stage across the world, but think of a very big number and then double it.
Less well-known, and even less well-read, is Thomas's early gothic-grotesque fiction, in which Llareggub first appears. This original Llareggub is not a lightly comedic world populated with characters like Organ Morgan or Ocky Milkman, but a dark, evil place where witches practice dangerous magic and preachers commit incest. It is first named in the short story The Burning Baby, published in the surrealist journal Contemporary Poetry and Prose in 1936.
Thomas took his inspiration from the bizarre true story of William Price, a physician and druid who named his son Iesu Grist (Welsh for "Jesus Christ"). In 1884, Price was arrested in Glamorgan for attempting to cremate Iesu on the top of a hill, the child having died of natural causes at only five months old. Thomas transforms Price into the Reverend Rhys Rhys, who fathers a son and a daughter with a witch. As Rhys goes to meet his daughter for an incestuous encounter, he is spotted by his son. Aware of what is about to happen, the son remembers his own experience of the "terrors of the flesh" with a "sowfaced woman of Llareggub". The result of Rhys's taboo act is the death of his daughter in childbirth, which is swiftly followed by the demise of his (grand)child. The story ends with the baby's cremation on a hill-top.
'I am a writer of poems and stories'
Although Thomas is most famous as a poet, he saw himself equally as a writer of fiction. He declared his early poetry and stories were "two sides of an unresolved argument", and was desperate to see his avant-garde stories turned into a book. The Burning Baby was so central to this group of work that it was selected as the title for a collection of his short stories, to be published by Europa Press in 1938. The other tales selected were similarly radical, which led the printing press to refuse the work in case a prosecution for obscenity followed. This came as quite a blow to Thomas, who wrote to a friend that "these stories are more than free fantasy; they do mean a lot and are full of work". Some of the more acceptable stories, with a certain amount of revision, were included in The Map of Love, Thomas's collection of prose and poetry published in 1939.
It was not until 1971 that the early Llareggub resurfaced, when the "obscene" stories from the 1930s, including The Holy Six and The Horse's Ha, finally appeared in book form. In The Holy Six, the village is missing its rector. He is the guest/hostage of the diabolical Mr and Mrs Owen, as she prepares to give birth to some kind of anti-Christ child.
Although not set in Llareggub, the book's editor Walford Davies astutely identified The Horse's Ha as a precursor to Under Milk Wood too. In this outlandish tale, an apocalyptic plague comes to the village of Cathmarw (Welsh for "dead cat"). Thomas's description of the residents' dreams early on in the story anticipates those that are dreamt by characters in the more famous Llareggub. The similarities between the two villages' characters are intriguing as well, such as The Horse's Ha butcher and Butcher Beynon in Under Milk Wood, who both walk the streets in their bloodied aprons.
While these challenging stories will never displace Thomas's greatest hits in the hearts of the public, they deserve to be read for their lyrical, hallucinatory qualities, and for the depth they give to the appreciation of Thomas's work as a whole.