On July 1 2016, the National Disability Insurance Scheme (NDIS) moved from a trial phase to a full national roll-out. In this series on Understanding the NDIS, we explore how the scheme works, why Australia needs it, and the issues to be addressed before eligible Australians can receive the benefits they are entitled to.
---
The National Disability Insurance Scheme (NDIS) allows Australians with a disability to choose which agencies or people they wish to collaborate with to help achieve their goals.
For Indigenous people, there are many positives to this scheme. It provides the opportunity to address the identified shortfalls of the former institutionalised service system, some of which uniquely impact Indigenous people.
For instance, if an NDIS participant is not satisfied with a support worker or an agency, they can recruit a different person or withdraw their funding and transfer to another agency. This will enable Indigenous people to access those supports that are culturally appropriate for them and their needs.
The growing Indigenous disability rights movement has fostered more involvement in the planning and development of the NDIS. But there is still a need to acknowledge those who feel their voices are not being heard by the government.
I have previously expressed my frustration with the National Disability Insurance Agency (NDIA) – the agency responsible for overseeing the NDIS – for its lack of transparency on the NDIS rollout, with limited evidence that it is meeting the needs of Indigenous people.
Unrepresentative participation
As of March 2016, nearly 30,000 people with disabilities were participating in NDIS trial sites, around 5% of them Indigenous. The latest National Aboriginal and Torres Strait Islander Social Survey reported that 45% of Indigenous Australians aged 15 years and over said they had experienced a disability, and nearly 8% needed assistance with core activities (such as self-care or mobility) some or all of the time.
Added to this is the high rate of chronic health conditions that lead to physical impairments and disability, such as renal disease, middle ear diseases and glaucoma; as well as issues of low cognitive ability among many Indigenous children.
While adequately estimating the NDIS eligibility rate in the Indigenous population is problematic, the 5% does not seem to be representative of the rates of disability in Indigenous communities.
While the reasons for a lack of participation are many and complex, the underlying problem is access. A 2008 report showed that nearly half of Indigenous people with severe core activity limitations identified problems in accessing generic and specialist services.
As my research has shown, the factors that impact on Indigenous people's access to disability specific services are not just geographical. They also include the ways in which disability is conceptualised in Indigenous communities as well as lack of trust for mainstream services and lack of community connections.
Many Indigenous people don't engage with disability support programs because of the stigma associated with the mainstream definition of disability adopted by government and non-government agencies.
My research has also highlighted the fact that Indigenous people often focus on a person's strengths, which is contrary to the clinical deficit model of disability adopted by the current service system.
Challenges of remote Australia
The state of disadvantage in Indigenous communities presents a range of problems that exist outside of the NDIS's scope and objectives.
There are many Indigenous communities where basic housing and utilities are either limited or absent. As such, many Indigenous people with disability have their energies focused on addressing the basics of day-to-day living.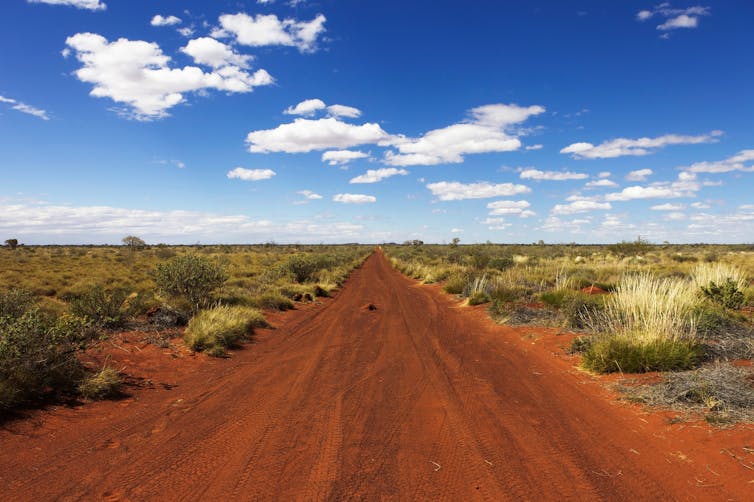 The NDIA has been promoting the NDIS model as one that expands personal choice when it comes to the services and support people with disabilities can access. Yet individual choice requires service and support opportunities to exist in local communities. Limited opportunities, especially in remote communities, equates to limited choice for those on NDIS plans.
The costs to deliver supports and services to remote and very remote communities can be astronomical when compared with metropolitan regions. Research into remote service delivery conducted by the National Disability Services identified workforce shortages further inhibited service growth and development.
In remote regions, staff often have to travel hundreds of kilometres to deliver services to people. The distance between the regional centre of Alice Springs to another town in Central Australia, Tennant Creek, is 500km.
There is limited evidence to assess whether the NDIS can effectively and efficiently provide equitable opportunities for those living so far away from regional centres.
Research shows more than 13% of Indigenous adults have provided unpaid assistance to people with a disability, such as relatives; the highest number of these are in very remote communities. Establishing a system that enables people to recruit family members needs more discussion throughout the scheme's rollout.
Self-managed funds
According to the First People's Disability Network, the peak body representing Indigenous Australians with a disability, many Indigenous people need accessible support and training to self-manage their NDIS plans.
If we consider the language diversity among Indigenous communities, options for training in managing personalised NDIS plans may be limited for those with English as a second or third language.
Further, operating in a market-based system requires adequate access to information and skills in budgeting and book-keeping. Indigenous people who are socially isolated and don't have either this information, or the skills or resources with which to seek help, may find these tasks difficult.
The NDIA will need to further explore these challenges as they plan and implement culturally responsive training and support programs for those who wish to self-manage their packages.
The principles of the World Health Organisation's twin-track approach should be adopted in the roll-out of the NDIS. Broadly speaking, this approach aims to build specialist, targeted disability programs and supports for Indigenous people (such as Indigenous community controlled organisations) while simultaneously considering their needs in all generic policies, initiatives and programs.
The NDIS provides us an opportunity to address the gaps between Indigenous and non-Indigenous people with disabilities. But this should run parallel to government spending on specialist services and community controlled organisations.
---
You can read previous stories on groups likely to miss out under the NDIS, and the risk to support services for parents with newly diagnosed children with disability.