March 22 marks World Water Day, an acknowledgement of the importance of safe, clean drinking water. This year, the celebration takes place against the backdrop of water shortages.
The United Nations has concluded that there is an international water crisis, and the principal failing is one of governance. Cape Town is the latest crisis, but we can only expect water shortages to become more common.
Canada has an abundance of water for its size: It has 0.5 per cent of the world's population but seven per cent of the world's renewable freshwater supply.
From a global perspective, most Canadians are lucky, but the messages that emanate from academic and popular literature often paint an unsettling picture.
Our freshwater systems are under strain from threats of aging infrastructure, climate change causing floods and droughts, cyberattacks, transboundary conflicts with the U.S., contamination due to hydraulic fracturing (fracking) and the sale of water to foreign markets.
On top of that, more than 300,000 people who live in Indigenous communities do so under long-term boil-water orders. The federal government, however, has committed to correcting this longstanding wrong by 2021.
---
Read more: Collaboration can help in the Indigenous water crisis
---
Many of these risks are qualitatively different, and require different approaches to addressing them. Over the past two years, my colleagues and I have studied the Canadian water sector with an eye to better understanding its risks.
We concluded that there is merit in distinguishing between the types of risks.
Infrastructure tops the list
The first category includes infrastructure risks that can result in wasted water and water contamination.
In our national survey of Canadian water service providers, aging infrastructure, such as pipelines and water treatment plants, ranked as their top risk — and by a good measure.
According to the 2016 Federation of Canadian Municipalities Infrastructure Report, the drinking water and wastewater infrastructure that is in poor condition in Canada would cost $51 billion to replace.
The solutions to the deficit include access to funding, technology, improved supply-and-demand models and better coordination across jurisdictions.
These risks are often the domain of the technical experts, but we sometimes neglect important social considerations.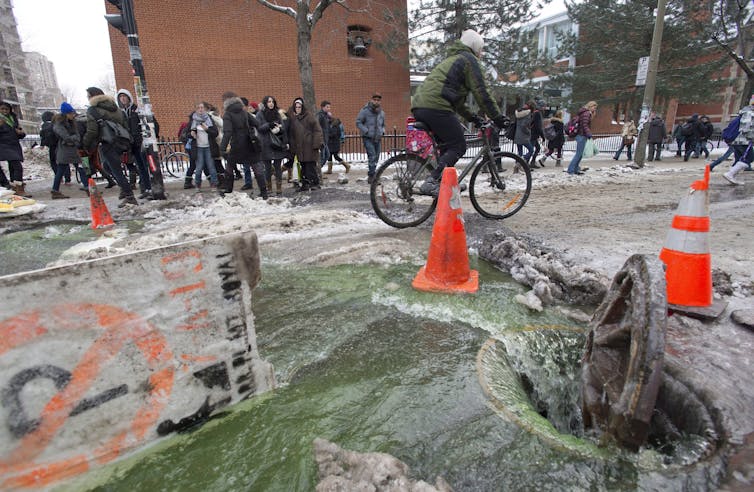 People don't like to pay for the true cost of water. According to a 2009 report, Canadians pay about 70 per cent of the real cost on their bills, and are apt to complain to elected officials if their rates increase.
Rural communities face additional barriers. With their shrinking tax bases, they are less able to pay for upgrades and attract the qualified labour to manage these assets.
Not withstanding these blind spots, most water managers and engineers are reasonably confident when it comes to understanding these risks. But the second and third categories of risk to freshwater supply are more problematic.
Lack of reliable data
Our second category includes uncertain threats such as climate change, cyber-security and malevolent actors, such as insider threats and terrorists. We don't, however, have enough reliable information to predict the likelihood of these events.
While Canadian water service providers recognize some of the potential consequences of these threats, they spend less time worrying about these types of risks, largely because they exist outside of their routines and they don't have adequate data, policies or training.
In these cases, risk management becomes more reliant on "fuzzy" or subjective measures; risk estimations usually include a range of possibilities and disagreements among experts.
Uncertain risks frequently generate surprises that we didn't see coming, such as the recent news of the possibility of severe water shortages in Western and Northern Canada.
We also underestimate the interconnected nature of water infrastructure. For example, a failure in the water supply will have an immediate impact on the health sector and the economy.
When addressing uncertainty like this, we have to accept that we may have to deal with surprises from time to time. We also need to understand our willingness to accept a failure in the system; when it is low, we need to invest in redundant and more robust systems and train our staff to address circumstances that deviate from normal practice.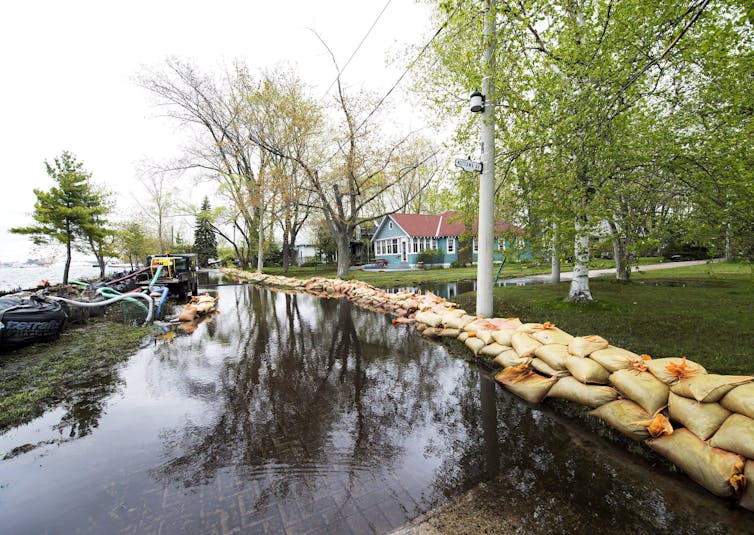 Governments are driven by the priorities of the day, and researchers aren't always adept at communicating their research results. These habits don't help.
In order to improve our understanding risks, we need to continue to support research so we can understand them better. We also need to allow those in the water sector and researchers to exchange information and learn from each other.
We should educate the public about the cost and behaviour changes that may be required to address challenges like climate change or emerging security threats.
Conflicting values and views
The third category covers the deeply held, conflicting values and beliefs about our water supply, including how it should be used and protected.
Environmental groups are opposed to fracking, for example, because they believe that fracking will contaminate the water supply, and that the consequences could be irreversible.
Fracking advocates, however, argue that the natural gas made available through fracking could meet Canada's natural gas demands for generations, create jobs and provide clean energy security. They believe the downsides can be managed through technological advances.
Greater public engagement is required in this debate, but it is problematic.
Town halls on fracking can be reduced to sit-ins and screaming matches. More discrete consulting efforts open up the possibility of lobbying, which benefits those with resources, expertise and privileged access.
Managing these types of risks often lead to precautionary approaches, which are expensive because they often seek consensus among different groups, which slows progress and constrains innovation. These approaches also lack clear indicators of who is paying the price for failing to advance new policies, and how we can provide evidence that people will accept before moving ahead with new policies.
We need to focus on learning and negotiation, and develop provisional plans until we have a better understanding of the risk of fracking. Ironically, these debates are hardly mentioned by Canadian water service providers, suggesting that these debates are too often the domain of a select few.
Balancing risks
Individually and collectively, we have a difficult time comparing risks across policy areas, like water and energy. Our bureaucratic regulatory arrangements reinforce this limitation.
People would prefer to hear what these individual sectors are doing to manage risks than contemplate the messy trade-offs that are inherent in policy decisions. How much water do we risk contaminating for more energy, and how would the benefits be distributed?
On World Water Day, we shouldn't be framing a discussion about water in isolation of other considerations. It neglects fundamental characteristics of the challenge before us.
In our study, we concluded that a risk profile for the water sector is not simply a list — we need to be careful to distinguish and categorize these risks based on the knowledge we have about them. This will allow us to commit the right types of resources to the right problems at the right time.