The news that Jimmy Kimmel's contract as host of ABC's late-night talk show Jimmy Kimmel Live! is being extended for two years completes a period of upheaval in this great American genre.
Jimmy Fallon is still settling into his chair as the replacment to Jay Leno on the NBC Tonight Show. Stephen Colbert is taking over from David Letterman on Late Show on CBS at some point next year. Among others he defeated Scots-born Craig Ferguson, who duly announced he was stepping down from his acclaimed Late Late Show that follows Letterman in CBS's 12.30am slot.
Now that Kimmel, another contender to take over from Letterman, is staying put until at least 2017, the battle lines can now be drawn for the next phase of late-night talk wars between the three networks, each broadcasting on all five weeknights.
Given his remarkable longevity, most eyes have inevitably been trained on Letterman and his succession. Implicit in the passing of one great television icon and the anointing of another is the promise of epochal change, a sense that nothing will ever be the same again.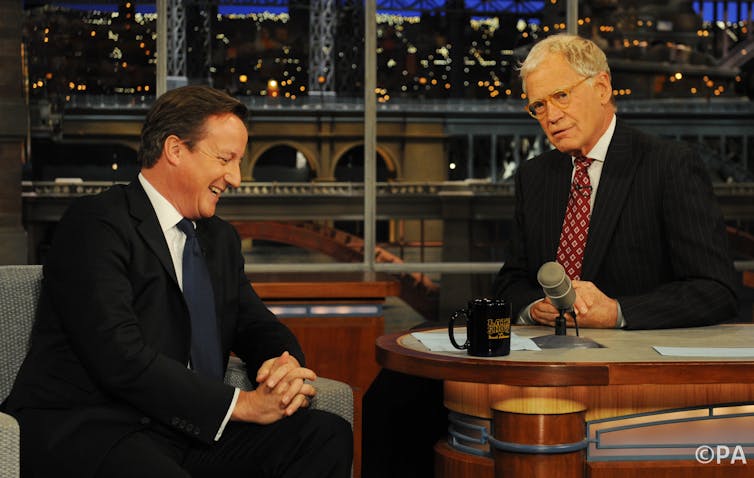 Indeed, a misty-eyed backward glance through broadcasting history would seem to support that impression. We had the Sullivan era, the Carson era, and now, just coming to an end, the Letterman era. Yet the story of the late-night network talk show in America is as much one of continuity as it is of change. The king is dead. Long live the king.
The young pretender
David Letterman has been a constant presence on American television screens since 1982, when he began hosting Late Night With David Letterman for NBC in the equivalent slot to the one that Ferguson currently occupies on CBS. Tent-poled by Johnny Carson's long-established Tonight Show, Late Night was riskier and less polished, but became essential viewing for younger audiences. Unlike the paternal Sullivan, or the avuncular Carson, Letterman was the smirking kid brother of American television.
Despite having followed Carson's time-slot for a decade, like Ferguson, Letterman was passed over when his mentor retired. He then made the move to CBS, where The Late Show with David Letterman has run for more than two decades. It has made its once impish host into a broadcasting institution, even as broadcasting continued to change around him.
The continued existence of live network television talk shows is an anomaly at a time when the most urgent and relevant television is increasingly produced by cable or online services. Yet the sense remains that figures like Letterman belong to the nation as a whole. Certainly the announcement of his retirement live on air on April 3 triggered a national response.
This was despite the fact that Letterman is far from dominating his slot. Indeed, lately he has trailed both Fallon and Kimmel in the ratings. Fallon is an alumnus of NBC's Saturday Night Live. He is an energetic performer and gifted musical mimic who seems to be taking late-night hosting in a showier direction.
The market leader
But the current leader is Kimmel, whose laddish persona is perhaps the closest of the current late-night hosts to Letterman at his peak. His show has been running for more than 11 years, having gradually been moved from a 12.30am starting slot to its current 11.35pm.
Contrary to the hopes of many, the hosts of the major network late-night talk shows will remain uniformly white, male and straight. (Even the presidency is more broadly representative of the American public than that… just.)
But aside from this awkward issue, CBS's replacement for Letterman was always going to have to offer something bold and different to his two rivals. Colbert is a very different proposition. He is host of Comedy Central's satirical news show, The Colbert Report, where he has made his name as a spoof right-wing republican.
Contrast this with Craig Ferguson, whose relaxed and sometimes confessional humour has made him the biggest Scottish cultural export that many people will never have heard of. His Late Late Show was produced by Letterman's own production company, Worldwide Pants Inc, and was shielded from mediocre ratings by its famous patron. Now with Letterman gone, Ferguson has also lost his seat at the table, though it will be fascinating to see how he reinvents himself.
Kneel before network television
Yet if the landscape of late-night network television is still as cut-throat and unrepresentative as ever, in other ways it may be changing for the better. In contrast to the less politically aware comedy of Fallon and Kimmel, CBS's selection of Colbert is a reminder that, first and foremost, broadcast television is and should be important –- not just in the Ed Sullivan sense of being a bellwether for American popular culture, but in the sense of living up to the responsibility of speaking for and to a nation.
While CBS certainly hopes that Colbert will bring with him some of the youthful audience he has amassed during his time at Comedy Central, they have also given the reins of a live prime-time show to an important comedian who came of age in a time of important comedy.
During the years of the Bush presidency, the decline in the legitimacy of television news, led by Fox News Channel, left a hole at the centre of popular and political culture where intelligent debate and discussion might have thrived. What grew there instead was comedy: the bleak acerbic gallows humour of Bill Maher; the barely-concealed righteous anger of John Stewart; and the so-stupid-it's-smart satire of Stephen Colbert.
These comedians answered a keenly felt need on the part of the American public, albeit from niche outlets like Comedy Central and HBO, for a public conversation about the direction of the country. Along with Stewart, Colbert answered that need in more and more direct ways over time: roasting the president at the most uncomfortable White House Correspondents' dinner to date; testifying in character before a Congressional Subcommittee on Immigration reform; and co-hosting the 2010 Rally to Restore Sanity (and/or Fear) -– a public march on Washington which both politely requested (and satirically mocked) a return to reasoned political dialogue and responsible reporting.
Kimmel's contract extension is a reminder that CBS has made a brave move with Colbert. Next to the youth-appeal of Fallon and the proven success of Kimmel, the potential extent of Colbert's appeal is still untested. Yet if David Letterman's years were the salad days of nihilistic irony, in which everything was fair game for a joke, Stephen Colbert's time behind the desk may remind us that broadcast television has the power to create shared culture and to host the national conversation –- once again, to be important.