Division is a constant theme in contemporary politics. In Donald Trump's America, more evident than ever are schisms between the rural and urban, the blue and white collar, the populist and not. After the brutally partisan battle to confirm Brett Kavanaugh to the Supreme Court, and Trump's scorched-earth campaign of rhetoric against the "migrant caravan", there's little reason to imagine that partisanship will fade into the night after November's midterm elections.
As important as the courts and immigration are to American politics, healthcare loomed particularly large in the midterm vote, with one poll showing it to be the top policy issue for voters. So given the Democrats' victory in the House of Representatives and a number of state governorships, how will the politics and policymaking behind healthcare change before the next presidential election in 2020?
On January 20, 2017, Democrats no longer controlled the White House, the House, the Senate nor a majority of governorships, state legislatures or state attorney general offices.
On November 6, however, they clawed back a number of offices, most notably a majority of seats in the House of Representatives – a development that will likely exacerbate policy gridlock at the federal level. The Trump administration failed to repeal the Affordable Care Act, also known as Obamacare, even with both Houses of Congress under Republican control. With the Democrats now holding the lower house, the drive to repeal the law is effectively dead.
On many policy issues and particularly healthcare, Trump will be forced down a similar path to president Obama after the Democrats sustained heavy losses in 2010 and 2014 – a path that involves executive orders, regulations and rules under existing laws, rather than writing sweeping new laws, which require congressional approval. The Trump administration's Department of Health and Human Services has already issued a number of new regulations in 2018 that are designed to undermine Obamacare at the state level.
This administrative strategy is often coupled with a flurry of lawsuits. For decades, state attorneys general (state AGs) have been bringing lawsuits against businesses for breaking consumer protection and antitrust laws. In recent years, however, state AGs have also begun suing the federal government – along highly partisan lines. Their aim is political: to stop not only federal legislation, but also individual executive orders and rules written by specific agencies.
The age of lawsuits
A number of Obama-era rules have been targeted by Republican AG litigation. Republican AGs, for example, nearly succeeded in killing off Obamacare, but they came up just short in 2012 when Supreme Court Chief Justice Roberts cast the deciding vote to uphold the constitutionality of the law.
As Paul Nolette and I revealed in a recent article, this partisan pattern has only intensified under the Trump administration. In fact, the Democrats filed 36 multi-state lawsuits, mostly against Trump administration regulations and executive orders, in 2017 alone. The figure below illustrates the significant escalation of litigation against the federal government, first under Barack Obama and then under Trump.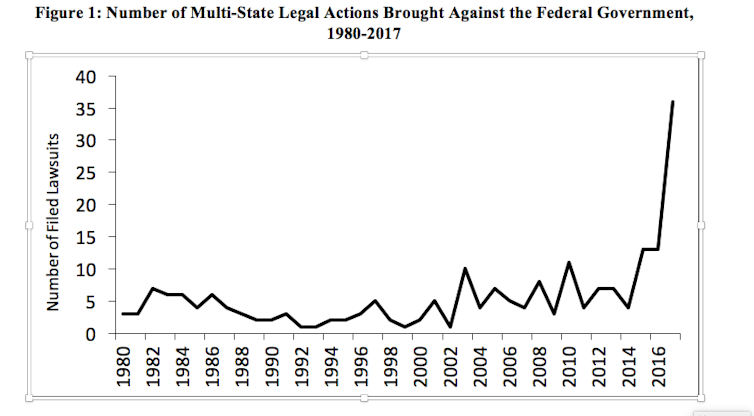 Obamacare was again targeted by Republican AGs in 2018. When the Republicans embedded changes to Obamacare in the 2017 tax cut bill, AGs had another legal opening to file suit. Democratic AGs responded with their own lawsuit, in support of the law. The judge in that case has yet to make a ruling, but appeals could follow and the case could end up before the Supreme Court, now controlled by the Republicans.
How do we square this with the results of the November midterms? Obamacare expanded access to Medicaid overall, but states still have their own eligibility requirements, which makes the midterm political developments particularly salient.
Surprisingly, the heavily Republican states of Idaho, Nebraska and Utah all voted to expand Medicaid, the federal programme designed to assist low-income citizens with obtaining healthcare. Democrats also flipped governor seats in Illinois, Kansas, Maine, Michigan, Nevada, New Mexico, and Wisconsin, which means that Medicaid expansions are now likely in these states as well.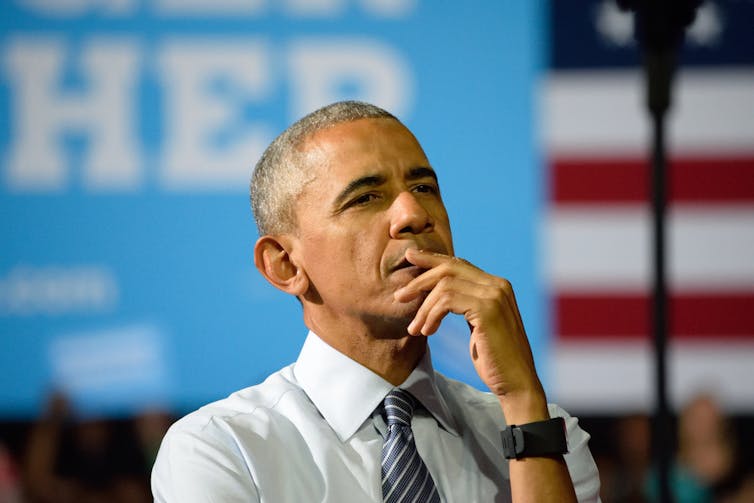 Democrats also wrested from the Republicans state AG seats in Colorado, Michigan, Nevada and Wisconsin. Colorado's AG elect Phil Weiser has promised to join the Democratic coalition defending Obamacare, while Wisconsin's new AG, Josh Kaul, has promised to withdraw Wisconsin from the Republican lawsuit targeting it.
Towards 2020
The Affordable Care Act's 2012 survival in the Supreme Court, plus failed attempts to kill it legislatively over the past two years, show how difficult it has been for Republicans to end Obamacare as promised. The law enjoys popular support, and expanding Medicaid in a number of states should only serve to strengthen that support and entrench the law's institutions more firmly. Yet the fate of the states' lawsuits against and for Obamacare could prove pivotal. The losing side could appeal and the law could end up before the now Republican-controlled Supreme Court.
If the law is ultimately deemed unconstitutional, then the legal foundation for healthcare for millions of Americans could be yanked out from underneath them. Democrats would spend every ounce of their campaign energy blaming the Republicans for such developments, which would severely jeopardise Donald Trump's aspirations for a second term.
Additionally, the 2020 Senate election map is kinder to Democrats than Republicans, as Democrats are defending mostly safe seats with the exception of Doug Jones in Alabama. Conversely, Republicans must defend seats in a number of "purple" swing states, such as Colorado, Iowa, Maine and, to a lesser degree, North Carolina. This could further bolster hopes for Obamacare's survival.
Republicans face an important choice over the next two years. They could follow their original platform and pursue every possible opportunity to gut Obamacare. If they do, however, they risk alienating an electorate that is increasingly supportive of it. Indeed, if the Republicans play the wrong game, Obama's key policy could end up being their undoing.