The U.S. Defense Department announced in early January 2023 that it is giving a further US $3.1 billion in military aid to Ukraine in support of its war against the Russian invasion.
This new spending package includes a long list of advanced military weapons systems and artillery.
The U.S. has not formally declared war against Russia, but the battlefield in Ukraine serves as a classic case of a proxy war, waged without a formal declaration. U.S. support for Ukraine has been a constant throughout the first year of conflict, most recently extending as far as inviting Ukrainian forces to train on an Air Force system in the U.S..
I am a scholar of U.S. foreign policy and international security. As the first anniversary of Russia's invasion of Ukraine approaches on Feb. 24, 2023, I think it is important to put U.S. aid to Ukraine in perspective – both historically and as compared to other current U.S. military aid commitments worldwide.
Doing so may help answer an important question: Is the U.S. prepared to support Ukraine for the long haul, or will its current high level of spending commitment be undone by the whiplash of polarized U.S. domestic politics? Here are three key points about U.S. support for Ukraine to understand, and how the U.S. is signaling it will stand with Ukraine for the long term.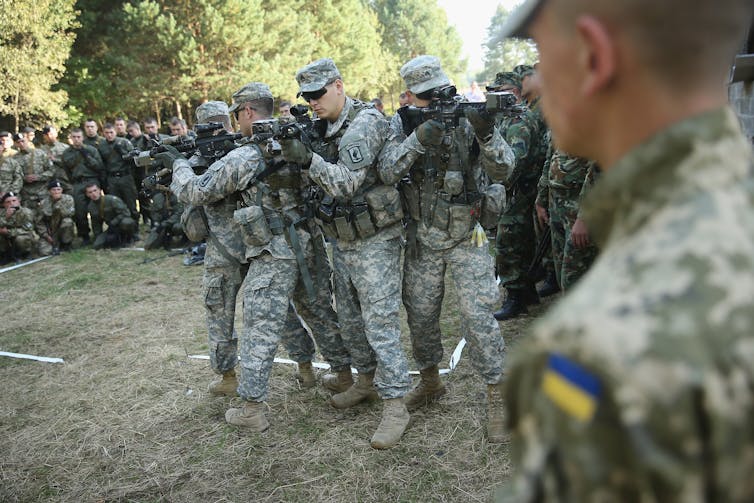 1. US aid to Ukraine is immense
The speed and quantity of U.S. military aid to Ukraine tells a story about how the U.S. and its allies see the stakes in the war's outcome. U.S. military aid to Ukraine to date has been staggering, especially when compared to how the U.S. has supported other conflicts in modern history. U.S. military aid during the Cold War conflicts was orders of magnitude higher than spending in Ukraine, but those occurred over longer periods of time. The Vietnam War, for instance, cost the U.S. an estimated $138.9 billion from 1965 to 1974, or the equivalent of about $1 trillion today.
In total, the U.S. approved about $50 billion in aid for Ukraine in 2022.
About half of that money – or $24.9 billion – went toward military spending. By comparison, U.S. military aid to Israel – a longtime top recipient of U.S. military aid – in 2020 was $3.8 billion.
The U.S. also gave $9.6 billion to Ukraine for nonmilitary purposes in 2022, such as helping Ukrainians receive medical care and food. This marked a sharp increase from the $343 million total in foreign aid the U.S. gave Ukraine in 2021 – this included both military and economic assistance.
A critical question is whether Ukraine's success in thwarting Russian military and political objectives will lead to a kind of ripple effect. In this situation, other countries that are similarly threatened by large authoritarian neighbors will ask for more U.S. or NATO military aid. The U.S. would then be faced with the challenge of whether to also give more money to these countries.
2. Most – not all – Americans still want to help Ukraine
For Western allies in Europe, particularly those like Poland that are physically closest to Ukraine, the war has come to be seen as existential – seriously threatening the stability of international politics and the organizations, like the United Nations, that were set up after World War II to prevent a third world war.
Americans do not face the immediate threat of a spillover ground war across borders like people in Europe could face. But most Americans still continue to support Ukraine in its fight against Russia.
In December 2022, 65% of Americans said they favor supplying arms to Ukraine, and 66% said they supported sending money directly, according to the Chicago Council on Global Affairs, a nonpartisan political think tank. More striking still, the same poll found that nearly 1 in 3 Americans support the idea of sending American troops into the fight – a number that has shifted only slightly since the start of the 2022 invasion.
But some Republicans in Congress want to see the U.S. cut back on foreign aid to Ukraine, and they are publicly divided about why this should happen.
Early on in the war, when it looked to some observers like Ukraine would fall quickly to Russia, some conservative lawmakers and others espoused fears that U.S. military systems or weapons would end up in Russia's hands and damage U.S. and NATO credibility.
This concern continues today, despite the fact that U.S. and Ukrainian officials have said that Russia does not appear to have grabbed U.S. weapons found in occupied or contested regions of Ukraine.
Ukraine has, instead, showed over the course of the conflict that it could prevent a Russian victory with only minimal outside support. It has also demonstrated that with additional money and military help, it could even retake lost ground..
And although there is bipartisan support, some Republicans — in particular conservatives aligned with former president Donald J. Trump's isolationist "America First" stance — have argued that the U.S. cannot afford to support Ukraine and also address high levels of inflation at home.
Rep. Marjorie Taylor Greene, a Republican from Georgia, said in November 2022 that with Republicans controlling the House of Representatives, "not another penny will go to Ukraine."
A November 2022 Chicago Council on Global Affairs poll also found a significant decline in support for U.S. engagement in Ukraine among Republican respondents, from a high of 80% in March 2022 to 55% in December 2022.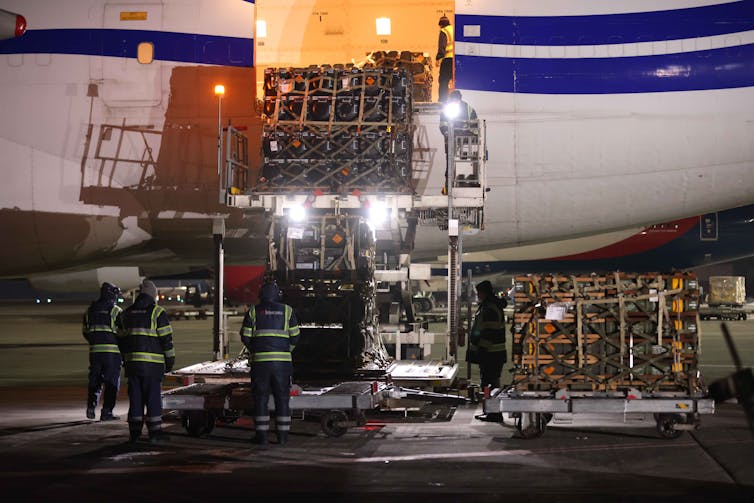 3. US signals long-term aid to Ukraine
The long-term impact of U.S. and NATO military aid on the war in Ukraine remains uncertain. On one hand, it's clear that U.S. intelligence support, advanced weaponry and Ukraine's skilled use of both has seriously hurt Russia's chances on the battlefield.
On the other hand, Ukraine has demonstrated strong levels of national unity, leadership and military competence. So even perfect intelligence support and the most advanced U.S. weaponry wouldn't have made much of a difference if Ukraine hadn't shown such skill, courage and grit in the face of Russia's still overwhelming advantages.
Quite a bit of the promised U.S. aid to Ukraine will be disbursed over a long period. Most of the funds will be spent by 2025, but some will not arrive until 2030. That's because the bulk of the aid is for weapons that can be purchased from the U.S. and elsewhere, but that haven't yet been built. This long-term time frame is also a clear indication that the U.S. plans to help Ukraine rebuild its military, even if the war ends in the near term.
Alongside its NATO allies, the U.S. appears committed to supporting Ukraine's effort to defeat Russia on the battlefield or at least help provide Ukraine with the means to hurt Russia enough to begin to bring the fighting to an end. While Europeans debate supplying Ukraine with tanks, the U.S. also announced in January 2023 that it it is sending a range of armored military vehicles to Ukraine.
But, by itself, I believe the most that military aid can accomplish is to feed a war of attrition. Ending the war will require more than smart weapons and grit. It will take political acumen and diplomatic efforts to help Ukraine continue to secure its independence and protect against future Russian threats.