Through its higher education system, the US student population is slowly shedding an unfortunate image it may have once had of being rather parochial. The US continues to be the destination of choice for students worldwide, with international student enrolment growing by 8% last year, according to new figures released by the Institute of International Education (IIE) in its latest report Open Doors. The US now hosts 19% of the world's 4.5 million globally mobile students, taking in more than any other country – and twice as many as the UK does, which is in second place.
Tracking trends over 15 years, the data offers insights into both international students arriving in the US and Americans travelling abroad. It can be summarised with one word – competition.
Bringing in $27 billion
Let's start with the money: international students continue to be a huge boon to the US economy and now contribute a whopping $27 billion in tuition, room, board, books, travel and other costs, compared to $9 billion 15 years ago. This is significant given the heavy tuition rates charged at many of the country's more elite institutions compared to other countries. Students continue to flock to the US for higher education, even though some other systems, notably Germany, offer high quality degrees, some even fully in English, at zero cost.
The often-discussed "turn to the East" in US professional, business and academic terms is also clear in the increasing chance for American college and university students to mix with those from Asia. Half of all international students in the US now come from just three countries: China, India and South Korea.
Chinese students alone now represent 31% of all international students in the US – or 274,439 – five times as many as in 2000 when it was only 11%, and students from India account for 12%, or 96,754.

But these trends may be changing: while the number of Chinese students coming to the US has grown for the fifth year in a row, the rate of this growth has slowed. The Chinese government has massively increased its own domestic spending to build home-grown, world-class institutions and higher education capacity as a way to stop a historic, chronic brain drain.
More selective going abroad
More than twice as many US students are now going abroad for academic credit than was the case 15 years ago. Today 9% of the undergraduate population, or 289,408 students, earn some of their credits overseas. This is even beginning to mirror participation rates in some of the European countries participating in the Erasmus+ Mobility Programme, a taxpayer funded initiative that gives Europeans the chance to study throughout the continent.
No such nationally coordinated programme exists in the US to drive up study abroad participation. While support from the federal government and the steady drumbeat of globalisation and internationalisation has certainly driven colleges and universities to ramp-up study abroad, the numbers still depend on a state-by-state and institution-by-institution effort. Progress is steady, although the goal of doubling US study abroad may still be far off.
American students are becoming more creative in their choice of where to study abroad. Although Europe still attracts 53% of all American students, that has fallen from 63% 15 years ago. Other regions are rapidly gaining prominence, particularly China, which now attracts 12% of American study abroad students and Latin America, which receives 16%.
Another very good piece of news for the US this year is that more American students from the fields of science, technology, engineering and math (STEM) are now going abroad than ever before, as the graph below shows. Until now STEM students were considered a minority in study-abroad participation. These are the fields that produce more patents and products than the social sciences can ever dream of and are ideally a major engine of innovation for the US and the world economy.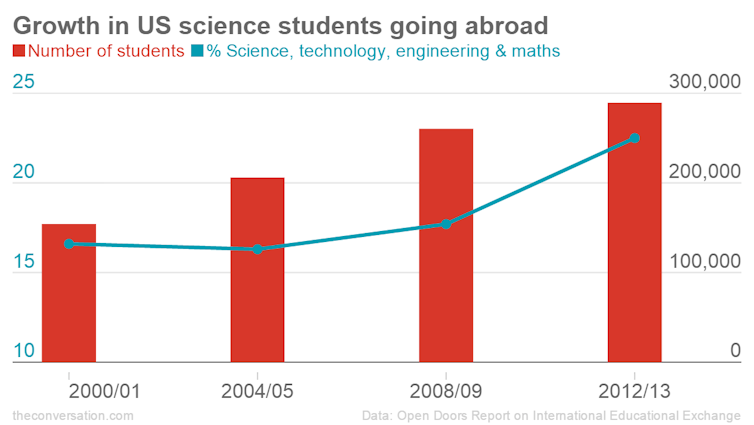 Still largely for the elite
But major challenges for US higher education remain – primarily fairness and access to opportunity. Despite heavy growth of international influences in US higher education, international students still only represent 4% of the overall US student population in the more than 4,000 higher education institutions across the country.
And the profile of students who study abroad still arguably represents a socio-economic elite: more than 90% of students never study abroad before graduation. Getting more students of colour to participate in study abroad remains a major obstacle despite new efforts to change this trend. The Open Doors data found that 76% of study abroad students were white in 2012-13, with only 5.3% black or African-American.
Not only is improving access to study abroad opportunity a major challenge, but so is providing access to higher education generally: getting a quality higher education in the US may be becoming more and more a domain for the privileged.
Looking Ahead
The key concepts behind international education – globalization, intercultural sensitivity, critical thinking, diversity, learning to work with others and adaptability – are all terms that in the last decade have become buzzwords, even for the general public. But these are not merely convenient clichés. More international educational activity now is having an impact on American higher education, as this new data shows.
Hopefully along with this growth in student mobility, the public will also keep thinking about the bigger questions: who is impacted, who is losing out, what does this billion dollar business means for competition between countries, universities and for students and their families, and what are global rankings doing to the overall quality of education.