From the early days of the pandemic, it has been evident that a COVID-19 infection in pregnancy can be serious. Hundreds of studies from around the world have consistently shown that a COVID-19 infection in pregnancy carries significantly higher risk for admission to intensive care units (ICU), invasive ventilation, preeclampsia and death, compared to other COVID-19 patients.
The data is stark: there is a five times higher risk of ICU admission and 22 times higher risk of maternal mortality due to COVID-19 infections in pregnancy. There are also considerable risks to the fetus, with a higher risk of preterm delivery, low birth weight as well as serious fetal outcomes such as stillbirth, and neonatal mortality.
Interestingly, and not entirely surprisingly, studies have found that stillbirths and neonatal deaths occurred predominantly in those who were unvaccinated against SARS-CoV-2 at the time of infection. The same study also showed that 90 per cent of all hospitalizations and 98 per cent of critical care hospitalizations in pregnancy due to COVID-19 infection were also in the unvaccinated.
Safety of COVID-19 vaccines in pregnancy
As a science communicator and a Doctor of Public Health student, a lot of my work has focused specifically on understanding vaccine hesitancy. Despite the overwhelming data on the risks of COVID-19 infection in pregnancy, many have still been reluctant to get vaccinated, citing safety concerns.
We now have extensive evidence that shows COVID-19 vaccinations in pregnancy are safe, when given at any time during the pregnancy.
Globally, multiple meta-analyses have confirmed that there is no evidence of a higher risk of adverse outcomes in either the pregnant person or the infant. No differences were found in miscarriage, earlier gestation at birth, placental abruption, postpartum hemorrhage, maternal death, lower birthweight or neonatal intensive care unit admission with a COVID-19 vaccine given in pregnancy.
In fact, most of these studies found that vaccination offered positive health outcomes: those who were vaccinated had a lower risk for stillbirths, preterm births and neonatal intensive care unit admission and more favourable Apgar scores.
Infants protected by transfer of antibodies across placenta
Several studies have documented the presence of SARS-CoV-2 antibodies in umbilical cord blood after maternal vaccination. This confirms that there is an added benefit of vaccination, with SARS-CoV-2 IgG antibodies - which are the most common type of antibody found in blood, and protect against infections - transferring across the placenta from mother to fetus, particularly when vaccination occurs in the third trimester of pregnancy.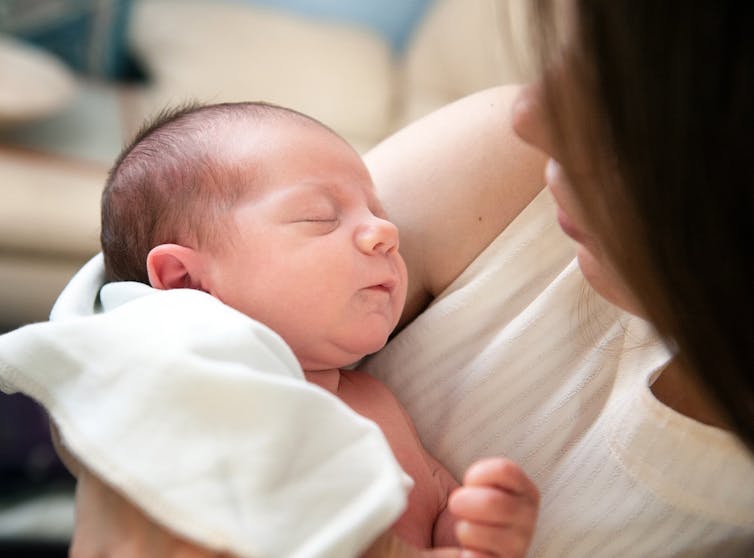 What was unknown until very recently, however, is whether vaccination in pregnancy generates functional antibodies that are detectable in the infant post-birth and, if so, do they confer any benefit to the infant in terms of protection from COVID-19 infection or severity of infection.
Recent studies have shown that these IgG antibodies transferred to the fetus can remain in the baby for several months after birth. One study showed 57 per cent of infants born to vaccinated mothers had detectable antibodies at six months.
A study conducted by the Centers for Disease Control and Prevention (CDC) published in the Morbidity and Mortality Weekly Report (MMWR) showed that COVID-19 mRNA vaccination during pregnancy was 61 per cent effective in preventing COVID-19-related hospitalization in infants aged less than six months.
A recently published study from Ontario assessed the effectiveness of maternal mRNA COVID-19 vaccination during pregnancy against Delta and Omicron variants in preventing hospital admission in infants younger than six months of age.
The study found that vaccine effectiveness against hospital admission in infants from two maternal doses was 97 per cent for Delta variant and 53 per cent for Omicron. Vaccine effectiveness against infant Omicron infection was found to be highest for the first eight weeks of life, but then declined in a stepwise manner.
While COVID-19-related infections in the pediatric population are generally mild, there is considerable variability and a small — but real — number of children get moderate or severe disease.
Children younger than six months have the highest risk for severe outcomes associated with COVID-19 infections, including hospitalizations and death.
Benefits of a COVID-19 booster in pregnancy
Recently the World Health Organization recommended a COVID-19 booster during pregnancy if the last dose was over six months ago.
It is abundantly clear that COVID-19 infection in pregnancy carries considerable risk to the pregnant person and the fetus. Given the high efficacy of COVID-19 vaccinations in preventing severe illness in the pregnant woman, as well as the substantive benefits for the infant, there is a robust and evidence-driven indication to recommend a COVID-19 booster routinely in all pregnancies, particularly if the last dose was more than six months ago.
Recommending additional boosters will allow families a superior opportunity to protect themselves and their babies in the fourth year of the pandemic. We have in our arsenal an intervention that has the potential to make a meaningful impact on maternal and infant health. So I ask, what are we waiting for?