As the yellow paint is hosed off an Anish Kapoor sculpture at his new Versailles installation, the art world reels from another example of high-profile art vandalism in France. The republic's paradoxical relationship with provocative artworks has, again, come to the fore.
France has a reputation for cultural liberalism. It nurtured the revolutionary styles and techniques of Picasso, Van Gogh and Modigliani, all provocateurs par excellence.
But groundbreaking works that shock, surprise or unsettle have often been unwelcome, at least initially: Manet's Olympia was widely mocked on its hanging in the 1863 Paris Salon des Refusés. More recently, South African performance artist Steven Cohen was led away by police following a much-discussed stunt at the Trocadéro. And who can forget last year's "pluggate", where Californian art icon Paul McCarthy saw his Christmas "tree"/sex toy unceremoniously deflated by an outraged passer-by? Andres Serrano's notorious "Piss Christ" photograph was also severely damaged when displayed in Avignon in 2011. Even the Mona Lisa, relatively harmless despite her smirk, permanently dwells behind toughened safety glass after a number of attacks over the years.
Embracing the offensive
On the whole though, it seems that France is more than happy to embrace and even champion artistic risk-takers – even those who risk offending public sensibilities. In 2010, the literary establishment crowned Michel Houellebecq – who has variously been called everything from a pornographer and a misogynist to a eugenicist and an Islamophobe – with its biggest literary prize.
To pick a handful of examples from the world of visual art: Parisian gallery La Maison Rouge regularly hosts controversial and deeply provocative shows, such as a recent retrospective from Jérôme Zonder whose pencil drawings evoke dark and often deeply disturbing fantasies colliding images of childhood, violence and hardcore porn. The Musée d'Art Moderne is currently hosting a similarly nightmarish show from the American outsider artist Henry Darger as well as Elaine Sturtevant's House of Horror ghost train, a subversive funfair attraction that co-opts and champions images from some of the 20th century's most transgressive artists, including Duchamp, McCarthy and John Waters. All of these, without anyone really batting an eyelid.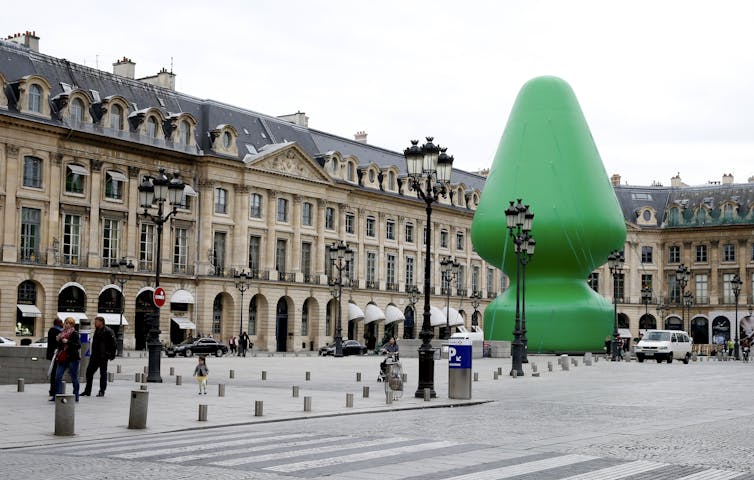 That said, there are some topics that France – or some groups within the French community – that the art world can't help offending. The attack on McCarthy's inflatable in the historically resonant Place Vendôme was conducted against a toxic political backdrop: the right-wing Printemps Français pressure group had emerged in opposition to François Hollande's (ultimately successful) plans to allow the right of marriage to same-sex couples in France.
One of the most vocal factions of this group has been the Catholic fundamentalists, some of whom were outspoken in their derision of Serrano's "Piss Christ" before the work was attacked with hammers. Civitas, a far-right, "traditionalist" group had also petitioned and protested against Serrano's work – it too had called upon the people of Versailles to take action against Kapoor's installation at the Château.
Chinese whispers
So what is it about Kapoor's work that these so-called traditionalists find offensive? At first sight, there is nothing obviously shocking about his installations, interspersed amongst the tasteful topiary, aside from their contemporary incongruity within such 17th-century elegance. In fact Kapoor's work – six huge pieces in and around the grounds – has been almost unanimously praised by the art press.
But a Chinese whisper effect seems to have afflicted his centrepiece work, "Dirty Corner". The French Sunday newspaper Le Journal de Dimanche reported Kapoor describing it as "le vagin de la reine" (The queen's vagina). Kapoor has since distanced himself from the epithet, but, just like McCarthy's Vendôme inflatable, which will now only ever be affectionately known as his "butt plug", the name has caught on fast in the media.
It is possibly this description, rather than just the work itself, that the vocal minority have found so problematic. No faction has yet to take the dubious credit for "Dirty Corner" being defaced with paint although Fabien Bouglé, a Versailles politician close to the anti-same sex marriage movement, has come near, calling the vandalism "poetic justice" and an "artistic achievement".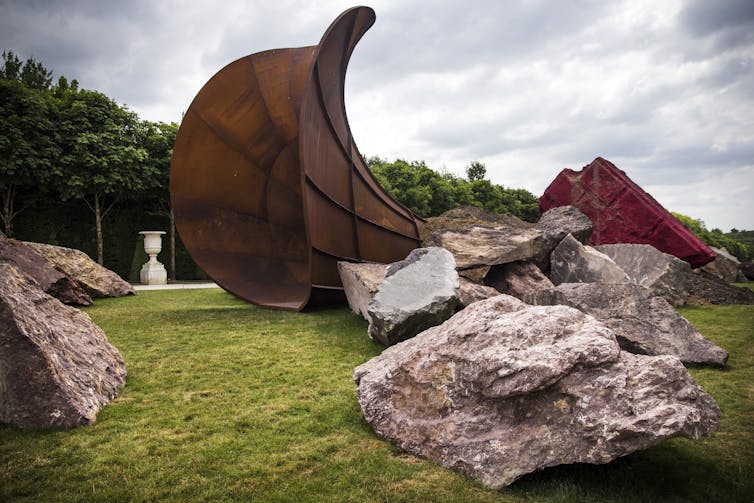 Long-departed royalty
That the work sits within the expansive, graceful and deeply conservative gardens of the Château, once strolled through by Marie-Antoinette and Louis XVI, is also deeply significant. There is an apparent school of thought within the traditionalist right that understands any signs of dissent or non-conformism within the grounds of the former palace as an affront to French cultural memory. This despite the end of the French monarchy in 1793.
Previous installations at the Château by the likes of Takashi Murakami and Jeff Koons have also provoked criticism, petitions and protests from the right. But, until now, there's been no direct action. Just like the deflation of McCarthy's piece, it seems that any calling into question or critical interrogation of French cultural heritage risks the response of vandalism.
There is, of course, an uncomfortable irony at work here. Paris became the focus of global attention at the start of the year for its display of solidarity and tolerance of dissent in the wake of the Charlie Hebdo murders as millions took to the streets. Tweeting her defence of Kapoor, French culture secretary, Fleur Pellerin, said the vandalism was an affront to artistic freedom, the same crucial value that was defended on the streets of Paris and around France back in January. Of course there is a huge difference in magnitude between the terrorist act and any form of vandalism. But they both share a disquieting and fundamental desire to restrict creative expression in the name of deeply questionable values.
For what its worth, I think the description of Kapoor's work as a vagina is a bit of a red herring. The name "Dirty Corner" and the funnel-like entrance point towards more anal connotations for me. The surrounding detritus is somehow expelled from the bowels of the earth. Kapoor will probably never reveal his true intent, but with its disparate and disjointed parts in a state of awkward tension, the queen's – or, indeed, king's – sphincter provides a significant metaphor for the social and political contradictions at work in contemporary France.