To Wilkie, or not to Wilkie?
That is the question confronting the electors in the Tasmanian seat of Denison on September 7.
The last three years
It's been a long time since former prime minister Julia Gillard and Denison MP Andrew Wilkie signed the eight page agreement on September 2, 2010, that helped secure minority government for Labor. In turn, it elevated Wilkie from an independent who secured 21% of the first preference vote and ran third behind the Labor and Liberal candidates on first preferences to a place in Australian political history.
Wilkie's victory, elevated in the count by Greens preference flows and ironically finally secured on the back of Liberal Party preferences, brought largesse to Denison via significant investment in hospital funding and political influence in the 43rd parliament. That agreement also provided unprecedented access to the prime minister for Wilkie.
However, it all ended in great disappointment. Labor was able to ditch its commitment to Wilkie's poker machine reform on the back of Peter Slipper's elevation to the speakership and the subsequent shift in numbers in the House of Representatives.
What about this time around?
The uncertainty attached to Denison has two explanations: one purely speculative and the other so odd that it invites a range of potential conspiracy theories.
Both explanations have a timeline divided by the Gillard minority government and Kevin Rudd's resurrection as prime minister. When Julia Gillard was prime minister with a September 14 election date in sight, Wilkie's prospects were clouded by a certain Coalition victory and the "New England syndrome". Why would voters place their faith in an independent without influence in a parliament and government now in majority, with a massive majority as well?
Significantly, the Liberals – after a long delay - nominated a political novice to run in Denison from "out of town", Tanya Denison, who had arrived in Tasmania from Queensland in December 2012. Opposition leader Tony Abbott couldn't remember her name when he visited northern Tasmania in July 2013, and Denison was also forced to remove comments about the GST that suggested Tasmania was a burden on the other states from her Facebook page.
So, where was the high profile Liberal candidate who, on the back of a Coalition landslide, might challenge Wilkie and Labor in Denison? In April, prior to the selection of Tanya Denison as the Liberal candidate, Labor state secretary John Dowling suggested that Wilkie had done a deal with the Liberals and was effectively the de facto Liberal candidate, who would support the Coalition if elected.
At present, Labor and Wilkie are locked in a battle over a Labor billboard that proclaims: "Vote for Wilkie equals Get Abbott". Wilkie claims the material is defamatory and misleading and has written to the prime minister to demand its removal.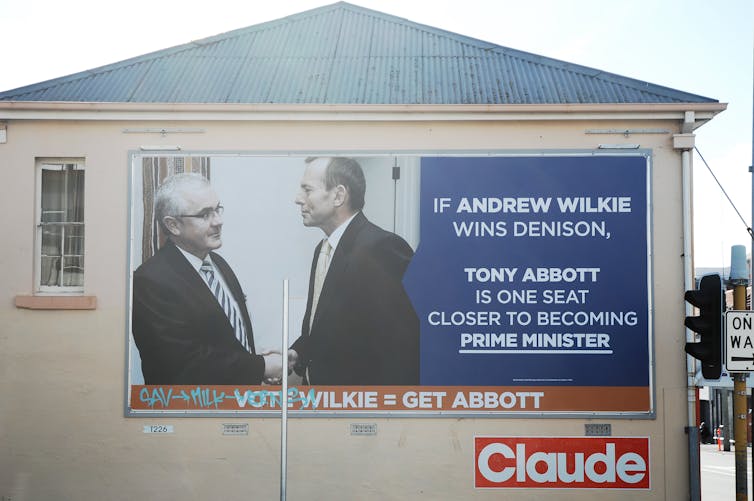 In addition, there was some speculation that if Wilkie was unsuccessful at the federal poll he would contest the state election in 2014, and if elected he would support the Liberals either in minority or majority state government. Wilkie has rejected this theory, but it remains unclear as to why the Liberals couldn't find a competitive local candidate.
Labor selected a hard-working but relatively unknown novice candidate in social worker, Jane Austin. By contrast, the Greens have a high profile activist, Anna Reynolds, as their candidate. Denison is likely to be contested by at least seven candidates including Debra Thurley, contesting on behalf of the Palmer United Party.
To retain Denison, Wilkie must repeat his 2010 position – finish third at worst – and hope for preference flows from the Greens to elevate him to a winnable position. This might be complicated by the levels of animosity between Wilkie and some Greens' supporters, but is unlikely to be decisive even if Labor and the Greens were to do a preference deal.
Denison is Tasmania's Green seat, and Reynolds' profile should deliver a primary vote in the 20% plus range. However, it will not be higher than Wilkie's anticipated primary vote, which could out-poll the Liberal candidate.
Two local issues – a proposed cable car on Mt Wellington and a light rail system to the northern suburbs of Denison – will attract the attention of voters. On a national scale, the level of Newstart and youth allowances, Kevin Rudd's asylum seeker policy, the carbon tax and the potential change to GST distribution are of interest.
For the 70,000 electors in Denison - largely snuggled under the majesty of Mt Wellington, taking in the cities of Hobart, Glenorchy and northern parts of the relatively affluent Kingborough municipality - who to elect in Denison remains a complex question with an uncertain answer.
A couple of weeks into the official election campaign and the political outcome in Denison is as foggy as when the infamous Bridgewater Jerry – a meteorological fog – descended on the Derwent River and its upper reaches.