Your interest in sports may have started out as a hobby when you were just a kid. You were better at it than others, and some even said you were gifted. Maybe you had a chance to develop into a professional athlete.
Colleges would soon line up to extend full scholarships. If you pushed hard enough, practised countless hours and kept a cool head, lucrative contracts and international fame awaited.
This fantasy plays out for many North American kids who dream of "making it to the big leagues."
Whether they play hockey, football or basketball, even the most remote possibility of turning their love of the game into a respected career is worth sacrificing for.
Enter video games.
In less than a decade, the realm of professional sport has been taken by storm by the rise of eSports (short for electronic sports). These video game events now compete with — and in some cases outperform — traditional sports leagues for live viewership and advertising dollars.
For the top eSports players, this means sponsorship contracts, endorsements, prize money and yes, global stardom.
Games on TV still command high ad dollars
This week, dozens of professional video game players will descend on Toronto during NXNE, an annual music and arts festival, to compete in different games for prizes of up to US$1,000. Not a bad payday, perhaps, but still chump change in the eSports scene.
For example, Dota 2, a popular battle arena game published by Valve, recently handed out US$20 million to its top players during its finale.
What does this mean for traditional sports? And sports TV viewership?
The lasting broadcast success of sports leagues games can be explained by the fact that they are meant to be shared happenings and are best experienced live. As such, they have been resilient to disruptions within the media landscape and somewhat spared by the advent of on-demand streaming services such as Netflix and Amazon Prime.
The ability to capture a sizeable number of "eyeballs," long enough and at a precise time, is the reason why professional sports leagues still command huge TV rights and advertising dollars.
In the past few years, the "Big Four" North American sports leagues have all struck new deals worth hundreds of millions of dollars.
Shifts in sports culture
Some leagues like Major League Baseball, and their once subsidiary Advanced Media division (MLBAM), have long embraced technological innovations to enhance audiences' experience.
Meanwhile, media and telecommunication giants have been slower to catch on.
In 2016, John Skipper, then president of ESPN, referring to cable TV packages said: "We are still engaged in the most successful business model in the history of media, and see no reason to abandon it."
This attitude, at the time, was not only symptomatic of a lag or inability to adopt technological innovations, but also raised concerns about the company's future.
But the decline of the traditional linear broadcast, and the risk of losing relevancy in this digital, broadband and tech savvy media landscape is inevitable, and forces these media giants to question their traditional business models and to focus on online audiences.
Along with this shift, a new, popular and expansive trend for the new generation has emerged - eSports.
Whether eSports are actual sports or not is a whole other debate; however, the emergence of the global video game competition field demands attention and strategic investment.
Why eSports is doing so well
As a spectator sport, video games generate viewership at least on par with professional leagues.
Take, for instance, 2016's League of Legends tournament that drew 36 million viewers, five million more than the NBA Finals, in front of a sellout crowd at the famous Bird Nest stadium in China.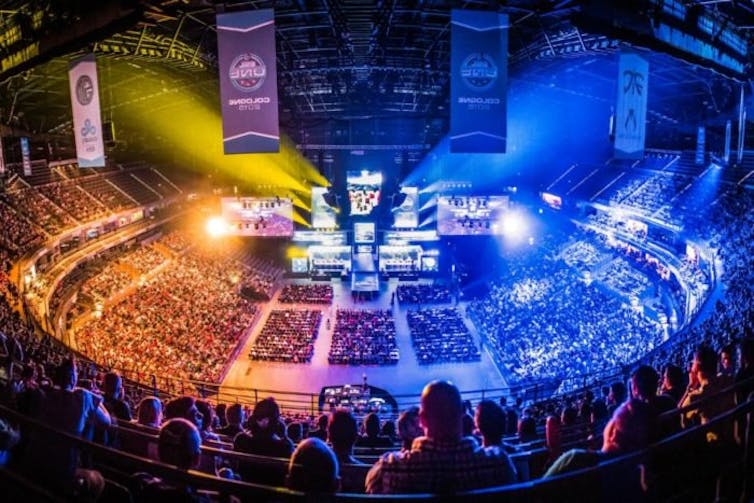 eSports mimic traditional sports leagues principles: Exciting content, likeable stars, catchy team names, slow motion highlights, intense competition and an uncertain outcome.
These video games attract audiences as they are no longer simply designed to be played, but increasingly to be visually pleasing for audiences.
Age-wise, compared to traditional sports that struggle to diversify their audience demographics, eSports have successfully attracted younger viewers.
The fan base is pretty young, with 61 per cent of fans falling in the 18-34 age range. Young men, in particular, are a desirable market for many advertisers.
eSports attracts advertisers
The economic outlook for video gaming sports is staggering. According to NewZoo, eSports "on its current trajectory is estimated to reach US$1.4 billion by 2020." And a "more optimistic scenario places revenues at US$2.4 billion."
Companies like Red Bull, Coca-Cola and Samsung, all usual suspects when it comes to advertising and young people, are flocking to eSports.
In recent years, eSports has made efforts to monetize across traditional revenue streams, such as merchandise sales, subscriptions plans, ticket sales and broadcast rights. It is, once again, taking a page straight out traditional sports leagues' playbook.
So, what can established leagues and media giants do? Given the choice between fighting eSports or joining them, many appear to have chosen the latter. Recall ESPN resisting change in 2016. Then fast forward to their recent strategic investments in the digital platform BAMTech, once MLB Advanced Media, in order to launch ESPN streaming services.
As a result, Disney, the 100 per cent owner of ESPN, now has a say in League of Legends streaming because its publisher Riot Games had signed a seven-year US$350 million dollar broadcast deal with BAMTech.
FIFA just partnered with Electronic Arts on a online tournament that drew 20 million players and 30 million viewers. Also hoping to create platform synergies and to reach new audiences, Amazon acquired Twitch in 2014, the leading game streaming service.
These examples show that eSports are not just popular with gamers, but also among sports leagues and media giants. Both stand to learn from each other. No wonder Activision's CEO said that he wanted to "become the ESPN of eSports."
This popularity also opens up more opportunities to compete on the professional level and earn huge endorsements, prize money and salaries just like LeBron James, Serena Williams, Danica Patrick or Sidney Crosby.
In fact, higher education eSports programs are already launching across the country and college scholarships are now commonplace, further acknowledging the economic viability and social acceptability of this phenomenon.
And with talks of introducing eSports in the Paris 2024 Olympic Games, Canada's "Own the Podium" program may soon have to follow suit.
In any case, it turns out that our parents were wrong all along: You can stay glued to your console in the basement all day and still make it pro.