It's the season to be making predictions about 2014 Oscar wins, and although Australian audiences are yet to see Best Picture favourites from the likes of Martin Scorsese (The Wolf of Wall Street), David O. Russell (American Hustle) and the Coen Brothers (Inside Llewyn Davis), there is one film that has at least one Oscar sewn up.
When Alfonso Cuaron's Gravity inevitably, deservedly, takes the Visual Effects Oscar in March 2014, it will cap off a vintage year for an industry that looks to be creatively coming of age.
Between last year's visual effects-laden favourite, Ang Lee's The Life of Pi, and the release of Gravity, we have seen films as varied in substance and style as Baz Luhrmann's The Great Gatsby and Jacques Audiard's Rust and Bone tie their fates to visual effects (VFX) work.
Visual effects facilities are increasingly responsible for subtle effects in films lauded by serious-minded critics.
VFX virtuosity in Gravity
Nowhere has this faith in VFX paid better dividends than in Cauron's long-gestating space opus, which won over audiences and critics with its visual virtuosity.
Restrained and elegant in its use of 3D aesthetics, Gravity is an innovative work of animation: it will surprise many to know that 98% its shots were digitally created, frame by frame, by a team of more than 400 visual effects artists.
Over three years, this team seamlessly blended elements filmed in live action – comprised in the main of the actors' faces – with computer-generated images that include space suits and shuttles, 30 million stars in the vast space landscape, fragments of debris hurtling through zero gravity, and even the condensation caused by Sandra Bullock's frantic breathing as she struggles untethered in space.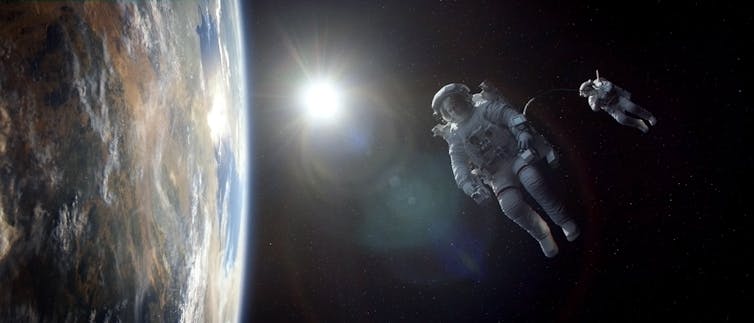 As visually impressive as this achievement is, the film is also quietly ground-breaking in what it proposes for the future of visual effects in cinema.
Often hurled as an epithet and long synonymous with the kind of explosives-laden, logic-defying fare that fills multiplexes, computer-generated imagery (CGI) took centre stage in Gravity as an essential function of the creative process.
Post-production before the cameras roll
Unable to film the actors in a real or staged environment, Cuaron, his cinematographer Emmanuel Lubezki, and VFX supervisor Tim Webber inverted the model of visual effects as a post-production activity – instead rendering the film's environments in a virtual space long before a camera had rolled.
Collaboration of this sort, particularly between Lubezki and Webber, signals a blurring of the boundaries between strictly delineated roles in film production. It breaks down the Fordist approach that has dominated the assembly of films in Hollywood production system.
The film is notable for another small but significant industry first – when the credits roll, Webber is acknowledged alongside Lubezki as a key architect of Gravity's visual style.
To the casual observer, this would appear to be an industry enjoying the first flush of serious creative recognition.
But the VFX artists protesting outside the Oscars in February 2013, industry crisis talks, and calls for unionisation tell a different story.
An industry in crisis?
Rhythm and Hues, the company responsible for the visual effects of Life of Pi, won their Oscar not two weeks after declaring bankruptcy, following in the footsteps of James Cameron's Oscar-winning Digital Domain facility, which went bankrupt five months earlier.
The roots of the crisis in the visual effects industry can be traced back to the 1980s, when the practice of fixed-price bidding on visual effects work was established in an environment in which expectations of what effects could do were greatly tempered.
Spielberg's 1989 blockbuster Indiana Jones and the Last Crusade featured just 80 visual effects shots – in comparison with 500 for Titanic eight years later, and more than 3,000 for Avatar in 2009.
A globalised nomadic workforce
Globalisation and the exponential increase in computing power have also fundamentally changed the ecosystem of what was once a California-centric industry. Competition has cropped up in the developing world, where labour costs are cheaper, and in government-subsidised hubs in countries such as Canada, New Zealand and Australia, putting downward pressure on bidding for tenders.
The situation isn't helped by a studio system under pressure to chase bottom-dollar work even as it increasingly relies on VFX work to do everything from creating entire characters and worlds to sky replacement to pimple removal.
For their part, the studios are now so concerned about this instability they helped to foster they are opting to hedge their bets by spreading the work across many facilities and paying as they go.
The knock-on effect is a globalised, nomadic workforce forced to work longer for less. Even top-tier facilities face an uncertain future.
The VFX industry itself is far from blameless: facilities seem only too willing to oblige the studios, mystifying the VFX process while keeping the real cost of business hidden by absorbing much of it themselves.
As a white paper released earlier this year by peak industry body the Visual Effects Society observed: "no other provider to the film industry works in this manner".
Where to next?
If the issues are plain for all to see, the solutions are less so.
While there are renewed calls from visual effects artists to unionise, there is also awareness that the budget blow-outs that would ensue from artists being properly compensated would force many facilities to close.
Similarly, the Visual Effects Society white paper calls on facilities to foster greater business acumen and floats the possibility of companies diversifying into other aspects of media delivery – but concedes that they are largely at the mercy of market forces out of their control.
While the film industry prevaricates about the solution, the threat to filmmaking is real and perhaps best summed up by Bill Westenhofer, the VFX supervisor on Life of Pi.
Having suffered the indignities of bankruptcy, the perceived indifference of his own director, and being played offstage at the Oscars to the Jaws theme music, Westenhofer articulated many artists' frustrations:
Visual effects is not just a commodity that's being done by people pushing buttons. We're artists, and if we don't find a way to fix the business model, we start to lose the artistry.
If the reward for creative and technical excellence is both an Oscar and bankruptcy, VFX facilities will surely be careful what they wish for – and this is to the detriment of cinema.