What's the best way to help disaster victims?
We agree with other disaster experts that cash is more helpful than mounds of clothing, diapers and other goods. Giving money limits waste and makes it easier to address local needs, among other reasons.
In addition, supporting recovery efforts tied to disasters that occurred a year ago or waiting to give can be the best way to go. Our independent research across several states and disasters, including Hurricane Harvey and the 9/11 terrorist attacks, indicates that needs are often as big or even greater long after a disaster than in its immediate aftermath.
What aid covers
Disasters engender large amounts of philanthropic support, partially due to media coverage. Yet most of this aid is given quickly and addresses immediate needs, as opposed to longer-term recovery and reconstruction efforts.
Governmental and nongovernmental aid alike often cover relief efforts – that is, the shelter, food and health care needs of victims right after disasters. This initial funding may also pay the tab for repairing damaged infrastructure, like roads and utilities, which will meet some medium and long-term priorities.
However, people whose homes are destroyed or badly damaged by disasters as a result of disasters often contend with red tape and inadequate funding and can remain displaced long after major disasters.
The reasons for this problem are clear.
Affordable housing, whether rented or owned, is scarce and underfunded across the nation. Flood insurance only covers a small minority of homeowners. In most cases, homeowners and rental insurance policies do not go far enough to address all post-disaster needs. And the federal government provides little help for people to repair housing following emergencies.
Consider the situation in La Grange, Texas, a town of fewer than 5,000 people. While there is no full count of exactly how many local residents still lack housing, about 25 families are still living there in trailers provided by the Federal Emergency Management Agency more than a year after Hurricane Harvey destroyed their homes. Many others in that community remain in hotels or are staying with friends and relatives.
The local long-term recovery organizations that help households in places like La Grange rebuild with donated supplies and volunteer labor must keep recruiting volunteers and seeking funds for years after disasters.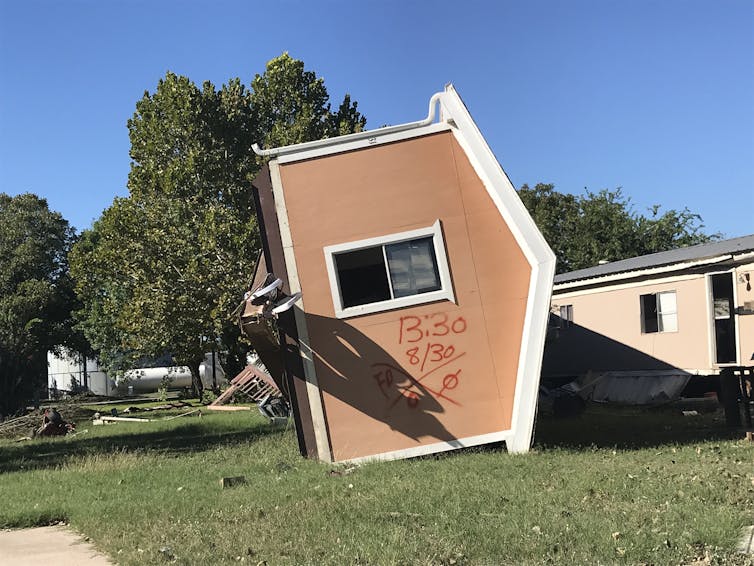 Setting priorities
Disasters also expose many inequities. Those who remain in need for years to come were likely to have been facing economic hardship beforehand. That was the case in New Orleans after Hurricane Katrina and New York City following Superstorm Sandy.
Despite the inevitable long-term needs, even foundations – organizations that aspire to make their giving strategic – too often focus on short-term disaster relief.
The largest 1,000 foundations together gave only 5 percent of their overall disaster-related funding specifically to reconstruction and recovery, about US$7 million, in 2015, according to the Center for Disaster Philanthropy, a nonprofit that tracks this data.
After disasters, nonprofits and donors alike should begin to think about the affected communities' long-term needs. It is hard to reserve funds for later use in the midst of a crisis, but some nonprofits have done that.
For instance, in the aftermath of the 9/11 attacks, the New York Community Trust and the United Way of New York City formed the September 11th Fund to support the victims of the attacks. Its leaders knew that needs would be greater in the second and third years after the attacks, so they set money aside to disburse later.
What can you do?
Donors can give to nonprofits immediately after disasters that are bound to be involved in recovery efforts in the long run, such as community foundations and the local chapters of large national nonprofits.
Giving not just in the wake of disasters but also on the anniversaries of prior ones can make a big difference. At that point, the media will be reporting on how much progress has been made, as happened on the first anniversary of Hurricane Maria.
And by then you can vet the efforts of different charities by consulting their annual reports to see what they have accomplished so far. Many local long-term recovery organizations will share or post their financial information online, such as the Bastrop County Long Term Recovery Team, which rebuilt homes for underinsured survivors of Texas wildfires and floods.
Donating long after disasters addresses major unmet needs. It also gives you the chance to get more reliable information about how your gift will be used.