In 2016, nearly one in five of the 7.4 billion people on our planet live in fragile situations. This represents the highest level of suffering since World War II – and numbers are set to increase as conflict, violent extremism and natural disasters continue to cause massive global disruption.
In response to the escalating crisis Ban Ki-moon, United Nations secretary-general, has convened a World Humanitarian Summit in Istanbul on May 23. This is the first event of its kind in the 70-year history of the UN, making a direct call to world leaders to rally together and commit to end human suffering by addressing our most urgent humanitarian challenges.
The summit will bring together heads of state and government, community leaders, businesses and humanitarian organisations to debate how we can improve our response to major humanitarian challenges and be better prepared to meet challenges of the future.
Ban Ki-moon has proposed an "Agenda for Humanity" – five key responsibilities to be at the heart of all decision-making at the global level:
Prevent and end conflict
Respect rules of war
Leave no one behind
Work differently to end need
Invest in humanity
Shift in thinking
Point four in the Agenda for Humanity is possibly the most provocative. It urges a paradigm shift in the aid and development sectors, as global development partners increasingly argue that many crises are predictable and should not be seen as unique events.
In the simplest terms, a traditional aid response to an emergency focuses on providing food, water, shelter and medicine to meet basic human needs. Development, meanwhile, addresses the systemic levels of education, agriculture and healthcare, when a country is considered stable enough to engage with long-term planning. The two are rarely coordinated on the ground or at any level of governance or politics – even within the same organisation.
But "emergencies", especially those caused by war, can now last decades. The world's largest refugee camp, in Kenya, has accepted refugees from Somalia for nearly 25 years and there is widespread concern about where thousands of camp dwellers will live if Kenya follows through with plans to close the camp. The Syrian crisis, which began in 2011, shows no sign of ending any time soon.
Taking control
Arriving at a camp when you are desperate and hungry brings the promise of shelter and relief. Living in one to raise a family is a different – and miserable – scenario. Continuing to provide a repeatedly short-term response to displaced people denies them the opportunities to educate their children, provide for their families, be politically empowered and live full and productive lives.
There can be no argument that displaced communities need a long-term, coordinated approach to support their needs and it's promising to see that this is now being reflected by global donor partners. For example, the UK Department for International Development's upcoming fund on Strategic Partnerships for Higher Education Innovation and Reform will call specifically for innovative solutions to provide tertiary education for communities displaced by the Syrian crisis.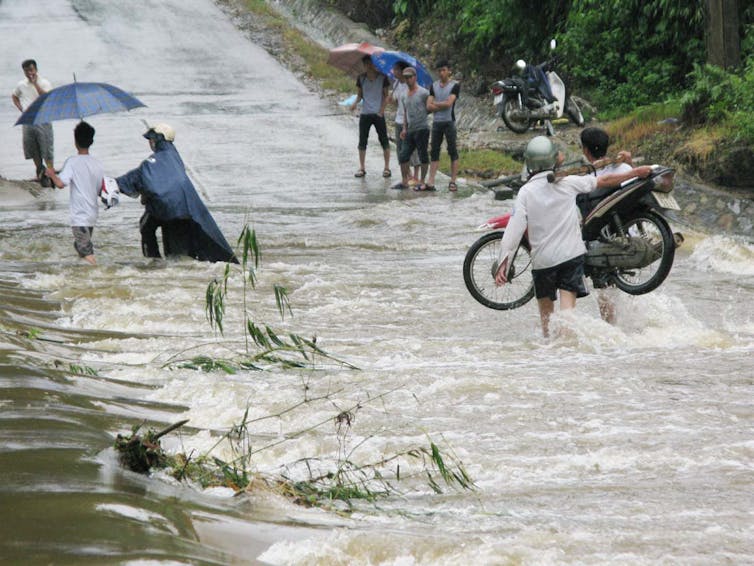 Just as we can plan for the longer-term effects of conflict, so we can prepare communities for some elements of natural disaster. A blog published ahead of the summit tells the story of Ranh Nguyen, a 35-year-old farmer in rural Vietnam. Climate change is making Vietnam's rainy season increasingly extreme and erratic, regularly destroying homes and killing people and animals. With help from the Women's Union and UN Women's work to strengthen the role of women in disaster risk reduction, Ranh and her neighbours have taken control of their situation:
Last year … we prepared better for our families and our village before the storm came … Thanks to good preparation and detailed mapping that we developed in the meetings before each storm, nobody in the village was killed or injured severely in last year's storm season. Crops, fowl and cattle were saved.
Not urgent enough?
Collecting better data on risk, acting early and working with communities to make them robust against their vulnerabilities could reduce risk and vulnerability on a global scale. But the call to blend humanitarian and development action has also attracted criticism, most notably from the charity Médecins Sans Frontières which has withdrawn from the summit after an initial period of engagement.
MSF called the summit a "fig-leaf of good intentions"; it suggested that the focus on bringing together humanitarian assistance and development meant that the summit would fail to address urgent political issues that are impeding immediate humanitarian action on the ground. In the past year, 75 hospitals managed or supported by MSF have been bombed and political intervention is vital in order to protect humanitarian response efforts in conflict situations. It warned of the challenges in trying to blend the essentially apolitical nature of humanitarian response with the national policy approach of development, and how this will be received in fragile states.
Between 2008 and 2014, 184m people were displaced by disaster – the equivalent of one person per second. There is no doubt that we are witnessing the biggest humanitarian crisis in our lifetime. No organisation is better placed than the UN to bring together those who have the most power and potential to achieve transformational change, but there is a mountain of work to do.