This is one of a series of articles to coincide with the 2017 Ecocity World Summit in Melbourne.
---
Cities have always been eco(nomic)cities but rarely eco(logical)cities. Today, growing inequality and environmental degradation undermine the very conditions of life as we have known it. Continuing business and urbanisation as usual will make this problem worse.
Economic growth must become synonymous with ecological and social sustainability. If we forget this we are doomed. Cities, where more than half of the world's people live, must lead the way.
Many city dwellers are heeding the call to change ways of being and reshape livelihoods. They are modifying their behaviours as much as they can to reduce, reuse and recycle.
They are becoming renewable energy producers in the face of a political system that as yet, in Australia at least, refuses to help very much. They are reducing car use and are interested in sourcing food more locally.
But citizens can only so do much. One hope for our cities, identified in my research, is that more and more businesses put ecological and social sustainability at the core of their performance model.
Companies that lead the way
Companies like commercial carpet tile manufacturer Interface Carpets did this a generation ago when it abandoned the linear "take-make-waste" model of production. Instead, it embraced a commitment to eliminating any negative impact on the environment.
With the input of an "eco dream team" made up of pragmatic philosophers and biomimicry experts, the company adopted a visionary plan, "Mission Zero".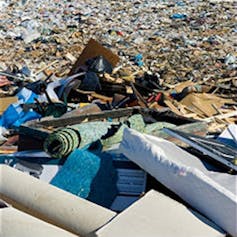 The Interface business was redesigned along circular economy lines to eliminate oil from the production of synthetic carpet tiles. This achievement will be largely completed by Interface's target year 2020. At the same time, the business has eliminated waste, is powered by 100% renewable energy and uses efficient transportation.
But environmental wellbeing is not all Interface is committed to. Social equity is also a company goal.
Interface's Netherlands plant is pioneering collaboration with a social enterprise that employs people at a distance from the labour market. This enterprise is organising the cleaning and reuse of carpet tiles, large proportions of which are replaced before their product expiry date.
Interface's Minto plant, on the outskirts of Sydney, has taken the corporate lead internationally to refashion the "factory as a forest" as part of the new Climate Take Back strategy.
The goal is not only to reduce the negative impact on the environment but to have a positive impact through restorative action. How this will be done is still to be determined, but it is objectives like Mission Zero that have driven innovation in the past.
The Australian social enterprise Soft Landing first established just north of Wollongong provides jobs for people experiencing disadvantage. They disassemble and recycle the materials of mattresses that otherwise get dumped in landfill.
Just like Interface, Soft Landing is exploring new interdependencies between for-profit firms with a commitment to environmental sustainability and for-purpose social enterprise.
Having worked with key industry partners over many years, Soft Landing is co-ordinating a product stewardship scheme that enrols firms in voluntarily adopting sustainability protocols for mattress making and unmaking.
Mattresses are a problem waste stream, and this initiative will help roll out Soft Landing's innovative "waste to wages" model, significantly reducing landfill while also creating jobs.
A carpet manufacturer and mattress recycler are showing the way toward repairing and restoring the social and environmental fabric, and pushing policy along as they do so. This is jobs and growth in a new register. If they can do it, so can others.
Now for the construction sector…
Now we need the urban building sector to take notice and attend to the context in which carpet and mattresses are housed.
Rather than catering to demand for the cheapest housing that conforms to the most basic of BASIX, we need to see some leadership with housing that truly contributes to environmental and social restoration and repair.
Housing developers could race to the top by experimenting with:
Interface and Soft Landing are successful businesses that show what can happen when commitments to building a better world become central to their brand. If we can't rely on our politicians to listen to the warnings of the Anthropocene, we can at least turn to ethically attuned business to help make ecological cities a reality.
Working with a reparative ecological approach and a commitment to socio-economic inclusion, everyone can be part of a solution. Overcoming inequality and environmental degradation is key to ensuring that ecocities are not another excuse for business as usual in a new guise.
---
You can read other articles in the series here. The Ecocity World Summit is being hosted by the University of Melbourne, Western Sydney University, the Victorian government and the City of Melbourne in Melbourne from July 12-14.