If you get on a plane and your baggage ends up being delayed, damaged or lost, who's responsible: you or the airline? And what rules apply when you're flying between different countries – even if you don't have travel insurance?
Airlines (otherwise known as carriers) generally include baggage requirements in their terms and conditions of carriage, which are set out or referred to on your ticket. These are the rules that apply to the journey that you have booked.
But for international flights, a carrier's liability for damage, loss or delay of baggage is governed by a number of overarching international treaties, which many passengers aren't aware of.
International agreements
The Warsaw Convention of 1929 was the first of these treaties, and the latest is the passenger-friendly 1999 Montreal Convention.
In order for one of these treaties to apply to a particular journey, the same treaty must be in place at the point of departure and the passenger's final destination.
For many trips, the agreement that will apply will be the Montreal Convention, which has to date 108 state parties, covering everywhere from Albania and Australia to Zambia. In time, the Montreal Convention is expected to apply to almost all air travel.
The Warsaw Convention (as amended by the Hague Protocol and Montreal Protocol No. 4) will generally apply where the Montreal Convention does not. It is less favourable to passengers.
All these treaties have similar provisions to deal with baggage claims – but very different limits to what you might get if you need to make a claim.
What the airline is responsible for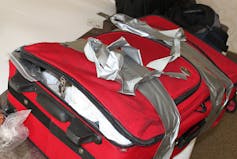 A carrier is liable if your checked baggage is lost, delayed or damaged regardless of fault.
This is so unless the damage resulted from the inherent defect or quality of the baggage or, in terms of delay, if it proves that it took all reasonable measures to avoid the damage occasioned by that delay.
As for unchecked baggage (that is, carry-on baggage), the carrier is only liable if the damage is due to the fault of the carrier or its agents.
Unless otherwise specified, reference to "baggage" includes both checked and unchecked baggage.
Calculating baggage compensation
Under the Warsaw Convention (as amended by the Hague Protocol and Montreal Protocol No. 4) and the Montreal Convention, liability limits are expressed in special drawing rights (SDRs).
An SDR is a type of foreign exchange reserve asset created by the International Monetary Fund. Its value is based on an artificial basket of currencies consisting of the US dollar, the euro, the pound and the Japanese yen. The liability limits are reviewed every five years.
As of October 16, 2014, the value of an SDR is about US$1.49, £0.93 or A$1.70. Current SDR values for other currencies are also listed here.
So what is your baggage worth?
In terms of baggage liability limits, the Warsaw Convention is of relatively little assistance to passengers.
If your international travel is subject to Warsaw (for example, if you flew out of the United States on a one way ticket to Guatemala), liability for delayed, damaged or lost baggage is limited to 17 SDRs (about US$25.33, £15.81 or A$28.90) per kilogram per passenger for checked baggage and 332 SDRs (about US$494.68, £308.76 or A$564.40) per passenger for unchecked baggage.
In contrast, a carrier is liable to pay far greater damages if the Montreal Convention applies.
For any travel covered by Montreal, the carrier's liability for baggage is limited to 1131 SDRs per passenger (US$1685.19, £1051.83 or A$1922.70), unless otherwise declared.
The carrier is not liable for damages caused by delay if the carrier took all reasonable measures, or if it was impossible for it to take such measures.
Time limits on baggage claims
Time limits are imposed on making a claim for delayed, damaged or lost baggage. Any potential claims should be made to a carrier in writing within these specified limits.
Article 26 of Warsaw provides that any complaint as to delay of baggage must be made at the latest within 21 days from the date the baggage was placed at the passenger's disposal.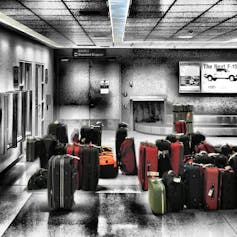 Similarly, under Article 31 of Montreal, a complaint must be made within 21 days of a passenger receiving their baggage.
With respect to damaged baggage, under Warsaw, any claim must be made "forthwith" after the discovery of the damage and at most seven days from the date of receipt of the baggage. Montreal also gives passengers seven days from receipt of checked bags to report a damage claim.
Neither convention imposes a time limit for reporting lost baggage claims. But it is advisable that you make your complaint as soon as possible.
Warsaw does not state when baggage is considered "lost", leaving it up to carriers to make that ruling. Under Montreal, baggage is only considered lost after 21 days or if the carrier admits that they have lost it.
If a passenger fails to make a complaint within the specified times, the carrier will not be liable unless there has been fraud on the carrier's part.
Insurance alternatives
If you are concerned that the contents of your baggage exceed the liability limits outlined above, you can make a special declaration of the value of your baggage prior to check-in and pay any additional fee (if required).
In this case, the carrier will be liable to pay a higher amount, unless it is proved that the declared amount is greater than the actual value of your baggage.
Alternatively, prior to travelling, check with your insurance company as to whether your travel insurance covers any excess from delayed, damaged or lost baggage.
You might also want to check this list to see whether the places you're departing from and finally arriving at are parties to the Montreal Convention. If not, you might just find yourself out of pocket.