Prime minister Tony Abbott may be a fan of institutional inquiries and a critic of supposed ABC bias, but he has nothing to gain by responding to calls for yet another review of the ABC.
First, there's no clear need for a review. Claims of ABC bias are always tenuous, especially given the extensive accountability framework developed over six years by former editorial policies director Paul Chadwick – after the 2003 inquiry into allegations by former communications minister Richard Alston of biased coverage of the Iraq war.
Bias is a less persuasive rationale after yesterday's announcement about "editorial audits" on information programming. ABC chairman James Spigelman told the National Press Club that the ABC has already begun to commission industry experts to do up to four impartiality checks annually on coverage of contentious political issues such as asylum seeking.
That leaves crowding out in digital markets as a point of contention. However, this is also a weak rationale in the Australian context.
As creative industries pioneer Stuart Cunningham has argued in his latest book, public service media like the ABC can have a sponsoring – rather than chilling – effect on innovation, at least where its competitors are not already in position to do research and development and where it isn't the dominant market player.
Two examples illustrate this. The ABC's online streaming service, iView, is a model for video-on-demand services that has yet to be matched locally for useability and functionality. The ABC has also set an accessibility benchmark with its television audio description trials for blind Australians.
Spigelman acknowledged yesterday that the ABC does compete to some extent in service delivery. Yet it was designed to do this after the 1982 Dix Inquiry, which found the national broadcaster was:
…slow-moving, overgrown, complacent, and uncertain of the direction in which it is heading.
Dix triggered the then-Australian Broadcasting Commission's transformation into a public enterprise, with innovation added to its charter. This laid the groundwork for its digital expansion.
However, despite the claims made by News Corp columnist Andrew Bolt that the ABC stole fact-checking website PolitiFact's thunder, its online news presence seems to have had little impact on the scope of competition.
Clearly it was not a deterrent to the UK's The Guardian or Daily Mail setting up online Australian editions.
Predictably, News Corp has led the push for an inquiry for ideological and commercial reasons. That, historically, has simply been its modus operandi.
Back in the 1930s, the then-CEO of the Herald & Weekly Times, Sir Keith Murdoch, argued the ABC shouldn't be broadcasting radio in competition with private operators, or delivering independent news. Now his son Rupert tweets his unhappiness about state-funded and leftist media:
BBC massive taxpayer funded mouthpiece for tiny circulation leftist Guardian. Meanwhile print media about to be gagged to protect toffs.

— Rupert Murdoch (@rupertmurdoch) October 6, 2013
Yet the BBC, News Corp's bête noire, has come up with a market value test that makes its developmental agenda more open to competitive scrutiny. This is something Rupert should applaud.
Public value testing
In 2005, the BBC introduced a two-step public value testing process that would help it justify the rationale for any new digital operations. Since then, its market impact assessment model has been widely adopted across Europe as a way of increasing the transparency and rigour of product and service development.
But these so-called ex-ante tests have also generated long, costly and ultimately ritualistic verification processes.
In Norway, national broadcaster NRK's 2011 bid to develop a web-based travel planner with three public sector partners took 18 months, four levels of review and royal intervention to resolve in its favour. The project folded shortly after approval.
Inquiries like this make blunt policy instruments and may undermine the process of innovation they were mean to serve.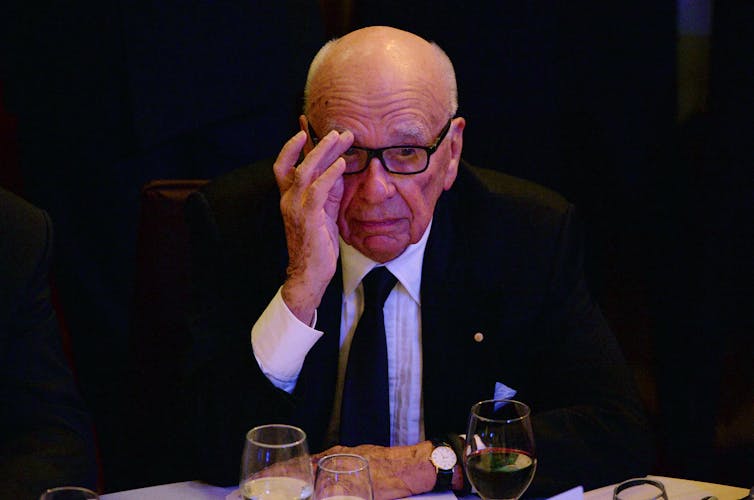 Another inquiry?
The ABC is one of the most scrutinised organisations in the country. This year alone the ABC's regional commitment has been the target of two Senate inquiries, into regional television production and news services.
In the last decade there has been a significant review or inquiry roughly every three years – including KPMG's funding adequacy investigation (2006), and former communications minister Stephen Conroy's Digital Economy: Future Directions inquiry (2009) and the Convergence Review (2012). This raises the question: what use would there be in another?
Reviews can certainly curb the scope of organisational ambition. The 1997 Mansfield Inquiry, for example, led to major cuts to Radio Australia's network and forced ABC Online to develop under the radar for years, as a "non-core" service.
Reviews can also deliver unpredictable results. For instance, the Howard government's 2006 internal KPMG funding review revealed the ABC needed A$125 million more over three years just to sustain its operations.
Furthermore, one of the only major policy outcomes from the Convergence Review was parliament's approval of ABC and SBS charter updates earlier this year, which mandate them to deliver digital media services. This was a move that had bipartisan support.
So, at this moment it's hard to see the public, rather than the private, value in yet another inquiry — or even the political sense in the idea.