Screening for both cervical and breast cancer can save lives. Although many women in northern Nigeria know this, there is still reluctance to undergo these important screenings.
There are a combination of reasons that explain this. These include the high cost of screening procedures, too few facilities, not enough female healthcare workers to conduct the screenings and a host of sociocultural reasons.
Without Nigeria's policymakers putting in effort to improve cancer education and change the attitude to screening, women will remain reluctant.
A global killer
The mainly rural northern Nigeria, which takes up 79% of the country's landmass, is home to just under 85 million of the country's 140 million population. Its 19 states are split between Christian and Muslim majorities, but the north is generally considered more traditional than the south, which has several more densely populated states.
In some states in the north, literacy rates for women are as low as 5%, compared to the national rate of 51% for women.
Health care in many parts of the north is a challenge. There is a critical shortage of female health workers in several states. Additionally, the country's northeast zone has the highest maternal mortality and morbidity rates in the country.
Cervical cancer, which is the number-one cancer killer in developing countries, is the second most common cancer in Nigeria. And recent statistics show that Nigeria has a breast cancer incidence of about 54.3 per 100,000 people. This is higher than the expected global estimate of 38.7 per 100,000.
Breast cancer is the most common cancer in women globally, accounting for 16% of all cases. In sub-Saharan Africa, one in four people diagnosed with cancer has breast cancer. And it is responsible for one of the five people cancer deaths.
The importance of screening
Detecting cancer early on is important for a better prognosis and survival through timely treatment. Cervical cancer is highly preventable due to its slow progression. Its screening procedures include: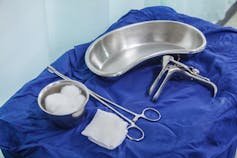 pap smears;

visual inspections with acetic acid;

visual inspection with Lugol's iodine; and

human papilloma virus DNA testing.
Similarly, if breast cancer is detected at an early stage, there is a much higher chance of a patient surviving. Screening techniques include:
clinical breast examination;

breast self-examinations;

magnetic resonance imaging; and
Regardless of this, Nigeria has no national policy or organised programmes that promote cancer prevention and encourage cancer screenings for women. Only a few federal hospitals and private clinics have facilities for these screenings.
In some parts of the country, human papilloma virus screening is offered as part of the national program to control sexually transmitted infections and HIV/AIDS. Free periodic screening services are also offered by some private hospitals and NGOs like the Society for Family Health and Medicaid.
As a result of this, many cancer cases are diagnosed at very late stages and women have little to no chance of survival.
Religion and culture affect screenings
Research shows that in northern Nigeria, women are aware of cancer. They get their information from family, friends, the media and hospitals.
But they also have misconceptions about the causes of breast and cervical cancer. These include wearing "iron bras", holding money in their bras and inserting herbs into their genitals.
Most do not go for screenings. This includes those who are aware of the benefits screenings have in preventing cancer, such as medical students and health professionals.
The women surveyed had a multitude of reasons that prevented them from going for screenings. Aside from the cost of screening, many said there are shortages of facilities and trained female healthcare workers.
This is exacerbated by sociocultural factors. In various cultures and religions, particularly Islam and Christianity, a woman's body is considered sacred and should only be seen or touched by her spouse. In the absence of female health workers, few women get screened.
Others believed that cancers are punishment from God and that prayer is the only cure. In addition, the availability of traditional medicine also discouraged access and acceptability of cancer screening.
There were also some that feared positive test results, accusations that they were unfaithful or that their husbands would abandon them.
Changing the mindset
In the African tradition, particularly rural areas, people only visit hospitals when they have disease symptoms. Regular health check-ups are very uncommon.
Women are more likely to have cancer screening if they believe they are at risk and getting screened would reduce this risk. But negative attitudes, such as anxiety, hopelessness and denial of cancer significantly decreases the chances of women having pap smears, regardless of their educational status.
For uptake of cancer screening to be improved, services and trained health professionals are required in primary healthcare centres in northern Nigeria.
Accurate information on breast and cervical cancer is also needed in this population. Cultural misconceptions and practices should be addressed appropriately. Campaigns should emphasise and encourage male contribution towards improving cancer screening in northern Nigeria.
Community and religious leaders should also be involved in designing programs specifically tailored for improving practice of breast and cervical cancer screening.