With the Ashes test series between England and Australia continuing what has already been a glorious summer of sport, we find ourselves about to watch something remarkable and yet so often taken for granted.
Not for the first time, Yorkshire County Cricket Club will have provided almost a third of an England squad for a test match. The first Ashes test will have Adam Lyth, Adil Rashid and Joe Root as born-and-bred Yorkshiremen, with Gary Ballance (born and educated in Zimbabwe, but Yorkshire-based) completing the quartet in the 13-man squad.
While sports science and research tends to focus upon the biological and psychological training necessary to become an elite performer, success in sport is much more complex than this. Underpinning any athlete's "bio-psycho" make-up is the socio-cultural environment in which they are brought up.
This is now acknowledged in sports performance development, thanks partly to a review undertaken through SportCoachUK, which looked at the importance of geography and location in sporting participation, alongside other factors such as children's socio-economic status and their educational background. The culture in which young athletes are brought up can have a significant impact upon the opportunities available to them to engage and participate in sport.
The challenges of Eddie "The Eagle" Edwards (the British ski jumper in the 1988 Calgary Winter Olympics) and Eric "the Eel" Moussambani (the swimmer from Equatorial Guinea who became famous at the 2000 Sydney Olympics), could have been mitigated if they'd been born elsewhere. Had they been born into a culture of opportunity (Eddie in a Nordic country and Eric in a country with its own Olympic-sized swimming pool) then things could have been so different.
Location matters
A number of academic studies have identified that the size of the place you are born in can influence your chance of making it at a top level. In the US it's been noted this was most effective in cities of less than half a million inhabitants. Research has also suggested that "smaller communities may foster a more salient context for youth sport participation" due to their structure, function and underlying cultural approach to the game.
One study of handball and football players in Denmark, found that size and density of a population affected the proportion of youth players from a community becoming elite athletes. It found the odds of young people registering to play handball and football increased in smaller rural communities, compared to larger urban ones.
Another study of a sporty Canadian town suggested that socio-cultural influences, such as rivalry between local communities and growing up with a stable group of teammates, were important factors in athletic development.
When it comes to sport, where we are born is as important as who we are born to and what genetics we have. Books such as Bounce by the journalist and table tennis player Matthew Syed further reflect and popularise this. There is a direct link with culture, or somebody's place of upbringing, and sport.
Local grassroots sport is vital
All of the Yorkshire players have family connections and involvement in the game – not unusual at all in cricket. An analogy might take us away from sport and into the developing realms of archaeological science, where it's possible to tell what monarchs such as Richard III ate (and therefore where they lived) from studying the isotopes in their bones. Perhaps the historical Yorkshire dominance in cricket might be described as a "sporting cultural isotope" – where sport is a central tenet to the county, and where living there allows access to participation, support and a cultural way of life that helps develop performers. Yorkshire appears to excel at this (and especially in cricket).
Other sports and places have similar influences. Take the likes of Ireland and the Gaelic Athletic Association (GAA). The whole notion of community engagement and community involvement is very often centred around Gaelic Games. The GAA clubs are at the heart of the community (much like club cricket is in some area of Britain – and in particular Yorkshire), reinforcing how vital these grassroots clubs are to our sporting legacy.
Since cricket has gone global (and in particular on pay-per-view television rather than freeview), youth cricket in England has come under pressure. All the more reason to reinvest and focus on local community engagement to survive.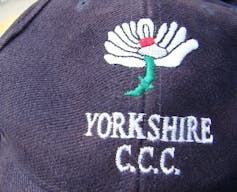 While there is a growing awareness of the need to understand athletes as people, not just bodies, the emphasis of sports science research continues to focus on improving times, results and performance. Perhaps this is at the cost of understanding the individual.
In an age of consistently reported inactivity of our children it is important that we find opportunities beyond school and the home to allow young athletes to develop in a supportive culture of engagement so that they can have every opportunity to excel in their chosen sport. Failing that, ensure your children are born and brought up in a small enough community that supports young development. Failing that, move to Yorkshire.
(Martin Toms is NOT a Yorkshireman. He wishes to blame his parents for not bringing him up there and thus not allowing him to fulfil his cricketing potential.)