When I met my partner, 11 years ago, I had just started my master's degree, while he had quit his job in order to start his undergraduate studies, despite being a year older than me. Today, I make considerably more money than he does.
I am a female breadwinner. And I am not alone. About one in three women in cohabiting or married couples in the UK earned more than 50% of their household income in 2010, according to the Family Resources Survey, up from one in ten in 1980.
But it is not easy to give a precise estimate of the number of female breadwinners. The number changes significantly depending on the definition that we use to identify female-breadwinner households. For example, based on my analysis in Luxembourg, if we consider as breadwinners those women who earn at least 60% of their household income, female breadwinners only represent one in five couples.
Whatever the definition, female breadwinners are on the rise in all developed countries. The prevalence of female breadwinners in the UK (about one in three) is in line with the European average. Female breadwinning among partnered, childless women is especially widespread in Lithuania, Latvia and Slovenia, where more than 40% of women are the main earner.
Female breadwinners are rare (about 20%) in Romania, Slovakia, Southern European and German-speaking countries, which all currently lag behind in European rankings for female labour force participation and gender equality.
The mums
A first type of female breadwinners is represented by single women who, when employed, by definition earn 100% of their household income. Single mothers belong to this category.
A recent study on maternal breadwinning by the UK think-tank the Institute for Public Policy Research showed that there are about 2m female breadwinners with dependent children in Britain. Of these, 44% are single mothers and the remaining 56% are in a partnership.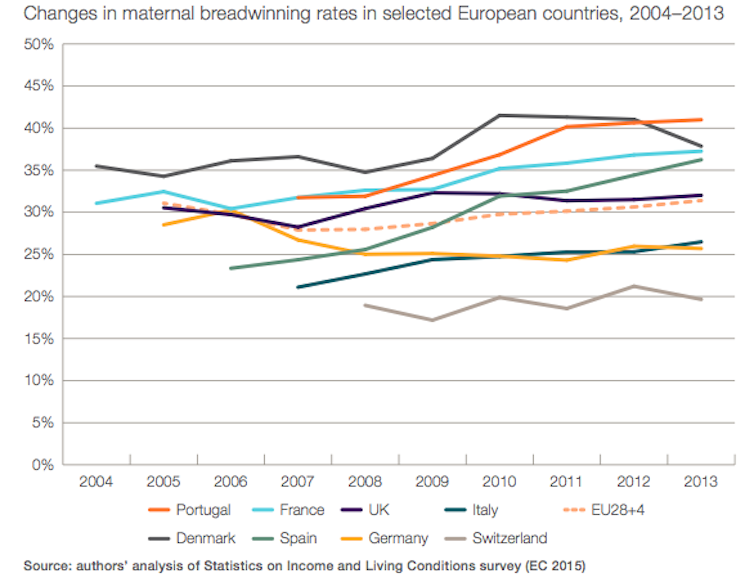 Breadwinner mothers – both with or without a partner – tend to be aged 40 and over, have a university education and are mainly employed in the service and public sectors. The highest prevalence of breadwinner mothers is found in Wales, London and the North West.
Women with a competitive advantage
There are two distinct factors driving the unprecedented increase in the number of female-breadwinner couples: women's career ambitions and economic necessity driven by men's unemployment or underemployment.
In the first category we find couples where women are a step ahead of their partners on the career ladder. These women tend to be childless, highly educated and more educated than their partners.
Although these types of couple are still rare, they are expected to increase substantially in the coming years. In fact, among the younger generations, women in the OECD are now more educated than men, on average. Some in the US have argued that this abundance of high-educated women and scarcity of high-educated men causes a shortage of marriageable men. As a result, the educational composition of couples is now changing. Hypogamic couples (couples where women are more educated than their partners and hence have a higher earning potential) are on the rise in Europe, while an opposite trend is found for hypergamic couples (couples where women are less educated than their partners).
It would be great if all families with female-breadwinners were the result of a joint couple decision. This would be a sign of changing norms regarding the role of women and men toward gender equality. But this is not necessarily the case.
Low-earning couples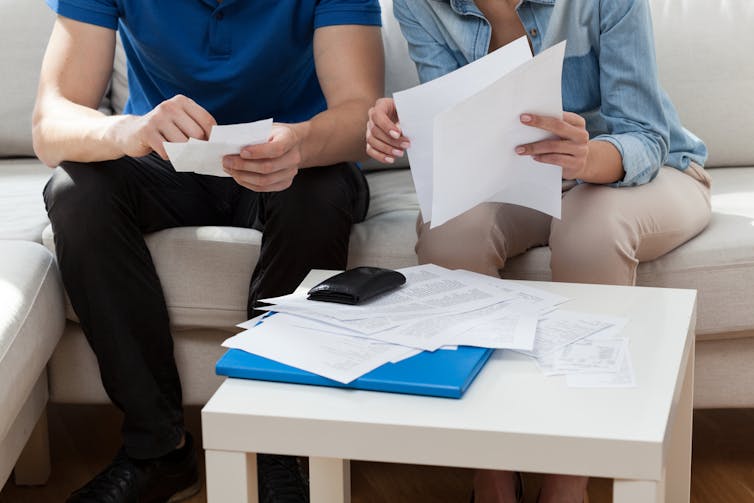 In fact, a second category of female-breadwinner families consists of households where both partners have low levels of education, belong to the low or middle-income groups and have difficulties in making ends meet. Being a female-breadwinner family is rarely a spontaneous choice in this case. Rather, it is driven by economic necessity.
Not surprisingly, this category of female-breadwinner couples increased substantially during the years of the 2008 economic crisis in those countries whose economies were especially affected by the recession, such as Southern European countries, Ireland and some Eastern European countries. In these countries, an increasing number of low-income households have become more dependent upon women's labour income due to declining real earnings and increased unemployment in the male-dominated sectors.
If men are more involved in childcare and housework than they used to be, breadwinner women still contribute more housework than men. Some men strongly believe that a career-oriented woman should have a partner who bears the burden at home, just like breadwinner men always had in the past. Other men suffer from symptoms of depression when they are out-earned by their partner and are more likely to have extramarital affairs.
Female-breadwinners couples challenge the logic of the traditional male-breadwinner and female-homemaker model of the family. Because it is a relatively new phenomenon, more research is needed on the social and demographic consequences of this ongoing rise in female breadwinners.