It will soon cost migrants from outside the EU £400 a year to access the National Health Service in Britain, after the government announced plans to double the fee from £200.
The NHS has long been a bastion of universal healthcare in Britain. It was established in 1948 with the ambition of providing healthcare, free at the point of service, for "everyone – rich, or poor, man, woman or child" to "relieve your money worries in times of illness". In recent years, however, charges, increasing restrictions and complex guidance makes it difficult to know who has to pay for the NHS and when.
Historically, eligibility for free care was based on a person being "ordinarily resident in the UK". This meant that if you moved to the UK to live and work, or you came to study, you would be entitled to free NHS care. A series of amendments to NHS regulations, starting in the 2000s, excluded a number of vulnerable groups from being eligible for free healthcare, including failed asylum seekers, undocumented migrants and those who had overstayed their visa.
Restrictions were further extended by the Immigration Act 2014, which excluded everyone without indefinite leave to remain. The government's Visitor and Migrant Cost Recovery Programme set out how it would implement this – including strengthening the system for identifying which patients should be charged, and improving the mechanisms to recoup the costs.
These changes came in response to concerns over health tourism and a rising nationalist agenda. But, according to the government's own figures, just 0.3% of the entire NHS budget is attributable to deliberate health tourism. Many observers, including the British Medical Association have raised concerns that these reforms are "unlikely to produce enough revenue to cover the cost of setting up its own bureaucracy".
Who has to pay?
As part of the cost recovery programme, in 2015, the government introduced the Immigration Health Surcharge as part of the visa application process for all those moving to the UK from outside of the European Economic Area for longer than six months. The charge was originally set at £200 a year – including for children – or £150 for students. Now it is set to double. For a family of four, it will cost £8,000 for a five-year visa.
For an NHS that depends on migrant labour, when you add the cost of the visa, the relocation process itself and the contribution made in terms of income tax, national insurance and VAT, these fees are prohibitive, overly punitive and further restrict the benefits of globalisation to the rich elite. Once they pay the charge, people are entitled to use the NHS in a similar way to UK residents.
Citizens from the European Economic Area who hold a valid European Health Insurance Card, or other evidence that they are insured under the public system of a member state, are entitled to free NHS care. Those people visiting from countries with which we have a reciprocal agreement, such as Australia or New Zealand, are similarly exempt from charging.
In October 2017, upfront charging for patients ineligible for free NHS care, with non-urgent conditions, became law. To determine eligibility, everyone must be asked for ID. Care for treatment that is urgent or immediately necessary remains chargeable but must be provided whether or not the person can pay.
The charges for treatment are at 150% of the actual cost to the NHS. For those who cannot pay their bill, the use of debt collectors has been reported as well as restrictions placed on future travel.
Those people exempt from charges include refugees, asylum seekers and victims of modern slavery. Determining whether a person falls into one of these exempt categories requires knowledge and trust at each and every healthcare encounter – including those that occur with clerical staff before the patient has even been seen by a clinician.
What NHS services are charged for?
Currently, care provided by a GP or in accident and emergency (A&E) departments is free of charge for everyone. However, all those patients ineligible for free NHS care now have to pay for some NHS-funded community services, including those that provide mental health care, health visiting and district nursing and services for the homeless, among others. According to government plans, extending charges for GP and A&E services is also on the horizon.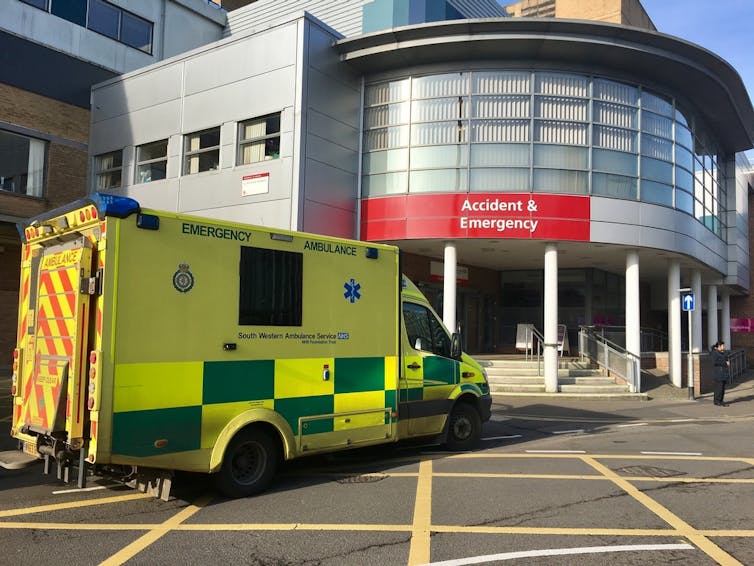 Some services do remain exempt from charging. These include family planning services (excluding termination of pregnancy), diagnosis and treatment of some infectious diseases, community palliative care and treatment of conditions occurring as a direct result of torture, female genital mutilation, domestic violence or sexual violence.
But people do not walk around with a sign around their necks saying, "I have tuberculosis" or "I am a victim of torture". Making these determinations requires time and care – which is becoming increasingly difficult in a service that is understaffed and underfunded.
---
Read more: New discriminatory NHS policy is bad for your health, whoever you are
---
The longer diagnosis is delayed, the more likely a person will suffer or even die. There is clear evidence that even the threat of charges prevents people from seeking help when they are unwell. There are already reports of individual harm caused by delayed diagnosis, distress from incorrect charges and concerns over infectious diseases that might go undiagnosed. Women are particularly vulnerable – excluded from maternity care and without access to free abortions. The NHS may be in crisis, but scapegoating migrants is not the solution.