It's 72 hours before the official launch of COP21 and 60 volunteers – armed with four-way utility keys and 600 six-sheet posters – drift across the streets of Paris in screen-printed JC Decaux vests. Their mission: to illegally replace existing advertisements with artworks that raise concerns around the sponsorship of COP21 by large corporations such as Engie (previously GDF Suez), BMW, Dow Chemicals, The Coca-Cola Company and Air France.
"Tackling climate change? Of course not, we're an airline," reads one such illicit poster. At first glance, it looks surprisingly legitimate. The poster is signed off "Air France – part of the problem".
This is just one of 600 posters installed as part of the Brandalism project. A recent report by Observatoire Des Multinationales has revealed that only one of the ten major COP21 sponsors is lowering its carbon emissions in line with EU targets. Brandalism questions whether the public should trust that large-scale corporations and their market-driven tendencies will effectively respond to the current climate situation.
Another report by the Corporate Europe Observatory emphasises how the Solutions COP21 exhibition (running alongside the talks) facilitates corporate "greenwashing" opportunities. The report suggests the event does this by allowing corporations to ride "on the coat tails of the real solutions" offered by innovative, smaller institutions to distract from the actual impacts of their core activities. Some of the Brandalism interventions re-appropriate the joyful aesthetics of the branding of that event to question its legitimacy.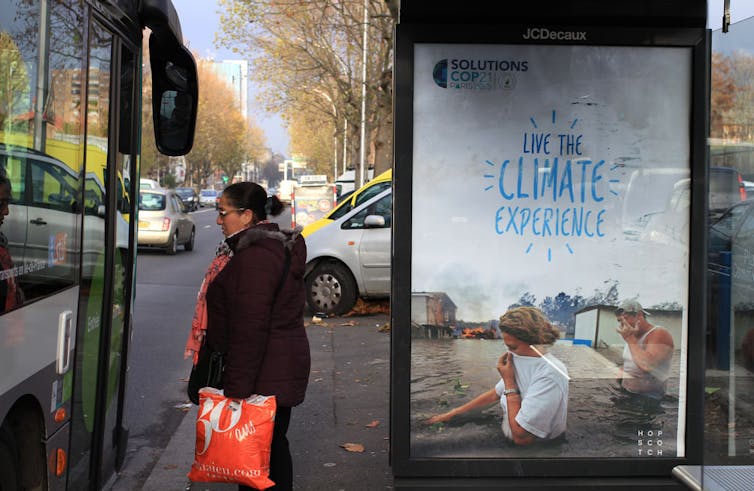 The Solutions21 tagline: "Live The Climate Experience" suddenly acquires a dark undertone when aligned with an image of a man and a woman traversing a flooded landscape against the backdrop of a burning oil rig. The question raised is clear: will COP21 prompt legally binding steps towards reconfiguring the unsustainable core activities of major companies? Or will it instead become an opportunity to paint businesses in a positive light of environmental friendliness?
Subvertising
The cultural jamming practice of "subvertising" – a portmanteau of "subvert" and "advertising" – is by no means a novel emergence. The history of hijacking advertising ranges back to the 1970s when the Australian BUGA.UP (Billboard-Utilising Graffitists Against Unhealthy Promotions) collective started responding to what they considered offensive tobacco advertising. Around the same time, the Billboard Liberation Front initiated subversions of any outdoor billboard they deemed inappropriate across San Francisco.
Today, the practice of subvertising is reaching novel heights. Collectives are starting to connect globally to form an ever-increasing force of resistance against the visual and mental implications of advertising. Initiatives such as Brandalism, Brigade Antipub and Plane Stupid are beginning to specifically address the connections between advertising, fossil fuels and climate change.
Intervening into advertising spaces that usually celebrate consumption, they divert messages towards ones of anti-consumption. As Joe Elan from Brandalism notes: "We are taking their spaces back because we want to challenge the role advertising plays in promoting unsustainable consumerism."
And Brandalism's new "adverts" do not simply critique; they are, at times, also suggestive. Some of the posters present words and images that poetically reflect on modes of alternative living to suggest the more fundamental transformations in culture possible (and necessary) to circumvent environmental decline.
Multiple states of emergency
Subvertising is not just gaining relevance in the light of COP21. Initiatives such as the £6 "hackpacks" by Strike Magazine! – offering bus shelter takeover keys and a how-to guide for £6 – also highlight and trouble the role outdoor advertising plays in the commercialisation of public space and of the people and relations occupying it. The right to the city is currently disproportionately distributed, with advertising spaces in public space only available to those who can afford to pay for it. This is particularly significant in the current French context, where under the regime of the state of emergency following the attacks on November 13, authorities are restricting certain liberties of public expression.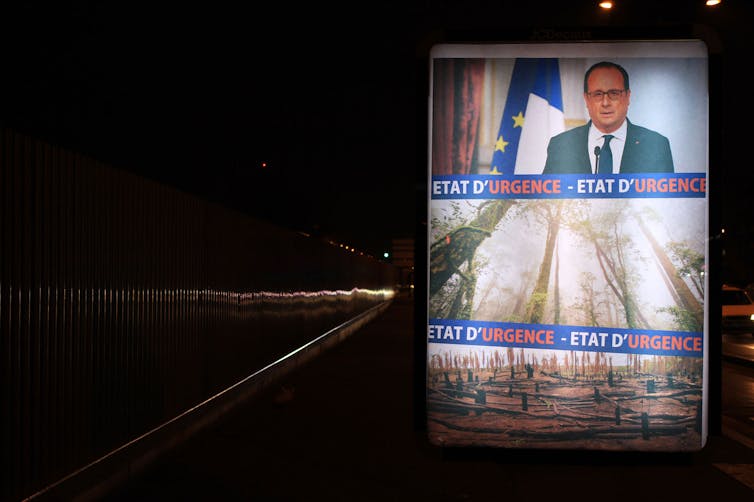 In the weeks leading up to COP21, squats thought to be hubs for environmental activism were raided by police without judicial oversight. And while public assemblies such as football games and Christmas markets are allowed to proceed, political protests have been banned.
In this light, there seems to be a greater turn towards creative acts of civil disobedience that, as activist and Climate Games organiser John Jordan has noted, occupy "grey areas in the law" to continue to publicly voice concerns. Advertising takeovers and other forms of creative disobedience are argued to be some of the few means left to contest who is allowed to take a seat at the COP21 discussion table and who is allowed to maintain a public voice.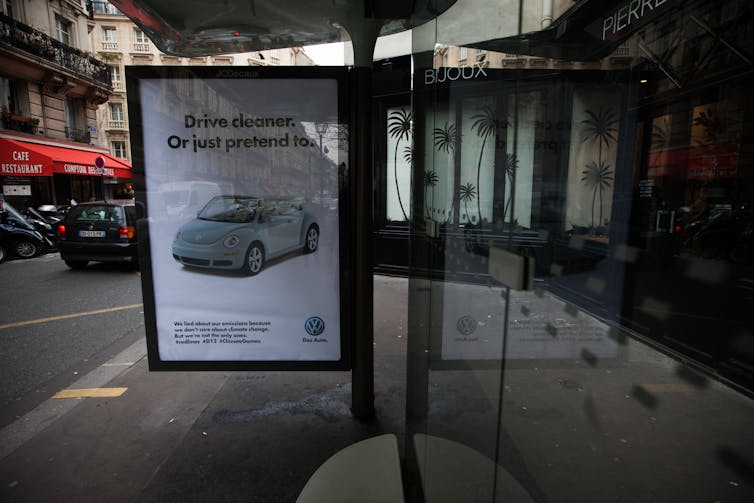 These interventions are surely empowering on some levels. One of the Brandalism organisers said they could have not hoped for any better public response:
On the streets and online we've received a high range of "thank you's", demands for how-to guides and requests for the posters in printable form.
But now that the posters have all been removed (without further comment from police or JC Decaux), it still remains to be seen whether shedding a different light on the talks will affect COP21 at all.