New reports of Nikki Hamblin (New Zealand) stopping during the 5000m finals at the Rio Olympics to help fellow competitor Abbey D'Agostino (US) after they'd crashed on the track have evoked the "Olympic spirit". The New Zealander also waited until D'Agostino, who was injured in the fall, could continue the race, sacrificing any chance of catching up to the main pack.
Hamblin's actions are reminiscent of a small handful of other such moments at previous Olympics. Canadian sailor Lawrence Lemieux abandoned his silver medal position in the 1988 Seoul Olympics to rescue the crew of a capsized competing vessel. Lemieux missed out on a regular medal in the event, but was awarded the Pierre de Coubertin Medal for Sportsmanship by the International Olympic Committee president, who said his act embodied the Olympic ideal.
Athletes are increasingly expected to be good role models. But while Lemieux is outstanding, we don't usually expect athletes to sacrifice their chance of winning to help others. In fact, the ideal of good sportsmanship carried to this extreme would be in tension with that other aim of Olympic competition – winning.
What, then, is the right balance between sportsmanship and coming out on top?
The right stuff
Discussion about athletes as role models often arises in response to bad behaviour. Recent on and off-court incidents involving tennis player Nick Kyrgios, for instance, prompted a public discussion about his suitability for Olympic selection.
The contrasting cases of Lemieux and Kyrgios invite a distinction between two different meanings of role model. On the one hand, it picks out exceptional individuals such as Lemieux who exemplify qualities like sportsmanship. And, in a more mundane sense, it applies to anyone in the public eye.
All Olympic athletes are role models in the mundane sense. They represent their country, wearing its Olympic colours. Their performance is televised and commented on. Often, commentators also recount the athlete's personal story to engage the audience watching their performance on television.
Given this, and since children are encouraged to follow and emulate their achievements, perhaps it is reasonable to expect that Olympic athletes meet a minimum standard of conduct.
Some minimum standards are already built into the rules of sport. An athlete such as Oscar Pistorius, who is serving time for murder, for instance, cannot represent his country in the Olympics during his sentence.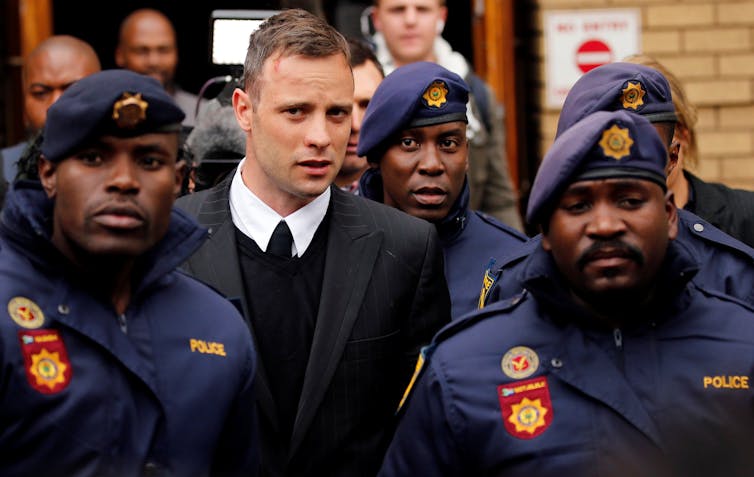 Likewise, athletes who are involved in match-fixing or use performance-enhancing drugs are usually suspended. In extreme cases, unsporting behaviour can also be punished by disqualification. Several women's badminton players were disqualified during the London 2012 Games, for instance, when they were found to be attempting to lose matches to secure easier finals.
Increasing scrutiny
But should we require more than this? Public scrutiny of athletes is increasing. This includes their political views, how they use their money and free time, and how they treat their partners and children.
Social media give us access to athletes' personal lives and opinions. Improved microphones and cameras capture more of what happens on the field than ever.
One justification for this scrutiny is the influence of sports culture on wider society. When Kyrgios made a comment about opponent Stan Wawrinka's girlfriend, it rang alarm bells for those worried about sexism in sport.
Identifying his outburst as an instance of "slut shaming", mainstream media outlets drew attention to the way athletes' behaviour can normalise sexist cultural practices.
Unfortunately, we are often blind to the social injustices around us. So while current sensitivity to sexism means Krygios' comments to Wawrinka were widely condemned, in many cases it is those who draw attention to social problems who are criticised.
Negative publicity
In fact, some of the greatest role models in Olympic history were initially censured for their commitment to causes that were controversial at the time.
Tommy Smith and John Carlos' black power salute on the podium at the 1968 Olympic Games in Mexico is remembered by many as a defining moment in Olympic history. But, at the time, they were expelled from the Olympics and vilified at home.
More recently Australia's beloved Indigenous runner, Cathy Freeman, was criticised for flying the Aboriginal flag at the 1994 Commonwealth Games. She was described as "un-Australian" and accused of politicising sport.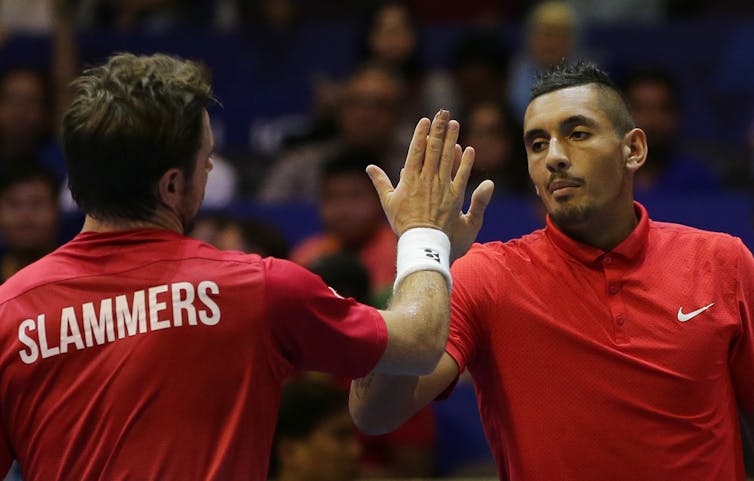 Six years later, the public felt differently. Freeman's gold medal run in the 400m sprint at the Sydney 2000 Olympics was hailed as a moment of reconciliation between Indigenous and non-Indigenous Australians.
Out gay athletes such as 2008 diving gold medallist Matthew Mitcham are widely hailed as role models for gay, lesbian and bisexual kids. In contrast, intersex athletes still face accusations of cheating and risk of human rights violations.
Polish sprinter Ewa Klobukowska, who was stripped of her 1964 Olympic medals due to a failed gender test, was listed recently as one of the Olympics' greatest cheats. But she would not fail current testing criteria. In a different era, Klobukowska might be regarded as a role model and trailblazer for intersex rights.
This suggests that it's very difficult to pin down which athletes are good role models. But to underline just how subjective it is, it is worth considering one final type of role model athlete: the redeemed sinner.
When prodigals return
Perhaps the best example at this Olympic Games is US swimmer Michael Phelps. He is almost as well known for his drink-driving arrests and recreational drug use as for his achievements in the pool. But in a recent feature article, journalist Wayne Drehs argues that the swimmer has changed.
The new Phelps is presented as a self-aware teetotaller, rehabilitated from his addictions and reunited with his father. He sounds like the sort of person we would be happy for children to emulate.
But is Phelps a really a good role model, or has Drehs just spun a good story?
Given that there is no bright line between those who are good role models and those who are not, we need to be cautious about making rules for athletes' conduct. Such rules are as likely to be used against the next Tommy Smith or John Carlos as Nick Kyrgios.
But what about the influence of athletes on kids? This is more of a problem if bad behaviour goes unremarked. Quality conversations at home and in the media about the things athletes do can help. This is perhaps most important when behaviour reflects social practices, such as how we treat women or those from different backgrounds.