Canadian trade minister Francois-Philippe Champagne recently announced the cancellation of a $300 million trade deal to transport 16 helicopters to the Philippines in early 2019.
The cancellation was spurred by a Canadian government review that found the helicopters were likely to be used for anti-terrorism and internal security purposes and not for humanitarian missions as agreed upon. Canada had previously sold eight Bell helicopters to to the Philippines in 2015.
But it wasn't Canada that finally scrubbed the deal. Enraged by the delay and review of the sale, Philippines President Rodrigo Duterte ordered the cancellation.
The unexpected loss of 16 helicopters presents a temporary roadblock for the Philippines as it fights the violent insurgency in Marawi and a deadly "war on drugs."
It means the Philippines must now scramble to find alternative sources to boost its capacity to tackle mounting internal security problems.
The Marawi insurgency
Since May 2017, the city of Marawi on the southern island of Mindanao has become a battlefield as the Philippine military fights against Islamic State militants consisting of Abu Sayyaf, a jihadist militant group, and Maute Group, a local violent mafia group.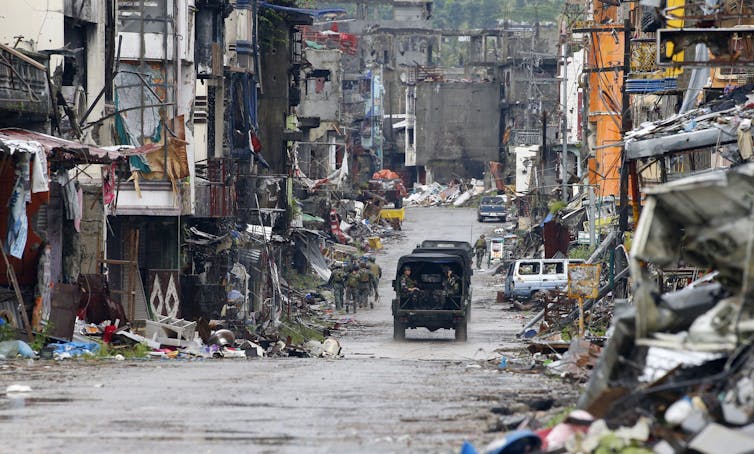 An attempt by the Philippine military to capture the former Abu Sayyaf leader, Isnilon Hapilon, the head of a southern militia who has pledged loyalty to ISIS leader Abu Bakr al-Baghdadi, has led to a bloody five-month struggle. More than 1,000 people have been killed and nearly 2,000 hostages rescued from militants.
Though active warfare has subsided, Mindanao remains under martial law. It's been extended for another year amid controversy over the potential violation of the Filipino 1987 Constitution.
Currently, Marawi lies in ruins and about 200,000 of the city's people have been displaced by the conflict.
War on drugs
Aside from fighting insurgents, Duterte is also notorious for using the war on drugs to promote peace and order. Since assuming the presidency in June 2016, Duterte has mobilized the Filipino drug enforcement agency as well as police forces to eliminate all drug users and small-time peddlers.
Nearly 12,000 deaths are estimated to have occurred in the last 19 months. Duterte's indiscriminate, extra-judicial killings and use of mercenaries in the anti-drug operations have faced condemnation from human rights organizations and countries that include Canada.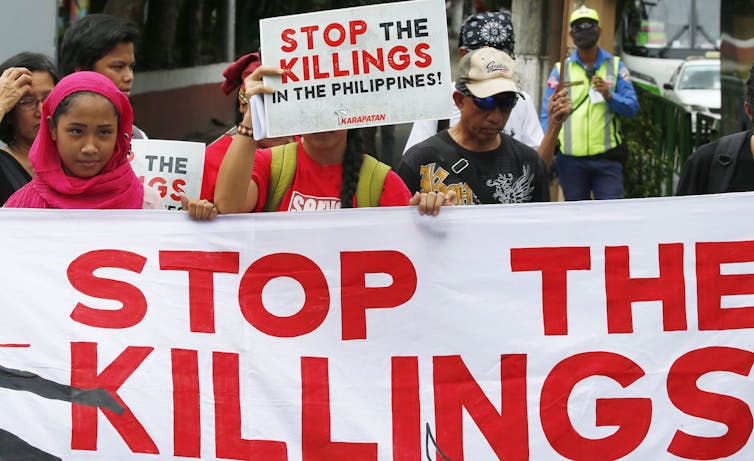 Despite Prime Minister Justin Trudeau's public criticism of Duterte's war on drugs during the ASEAN summit in November 2017, the Canadian Commercial Corporation, a federal agency, was quietly negotiating arms deal with the Philippines. The Liberal government's eagerness to negotiate arms sales with countries with poor human rights records through the Canadian Commercial Corporation raises serious ethical questions.
After the Philippines military revealed the purchase, there were several missteps by Minister Champagne that showed inconsistency in the government's position.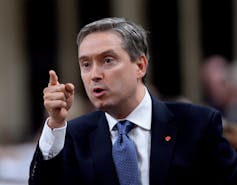 First, he defended the $300-million helicopter deal and insisted that the Montreal-built choppers were for search-and-rescue missions and disaster relief in the Philippines.
Later, he said the initial contract was signed under the auspices of a previous agreement and that neither he nor any other ministers were asked to sign off on it. He also said that the plan was to move forward with the trade deal signed by the previous Conservative government in 2012 on the basis that the helicopters were to be used for non-combative purposes.
But the timing of Trudeau's public criticism of Duterte's extra-juridical killings in November 2017 at a Manila summit and the re-signing of the helicopter deal with the Philippines in December 2017 shows a clear disjuncture in public speech and arms trade policy.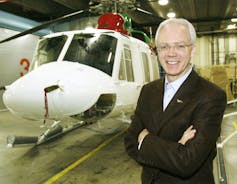 It doesn't take a security expert to point out that in the Philippines under Duterte's leadership, the helicopters were likely to be used for combat purposes. There has been major news coverage of the Philippines' bloody internal conflicts and extra-judicial killings. It would be naïve, if not disingenuous, for the Liberal government to defend its position by arguing that the helicopters would be used only for search-and-rescue and disaster relief.
As Duterte said: "And if I cannot use the gunships, the helicopters, then I might as well surrender this government to them."
No dent on Duterte's popularity
Duterte's mass support hinges on his tough talk and open opposition of the entrenched elite in Manila. His decision to cancel the helicopter deal with a Western state such as Canada is likely to broaden his support base and fan rising nationalist and anti-elite sentiment in the country.
Duterte's administration has pledged to invest PHP$125 billion (CDN$3 billion) in the next five years to modernize its armed forces, especially equipment and armaments for internal security operations to defeat domestic threats as well protect its maritime borders.
Without Canada's supplies, it is likely to turn to China and Russia for alternatives. Those countries, whose relations with the Philippines have vastly improved in recent months, have donated a total of 11,000 assault rifles and trucks.
In fact, the Philippines government has begun aircraft negotiations with these countries and it's also acquiring three frigates from South Korea, air defence radars from Israel, and armoured vehicles, a long-range patrol aircraft and assault rifles and grenade launchers from Russia.
Implications for Canada
The cancellation of the controversial helicopter deal shows clear lapses in Trudeau's administration.
The government has now ordered a shakeup of the Canadian Commercial Corporation, appointed a new chair to take over the Crown corporation and ordered it to become less reliant on selling arms.
A previous trade agreement made between Canada and the Philippines remains intact, with Canada still expected to transport a helicopter to the Philippines later this year.
But it's time for the Liberal government to walk the talk. If it plans to promote Canada as a global champion of human rights, it should stop supplying arms to countries with questionable human rights and practices.