Social media use has exploded over the past five years, with nearly three-quarters of all online adults using some social media network. Leading social media platform Facebook claims that more than one billion people use its website.
Based on these numbers, advertisers and marketers have used communication philosopher Marshall McLuhan's aphorism "The Medium is the Message" when approaching this opportunity. McLuhan was talking about television, but social media sites have well outpaced television's access to the buying public.
Advertisers and marketers are attracted to social media because they have a huge reach, and it's relatively cheap to place ads on them.
In addition to these benefits, a 2014 study commissioned by Facebook stated that there is "experimental evidence of massive-scale emotional contagion through social networks" – meaning users can pass on positive or negative emotions to others through the network.
The study goes on to point out that not only can these reactions be manipulated, but they can also be transferred to a friend subconsciously.
So it makes sense that advertisers would want to exploit these networks to sell their products. But the best advertisements are compelling and engaging; are those used on sites like Twitter and Facebook connecting with users?
In short: no. In the second of two studies conducted at the University of Florida, we found that most Facebook ads are seen as unappealing and not engaging.
Diminishing appeal
Our study measured reactions to the idea of advertising and marketing communications on Facebook, without measuring reaction to specific ads.
Using AdSAM® – the Attitude Self-Assessment Manikin – we were able to measure reactions to five key Facebook marketing vehicles: Banner Ads, Suggested Posts (sometimes referred to as "promoted posts"), two types of newsfeed re-posts – referred to as either "I liked" or "my friends liked" – and Business Pages.
Respondents were then asked to evaluate their impressions of these ads, which appear regularly – in the forms outlined above – on their newsfeeds.
In addition to gathering key emotional response indicators (Appeal, Engagement and Empowerment) to the ads, this study also measured Credibility, Personal Relevance and Intrusiveness to determine the drivers of the emotions among the respondents.
Two hundred twenty-eight undergraduate students – a prime target of advertisers – participated in the online survey.
Although there are significant differences in the Appeal, Engagement and Empowerment results, none of the responses was high or promising. Overall, on a nine-point high scale, the average Appeal was 4.5. Engagement was 4.2, while Empowerment was 5.1. Previous AdSAM studies have shown that television advertising frequently has much higher scores on these dimensions of emotion..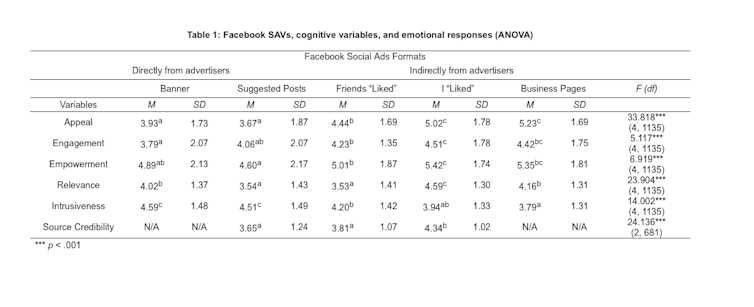 Facebook users do, however, have significantly more positive emotional responses when exposed to ad and marketing messages re-posted by users ("I Liked," "My Friends Liked" and the "Business Pages") than ads originating directly from marketers ("Banner Ads" and "Suggested Posts").
The more positive reactions to the user re-posts (versus the direct advertiser posts) seem to be related to the third dimension of emotion: empowerment. When users feel like they have control, they respond better to the idea of these ads. In addition, ads placed directly by advertisers are seen as less credible, less personally relevant and more intrusive than those re-posted by Facebook users.
Overall, the emotional response to Facebook ads is below the midpoint on appeal and engagement. The only ad format reported to be slightly more positive is the Business Page. This may be due to the fact that this vehicle is more directly beneficial to users, because it comes to users through re-posts and promotions, and seems like it's less blatantly trying to "sell" users products.
As previously mentioned, this study is a follow-up to a study conducted in 2011. Unfortunately for advertisers, the appeal, engagement and empowerment of these ads have actually fallen since the first study.
Why is this the case?
Social media marketing messages clearly have a different effect on user response than more traditional advertising. In some cases, social media users view sites like Facebook and Twitter as their personal space. Advertising into this space, then, can be perceived as an intrusion. This does not seem to be true for television, newspapers, magazines or radio.
One recommendation from our study is that marketers and advertisers focus more on advertisements that are designed for this medium – ads that actively promote re-posting. Another is to make marketing communications more entertaining and interactive. In other words, advertisers should direct more effort toward the developing engaging content.
Selling products with a content marketing approach is nothing new. Infomercials, native advertising, special advertising sections in news magazines and product-based TV shows have been around since before the middle of last century. John Deere even published an advertising/content-based magazine in 1895. Food products have created and distributed cookbooks for their products for years. And, of course, there's there Ronco Vegamatic.
To that end, General Electric recently announced that it was hiring film director Ron Howard to develop new content marketing for the National Geographic channel.
And this approach is now making its way into social media. Some companies are providing guidance on how to enhance social media ads with engaging content.
However, in the realm of social media, content-based marketing is a risky venture. The audience is more resistant to sponsored content; if the efforts backfire, users could transfer these negative reactions to the products themselves. On the other hand, if advertisers can make the content seem more personally relevant, the feelings for intrusion may subside and the emotional reaction to the brand become more appealing, engaging and empowering.
Companies considering advertising on Facebook and other social media networks will be most effective if they direct their effort to making an emotional connection with their audience. Building brands is more than presenting facts about a product or conducting giveaways. It means making the benefits come alive for the consumer.
Employing creative strategies that are more entertaining or truly informative may be one method for making these ads appear less intrusive. Ron Howard and other well-known directors may be part of the solution, but they should remember that in the world of social media, they don't have the luxury of a 90-minute presentation.