An average shopper takes between four and ten seconds to pick a food product off a shop shelf during their regular visit to buy groceries. The same person takes between two and three minutes to deliberate over a product they're buying for the first time.
This is largely based on the information on the front packaging of food. Less of their choice has to do with the ingredient lists and nutritional fact panels on the back of the packaging, which confuses even the most health conscious consumer.
Making healthier food purchasing decisions is becoming increasingly important for South Africa where more than half of the population is overweight and obese. Obesity-related lifestyle diseases such as diabetes, heart disease and cancer are on the rise. Together, they account for 27% of deaths in the country.
But eating healthily is now much more challenging. One big reason is the lack of transparent nutrition information on food packaging.
In response to increasing rates of lifestyle diseases, many governments globally are implementing multi-faceted policy interventions, which include nutrition labelling on pre-packaged foods and beverages.
Government interventions
The South African National Department of Health understands the need for improved nutrition information on food packaging. In June 2014, it proposed a food labelling regulation, which is now being reviewed.
The proposal aims to simplify the nutritional panel on the back of the packaging. But it also recommends a voluntary front labelling system using a three-colour traffic light symbol to display high, medium or low energy, sugar, salt and fat content.
If the regulation is approved, some products like fruit juices and fizzy drinks, which contain about eight teaspoons of sugar, would have red lights on the front packaging, showing high sugar intake. This is in line with the World Health Organisation limit for daily added sugar intake of between 5% and 10% of daily calories, which amounts to between six and 12 teaspoons in total.
The labelling would be the first initiative of its kind in Africa and would place South Africa among a handful of countries providing transparent nutritional information. But the measure would be even more effective if it were made mandatory, as is the case in Mexico and Chile.
Our research shows consumers would like more information available to them. We evaluated nutrition labelling from 20 countries, looking at consumer usage and attitudes towards back and front packaging labels.
Consumers prefer front-of-pack labelling with graphics or symbols, regulated by the government or a trusted authority, so that there is consistency across products. But they also prioritise other product qualities over the nutrition information. This includes price, taste, appearance, brand and overall familiarity with a product.
According to the research, consumers say they do not use the nutrition information on the back of the pack because they do not have the time, and have difficulty locating and understanding the information on the back.
The study has also shown that industry opposition to front-of-pack labelling prevents the implementation of labelling legislation.
The checkout counter challenge
The current front packaging of food products often contains misleading information designed to generate sales. Along with advertising techniques and products strategically placed at eye level, it makes it confusing for consumers to make healthy choices.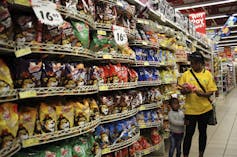 While children are easily targeted with cartoon characters and colourfully designed packaging, their parents are as vulnerable to other types of front-of-pack visuals. A product high in vitamins, minerals or fibre is not necessarily healthy and many processed products also contain high levels of hidden fats, sugars and salts.
Checkout counters are particularly challenging for those trying to make healthy choices. These spots are designed to feed off "shopper fatigue".
Food companies pay generous sums to have their products placed in this premium location. This is why the Centre for Science in the Public Interest, a US-based research and advocacy group, is calling on stores to remove unhealthy products from their checkout aisles.
Woolworths took this bold step last week. It announced that all sweets and chocolates will be replaced by healthier options in the checkout queues.
Trendsetting nutritional labelling
Although front-of-pack nutrition labelling is not an end in itself, modelling studies suggest that it can reduce obesity rates in the long term. In the short term it may motivate consumers to make healthier choices through greater transparency. It may also incentivise manufacturers to reformulate their products.
Each week in South Africa there are about 40 amputations and 150 cases of blindness from diabetes. Obesity-related diseases and associated disabilities place a huge financial strain on families and on an already overburdened healthcare system.
An additional R2300 per year is spent on healthcare costs for those with moderate obesity and an additional R4400 per year on those with severe obesity. The poor are at a greater disadvantage as, by the time they are diagnosed, it is often too late.
In addition, making nutritional information available on fast food menus in an easy to understand manner could also complement labels on prepacked foods. Fast-food intake drives ill health as higher levels of sugars, salts and fats are consumed in these foods.
But there are also independent initiatives that can help people make healthier food choices. Medical Aid Discovery Health's new HealthyFood Switch cellphone app allows consumers to scan the barcode of prepackaged foods to receive nutrition information in real time, with suggestions of healthier alternatives. Although many could benefit from this, it is unlikely to be useful for lower socioeconomic groups.
There is a pressing need for initiatives that help people to make easier healthy choices. Front-of-pack labelling has been recommended by health authorities across the globe as a key cost effective intervention.
An effective strategy that would have the most impact would also include measures such as a tax on sugar sweetened beverages, food advertising regulations and school-based interventions, among others, to address obesity and its related lifestyle diseases.