The prospect of the execution of Andrew Chan and Myuran Sukumaran has polarised Australians. While some argue the young men should suffer the consequeneces of importing heroin, others take a different view. Over the last two weeks, since the rejection of both men's pleas for clemency, artist Ben Quilty has appeared across the Australian media making impassioned appeals for their lives.
So why is one of Australia's best-known contemporary artists, winner of the 2011 Archibald Prize and an Official War Artist, associating himself with the cause of two convicted drug smugglers? For Quilty, it's not just about the friendship he's formed with Sukumaran during mentoring him as a painter at Kerobokan prison. It's something much bigger.
Quilty emerged as an artist in the early 2000s and his expressionistic, sometimes aggressive paintings have dealt with what he sees as a crisis in Australian masculinity. Since his early paintings of Holden Toranas and car wrecks, he has attempted to grapple with the symbols of youth masculinity: the muscle cars, drug and alcohol binges, and the drive toward self-destruction.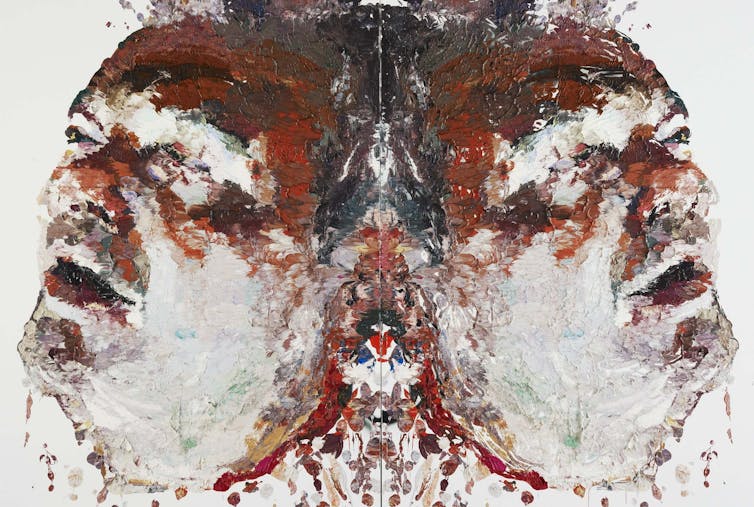 The subjects of some of his portraits have been the wild men of Australian culture, such as Jimmy Barnes and Adam Cullen, the artist who destroyed himself at age 47 from chronic drug and alcohol abuse.
Since he became a father to his own boy, Joe, Quilty told me in an interview in 2013 there's even more at stake in finding a different, less destructive, voice for masculinity: "I want to be a good father, and a good role model, and there's no male role models."
When Quilty was appointed as an Official War Artist in 2012, he took his investigations of youth masculinity to a different level. He spent time with Australian troops at the Tarin Kowt base in Afghanistan. When he returned, he forged friendships with many of the returned soldiers who had experienced Post Traumatic Stress Disorder (PTSD). His portraits attempted to depict the human fragility at the centre of contemporary war, but his profile also help exposed the problem of PTSD, particularly following an episode on his Afghanistan work by ABC's Australian Story.
Quilty was still dealing with the aftermath of his time in Afghanistan when he was contacted by Myuran Sukumaran:
After Afghanistan, I really didn't need more of this sort of weight, but it was one of those opportunities that I just felt that I had to be involved with. He asked for help, he asked for tips on how to paint paintings.
Quilty gave Sukumaran some simple drawing exercises and found that his protégé developed incredibly quickly.
After his very first trip to meet Sukumaran, Quilty said:
I've thought back on my life and decisions that I've made … And Myu clearly made one of the heftiest terrible decisions, and I guess I felt that I could easily have ended up there.
For Quilty, the actions of Chan and Sukumaran 10 years ago confirm his case about the crisis of youth masculinity in Australia.
Quilty continues:
I could have been in that position with some simple decisions. Maybe not in exactly that set of circumstances, but some incredibly self-indulgent things that I've done in my life when I was younger. And it seemed one small step to end up there, because at 21, as a young man, it's hard to consider other people. Empathy comes later, quite often.
The man in his thirties who he met in Kerobokan prison, Quilty says, was "now very reticent, very quiet, very quietly spoken sensitive man, who very aware of the damage he's caused … powerfully so."
Quilty was working on a series of paintings called The Fiji Wedding when he was contacted by Sukumaran. This work dealt with his experiences at two Australian weddings held on the south Pacific island group. The paintings are grotesque depictions of what Quilty describes as the "complete debauchery" of Australians in Fiji. He saw their behaviour as an insult to the local culture, a statement of "the way symbolically we treat third world neighbours".
As he created the Fiji Wedding works, Quilty met Sukumaran, whose situation coincidentally touches on the same complexities of Australian culture, beyond youth masculinity – the way Australia relates to its neighbours, the lure of material wealth at the cost of incredible risk, the cultural frictions inherent in Australian tourism to places like Fiji and Bali, which in turn is so important for their local economies.
Last night thousands of people gathered in Sydney's Martin Place at I Stand for Mercy, on a vigil organised by Quilty for Myuran Sukumaran and Andrew Chan. A comment on the Music for Mercy event page reads: "Please. What a joke. I wonder what your thoughts would be had the drugs killed someone close to you all."
Not everyone agrees. Many acknowledge the deplorable criminality of importing heroin – but oppose the death penalty for Chan and Sukumaran. Quilty freely acknowledges that Chan and Sukumaran made their own decisions. As an artist, his role is to make us slow down and think beyond the headlines to the human dimension of their plight.

*See also:*
Music for Mercy built on empathy, the most intelligent of emotions