In 2013, India became the fourth country in the world (after Russia, the United States and the European Union) and the only emerging nation to launch a Mars probe into space. But it remains part of the group of 45 developing countries with less than 50% sanitation coverage, with many citizens practising open defecation, either due to lack of access to a toilet or because of personal preference.
According to the Indian census of 2011, only 46.9% of the 246.6 million households in India had their own toilet facilities, while 3.2% had access to public toilets. In this context, the remaining 49.8% households had no option but to defecate in the open. As a point of comparison, in 2011 53.2% of households had a mobile phone. In rural areas, where nearly 69% of India's population lives, 69.3% of households lack toilets; in urban areas that number falls to 18.6%.
At first glance, such statistics and technological capabilities alongside large-scale open defecation is a puzzle. On the supply side, it does not seem difficult for a country that can construct sophisticated and complex cell phone technology to develop the capacity to build simple low-cost toilets. And for users, a toilet evidently offers more social benefits in terms of health and human dignity than a telephone.
Yet the citizenry has not enthusiastically adopted low-cost toilets, especially rural households. Why? Let us explore the reasons for this paradoxical outcome.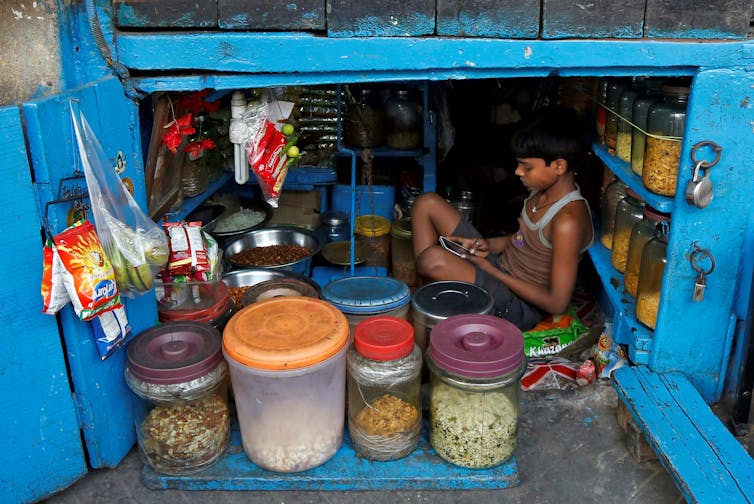 At a systemic level, economists have pointed out that technical and commercial availability and consumer acceptability of an innovation are the two main drivers of its diffusion. Evidently both are a problem in India.
For firms, it makes business sense to provide mobile phones in a variety of quality-price ranges as the network infrastructure is well developed and demand for this communication tool is assured. However, they are not interested in selling low-cost toilets to the poor, as the need for that product is not supported by a willingness or capacity to pay for it.
State programmes for sanitation coverage
Because companies are disinclined to market a product that requires investment in awareness and demand creation, the state must step in.
From the mid-1980s till the late 1990s, when India adopted economic reform, toilets were distributed free via the top-down state-funded Central Rural Sanitation Programme. But the programme, which assumed that availability would automatically lead to usage, failed because most beneficiaries did not see the need or have the desire for sanitation.
Consequently, in the new millennium, the Indian government switched to demand-focused interventions. Today, the state is a financier for public-private partnerships involving NGOs, micro-finance companies and other social enterprises that interact closely with the targeted beneficiaries to provide accompaniment and education for sanitation literacy and use.
The Total Sanitation Campaign launched in April 1999, emphasised that "Information, Education and Communication" should precede sanitation construction to ensure sustained demand and behavioural change.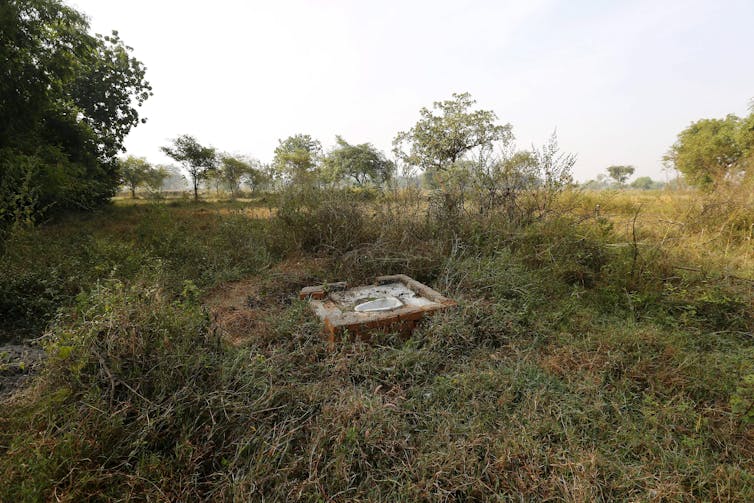 State investment in sanitation thereafter received another fillip under Prime Minister Narendra Modi. He is the first politician since Mahatma Gandhi to emphatically underscore, through major media campaigns, that a "clean India" is necessary for the well-being of its citizens.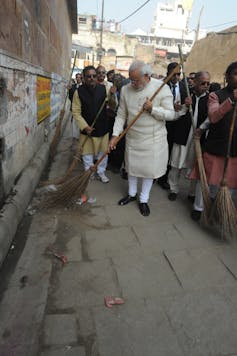 On October 2 2014, to commemorate Mahatma Gandhi's birth anniversary, Modi inaugurated the Swachh Bharath Mission, or the Clean India Mission. Unlike the earlier state programmes, it recognises that "availability" does not guarantee "acceptability". The central objective of the mission is to eliminate open defecation in India by 2019, not just to ensure universal sanitation coverage.
The target is to transform villages and cities into "open defecation-free" communities, meaning they demonstrate: toilet access, toilet use and toilet technology that keeps both people and the environment safe. The programme invests in capacity building in the form of trained personnel, financial incentives and systems for planning and monitoring to ensure behavioural change. States are given flexibility in terms of implementation. Today, a variety of experiments, from the national to village level, are underway to achieve Modi's Clean India mission.
It's not just about building toilets
But for India, providing access to some form of a toilet is the easy part. What's harder is getting people to use them. In rural areas, toilet-rejection varies by gender.
An ongoing study based on 300 focus groups with men across the country revealed that they prefer open defecation to a toilet because it: saves water; provides access to fresh water and a breezy environment; lowers the wear and tear of the toilet; protects women from getting embarrassed by the sight of men; and offers a handy excuse to escape importunate wives and mothers.
Public agencies try to persuade families to invest in toilets for the safety of their young girls. But in Tamil Nadu villages, another focus group-based study – this one with female teachers and girls – revealed that a central advantage of open defecation is that it offers opportunities for same-sex social interactions for females.
Girls and women in many regions are not allowed to gather in public places to debate issues, exchange ideas or simply relax together. Adolescents face even greater restrictions, because older women often sanction free discussion among youngsters. In this regard, open defecation rendezvous offer an excuse to talk and spend time together free, from other constraints.
In the isolated villages we visited with largely Dalit and fisherfolk populations in Tamil Nadu, the risk of sexual harassment is not perceived to be high enough to make toilets a safe haven. Thus, to eliminate open defecation in such villages, alternative safe gendered spaces for social interactions are needed first.
Cooperation between the players
India's additional challenge is to diffuse not just any toilet but a high-quality, long-lasting, non-contaminating product that minimises water and soil pollution and promotes sustained use. This will require that the sanitation subsystem (i.e. the part under the toilet seat/slab), and its waste-processing technology design to be adapted to the geo-physical features of the targeted zone, taking into account soil type, rainfall, water table, water availability, wind velocity and slope.
Thousands of toilets lie abandoned in India either never used or abandoned after short use, due to poor construction quality or inappropriate technology design.
When a toilet's superstructure begins to deteriorate or the toilets stop working well, problems can emerge. For example, if the family can't afford or doesn't want to invest in repairs, or if there isn't a local agency to repair toilets (which is often the case), foul odours and leaks may begin. This, in turn, creates negative perceptions about toilets, which may trigger a bandwagon effect such that whole the community ultimately returns to open defecation.
Thus, it is imperative to ensure quality construction in sanitation drives and trained rural masons for individual construction initiatives.
To address this need, various institutions are teaching masonry to youth with little formal education. But there is no common standardised programme that focuses on sanitation systems. Moreover, illiterate rural masons may be intimidated by formal courses and thus fail to attend.
At the same time, since masons learn their craft by doing, or through apprenticeships, their learning is slow, shaky and tacit – meaning that two people with the same skill set may execute a project differently. There is a need to address these issues while promoting skills building.
For an emerging country like India, it is easier to take part in exploratory missions to Mars than to tackle its sanitation challenge. The former can be addressed through a linear process spearheaded by the advanced, well-resourced Indian Space Research Organisation, while the latter calls for systemic change encompassing thousands of towns and villages.
For India to meet its goal of eliminating open defecation, it will need cooperation and coordination between a diverse variety of systemic actors, generation of knowledge products in the form of accessible curriculum for masons, and community engagement to build only safe toilets – and to use them well.