Biblical literacy is likely lower in Australia today than at any point since the convict era. General levels of familiarity with the Christian scriptures are difficult to plot precisely, but studies of Bible reading habits, and data on various forms of Christian socialisation, indicate a significant decline in Australians' exposure to the Bible over the last half century.
A 1960 study found that nine in ten Australians had a Bible at home. It was rivalled only by a cookery book and a dictionary, and far outstripped works by Shakespeare. Sixty one per cent of Bible-owning Australians picked it up at least once a year. Thirty eight per cent had read it within the previous two weeks. (Mind you, it seems that apart from the most regular churchgoers, most people read the Bible in a cursory manner if at all.)
---
Read more: Jesus wasn't white: he was a brown-skinned, Middle Eastern Jew. Here's why that matters
---
A 2002 survey found that 29% of Australian adults still read the Bible at least once a year, with 8% reading it frequently. In 2010, around 10% of Australian secondary students read the Bible weekly or more, and a further 15 to 20% browsed it occasionally.
Overall, though, since 1960 the proportion of annual Bible readers has dropped by half, and regular readers by three-quarters. In less than two generations, the proportion of Australians who never pick up a Bible for themselves has leapt to seven out of ten. The rising use of online Bibles and Bible apps may modify this picture, but 2013 data indicates that Australians read less of the Bible online than their counterparts in the UK or the US.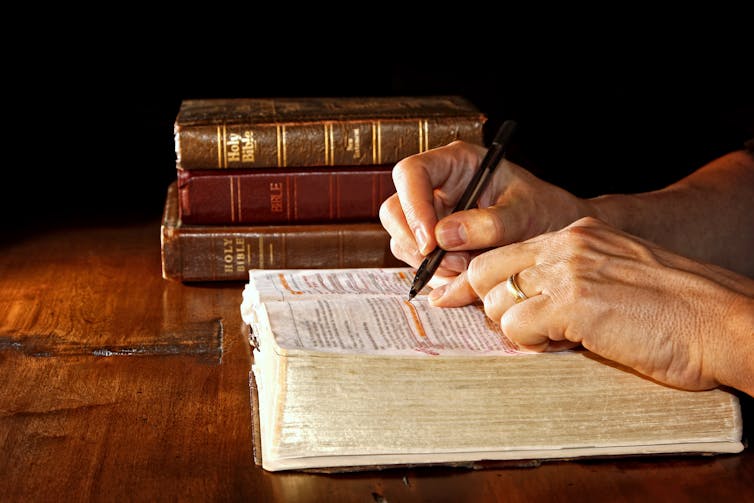 In parallel with declining Bible reading, fewer Australians identify as Christian at the census. Similarly, the proportion of people attending church at least once a month has fallen from 36% in 1972 to 15% in 2014. So fewer Australians have been exposed to the public reading and preaching of the Bible, and to its inculcation though liturgy and hymnody.
---
Read more: Friday essay: who was Mary Magdalene? Debunking the myth of the penitent prostitute
---
Does it matter if Australians are becoming less familiar with the Christian scriptures? I would argue that, even aside from matters of faith, a working knowledge of the Bible, and a critical skill in interpreting it, remain extremely useful.
Firstly, the world is still an overwhelmingly religious place.
While Christianity has declined in its former European strongholds, and in related societies like New Zealand and Australia, it has spread widely in the global south. In 2018, it remains the most practised faith in the world. Effective global citizenship can only benefit from a working knowledge of its key text.
Shaping our culture
Secondly, biblical literacy is worthwhile because of the Bible's dynamic role in creative culture.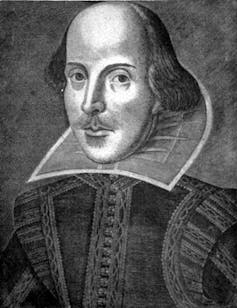 The foundational role of the Bible in shaping English language and literature is well attested. Common phrases such as "the powers that be", "from strength to strength", "in the twinkling of an eye" and "escaped by the skin of my teeth" all come from English translations of the Bible.
Classic texts from Shakespeare's plays to T. S. Eliot's poems to the speeches of Martin Luther King assume some knowledge of biblical stories, images and ideas.
Among Australian creatives, too, literary lights such as Patrick White, Elizabeth Jolley, Tim Winton, Helen Garner and Christos Tsiolkas all make powerful use of biblical narratives and imagery. Songwriters from Nick Cave to the late Yolngu star Gurrumul have drawn on the scriptures in their lyrics.
Biblical stories and symbols have also inspired visual artists such as Grace Cossington Smith, Arthur Boyd and Margaret Preston. Reg Mombassa's popular creation, "Australian Jesus", offers a subversive take on the gospels.
Each of these Australians has found the Bible an enlarging influence on the imagination. Audiences can easily miss key elements of their work without a degree of biblical literacy.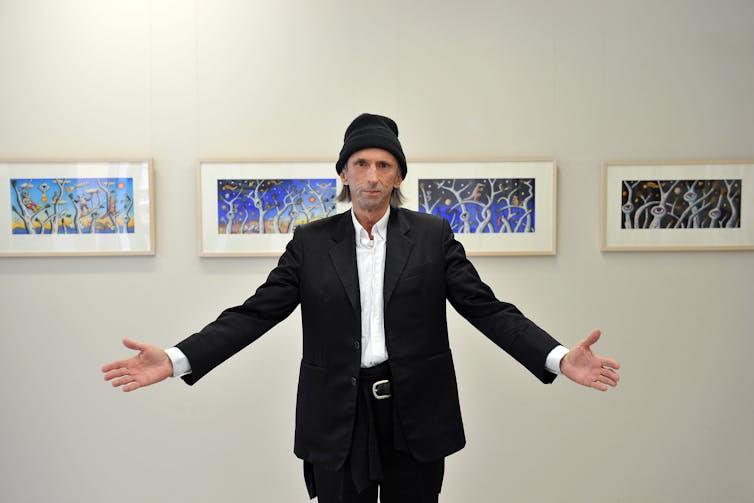 A colonial legacy
Thirdly, the Bible is a substantial - and unresolved - part of Australia's European cultural baggage.
It loomed especially large in the process of colonising Aboriginal land and forging settler societies. The legal fiction of terra nullius, for example, drew on a particular interpretation of Genesis 1:28 - "replenish the earth, and subdue it".
Most British colonists assumed that European agriculture was the proper means of fulfilling this divine command. Failing to recognise Indigenous forms of land use, they deemed the land "waste", belonging to no one, and ripe for the taking.
At the same time, a minority of colonists drew on verses like Acts 17:26 - "[God] hath made of one blood all nations of men for to dwell on all the face of the earth" – to affirm the common humanity of Aboriginal people, and to denounce settler greed and violence.
Crucially, as Indigenous Australians interpreted the Bible for themselves, they used it to demand just treatment and to assert their unique relationship to country. As the Mabo case made its way through the courts, for instance, plaintiff Dave Passi liked to quote from the Old Testament: "Do not move an everlasting boundary stone, set up by your ancestors" (Proverbs 22:28).
In all these ways, the Bible has been bound up with the Australian experience of colonialism. As such, a robust biblical literacy can aid understanding of the past and contribute to present day reconciliation.