Until recently, the UK was often praised as a global leader for protecting LGBTI people. Now, it is seen to be falling behind other nations.
After a recent visit, a UN independent expert has laid out concerns about the rights of lesbian, gay, bisexual, trans and intersex (LGBTI) people in the UK.
The same day, the advocacy group ILGA-Europe released its Rainbow Europe Map, a yearly analysis of LGBTI rights across the continent. This year's map shows the UK ranked 17th in Europe, after being first just eight years ago.
Similar criticisms have come from both the Council of Europe's commissioner for human rights and the LGBTI rapporteur of its parliamentary assembly. These outside observers have cited a range of political, social and cultural factors that currently undermine LGBTI rights in the UK. They also flag specific legal problems.
First is the failure to meaningfully reform the Gender Recognition Act 2004. This law allows people in the UK to change their legal sex if they satisfy a number of requirements. These include having, or having had, a medical diagnosis of gender dysphoria, and living in their "acquired gender" for two years.
While initially heralded as "world-leading", many trans people (as well as those who advocate for their rights) now say the legislation no longer reflects international good practice. The House of Commons women and equalities committee has also called for the law to be urgently reformed.
Both the UN expert and the Rainbow Map recommend that the UK adopt a system of self-determination (or self-identification). This involves a simple administrative process, where someone makes a statutory declaration as to their gender.
A growing number of countries in western Europe, such as Spain, Belgium, Denmark, Ireland and Portugal, are moving in this direction. Such reforms have been backed by UN and European institutions, though the European court of human rights has not yet held that countries must adopt self-determination laws.
---
Read more: Gender recognition certificates: self-identification and the row over it explained
---
In December 2022, the Scottish parliament passed a new gender recognition law based on self-determination. However, that legislation is currently being blocked by the UK government due to claims that it would affect UK-wide equalities law.
Conversion therapy
Both the UN expert and the Rainbow Map note that UK law currently does not prohibit so-called "conversion therapies", which seek to change someone's sexual orientation or gender identity. These practices have harmful consequences for LGBTI people and have been condemned by UN and European bodies as violating core human rights.
---
Read more: Does the government's plan to allow 'consensual' conversion therapy undermine its proposed ban?
---
The UK government has previously committed to banning conversion practices – though it did so, for a time, while also excluding trans people. Parliament is yet to enshrine a prohibition in law.
The UK is not alone. Only four European countries (France, Germany, Spain and Greece) have introduced formal bans on conversion practices. However, as an increasing number of nations adopt or propose legal measures, the absence of a ban, without a clear explanation or justification, only increases the vulnerability of LGBTI people in the UK.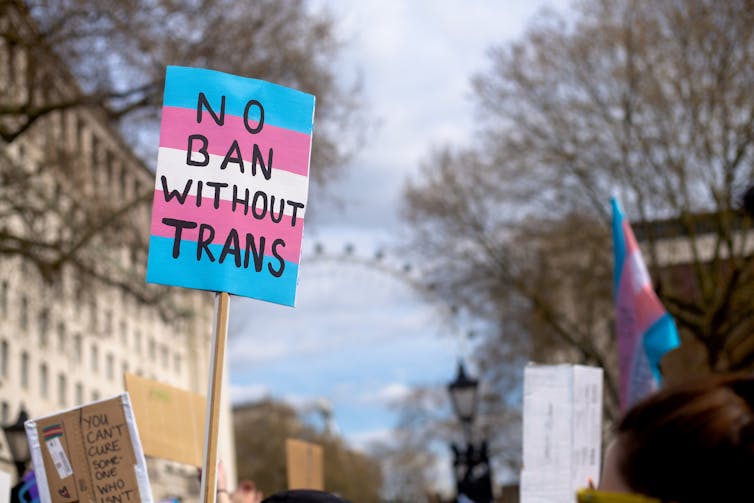 Finally, the UN expert was "particularly alarmed" at recent proposals by the Equality and Human Rights Commission (EHRC) to clarify the protected characteristic of "sex" in the Equality Act 2010, to explicitly refer to biological sex. This came in response to a request from the minister for women and equalities, Kemi Badenoch, for advice on changing the Act's definition of "sex".
Recently, a small number of European countries have changed or reinterpreted their laws to prioritise biological sex. However, many other countries, inside and outside Europe, and international law, have a broader understanding of equality, which protects against discrimination due to different aspects of sex and gender. The UN expert suggests that the EHRC's proposals could result in the UK breaching international human rights law.
A toxic climate
The concerns for LGBTI people in the UK also extend to the wider political and social environment surrounding their human rights. The UN expert pointed to a number of examples of a "toxic public discourse" affecting people's mental health in the UK.
In the current political and media culture, the rights of LGBTI people, particularly trans people, are often presented as a threat to other groups, such as women (with some perhaps forgetting that a significant number of LGBTI people are also women).
And opponents of LGBTI laws and policies, such as inclusive sex and relationships education, are increasingly describing these measures as safeguarding or indoctrination risks for children.
---
Read more: Relationships and sex education review: government must remember history of LGBTQ+ discrimination in English schools
---
This narrative echoes a trajectory across Europe, where so-called "anti-gender" movements have emerged in opposition to the rights of women and LGBTI people. At times, the narrative also recalls more unsavoury political and media commentary around gay rights in the mid and late 20th century.
There is even a thread of public discourse which suggests that rights for certain LGBTI people undermine the equality and protection of gay, lesbian and bisexual people. While certain proposals to expand LGBTI rights undoubtedly require careful policy analysis, the current political and social environment compromises the dignity and human rights of LGBTI people. This is particularly true for trans and non-binary people.
It is perhaps no surprise that the emergence of such rhetoric has coincided with an apparent upswing in anti-LGBTI hate crimes across the UK. The UK has long had important protections for LGBTI rights, and in recent years has made a positive contribution to protections on the global stage. However, as outside experts are now observing, the environment for those rights – and the safety of LGBTI people who rely upon them – is becoming more and more precarious.