Recovering from disasters is never easy. When disasters pile up, it gets harder.
On top of the inevitable competition for everything from the government's funding for recovery efforts to construction materials, donations for relief operations dry up as givers develop what's known as "donor fatigue."
While studying disaster relief and community resilience, I've learned that there are many factors shaping if and how much people give. I've also found that those decisions can have important consequences for communities affected by disasters. And when multiple devastating events occur around the same time, the strain on donors and responders takes a big toll.
Donor fatigue
When donors have already supported other relief efforts, they may feel that they either can't or don't need to give again.
Today, that means many people who supported recovery efforts after Hurricane Harvey or perhaps Hurricane Irma are not pitching in to help Puerto Rico following Hurricane Maria.
While the American Red Cross, a leading relief nonprofit, said it had raised US$350 million for Hurricane Harvey recovery efforts within a month, donations a month after Irma totaled only $56.4 million. Red Cross donations amounted to just $31.6 million a month after Maria.
And that's despite estimates that total losses for each of the three big hurricanes were staggering and ranked among the highest ever registered.
Texas alone suffered an estimated $150 billion in damage from Harvey. Irma may have wrought as much as $100 billion in damage, and for Puerto Rico, Maria's price tag may ultimately total some $95 billion.
The ways people tend to give after disasters – such as a preference for in-kind donations like clothing and food and tying strings to cash – can also magnify the damage done by donor fatigue.
Giving things as opposed to cash may make donors feel like they're making a concrete difference or make them more confident that their contribution will be put to a specific good use. But sending cases of bottled water or bales of diapers on long trips rarely helps as much as just giving money. It's expensive and inefficient, and there is bound to be a mismatch between these items and what people on the ground actually need.
In-kind donations can also get stranded. Unused goods, like cases of peanut butter or blankets, either get put to a nonemergency use or sent to another location. When the latter happens, that means the water bottles, blankets or other things take extra trips – becoming more expensive by the time they make it to, say, a Puerto Rican mountaintop village.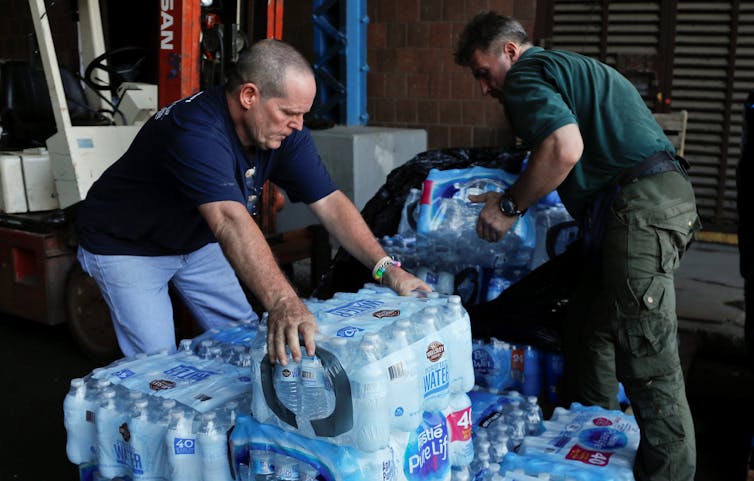 Likewise, it can cause more harm than good when donors demand that the money they give be used in a specific way.
For example, some people stipulate that their monetary donations slated for, say, Hurricane Harvey survivors in Houston, Texas, must be used only for that purpose. That common and longstanding practice often prevents disaster relief groups from using that money elsewhere.
This restriction distorts the ability of nonprofits to do their best to help the victims of more recent disasters, I've heard from people who worked for disaster relief organizations while doing my research.
Cash donations without constraints give relief groups the most flexibility, which helps temper the impact of donor fatigue in subsequent emergencies.
I find the lagging donations for Irma and Maria troubling because with few exceptions, most donations to support disaster relief are made within a few weeks of hurricanes, earthquakes or other devastating events.
Government funding fatigue
Another problem that arises when disasters bunch up is that the government itself can't keep up with demand for the funds it reserves for relief work.
The budget for what's known as the the Disaster Relief Fund is largely based on the average of the previous decade of disaster spending. While structured to accommodate the unpredictability of the number and cost of events, years with a particularly catastrophic event – or multiple major disasters – can drain this budget. In those cases, the government can't fully fund disaster response work unless Congress passes legislation allocating more money and the president signs off.
Because dealing with Hurricane Harvey had largely depleted these disaster funds before Hurricanes Irma and Maria even made landfall, Trump approved an additional $36.5 billion in a relief package.
But costs from these disasters are so high that this new allocation may not suffice. In addition, the funding includes $16 billion for the National Flood Insurance Program, which is not enough to to make up for its $25 billion debt that began piling up after Hurricane Katrina.
Even more disasters
Compounding the problem is that Houston, Tampa, San Juan and California's wine country aren't the only communities struggling to get back on their feet.
In the middle of this busy hurricane and wildfire season, Mexico was rocked by two earthquakes – one of which also caused major damage in Guatemala. In South Asia, Bangladesh, India and Nepal were swamped by extreme flooding.
At the same time, crises created through politics and war need donor aid too. Violence across the Middle East is still uprooting millions of people in that region, many of whom have nowhere to go as anti-refugee fervor heats up around the world. And hundreds of thousands of Rohingya refugees have fled persecution in Myanmar.
Just like when multiple disasters occur within a country, simultaneous crises across the globe create competition for relief resources on an international scale.
The good news is that there are some creative ways to combat donor fatigue and boost giving – even after relief donations usually dry up. For instance, musical theater superstar Lin-Manuel Miranda will reprise his signature role as Alexander Hamilton in 2019 in San Juan to raise money for Puerto Rican disaster relief while lifting local spirits.
It's also not too late for the federal government to dedicate additional funding to help fill the gaps that remain. And there's still time for everyone to make a difference by making monetary donations that give relief organizations the freedom to use those funds where they are needed the most.