High income countries such as Sweden, the Netherlands, the UK and Spain have managed to stabilise their incidence of dementia by changing the way they approach mental and physical health in early to mid-life.
They modified how they deal with dementia risk factors. These include their diets, smoking, depression, physical inactivity, lack of sufficient cognitive stimulation and risk of non-communicable diseases such as diabetes and hypertension.
Africa, however, is likely to see a rise in dementia over the next decades. This is for two reasons: its ageing population, an increase in non-communicable diseases and the effects of the HIV pandemic.
Worldwide, there's an estimated 47 million people living with dementia with 10 million new cases diagnosed each year. The latest Alzheimer's Disease International report predicts that by 2050, there will be 130 million people living with dementia. About 70% of those people will be from low and middle income countries.
Developing country challenges
The increase in non-communicable diseases such as diabetes and hypertension in Africa over the last few decades come as people adopt aspects of the Western diet - including high sugar and fat content. This burden is most prominent among poor people living in urban settings.
In South Africa cardiovascular disease accounted for 17% of all deaths in 2000. By 2013, it made up 11% of all deaths in sub-Saharan Africa and 38.3% of non-communicable disease deaths.
South Africa accounts for 17% of the global burden of HIV infection. HIV is associated with cognitive decline leading to HIV-associated dementia (HAD). About 10% of people receiving highly active antiretroviral therapy (HAART) have this dementia, with annual increase of 1%. Another 20 to 30% are diagosed with the less severe forms of HIV-associated neurocognitive disorder.
HIV-associated dementia affects younger adults but there may be an increase in older HIV/AIDS survivors on highly active antiretrovirals. Older adults may be at risk of both HIV-associated dementia and dementia disorders such as Alzheimer's or vascular disease.
Statistics show rapid increases in the number of older people, especially in low and middle income countries. In 2013, people older than 60 made up 11.7% of the world's population. This will grow to 21.1% by 2050 - more than 2 billion people.
In South Africa, last year just over4.5million of the 54 million strong population was 60 or older. By 2025, predictions are that this will be about 5.5 million people.
Understanding dementia
Dementia is an umbrella term describing problems people with various brain disorders have that affect their ability to conduct activities of daily living independently. Symptoms of dementia include the sudden or gradual decline in the ability to remember recent events, poorer ability to make complex decisions and plans or keep track of finances.
Alzheimer's disease is the most common form of dementia that affects older people. But there are also other forms, such as vascular dementia , fronto-temporal dementia and Lewy Body disease.
Researchers and pharmaceutical companies worldwide have failed to produce drugs to cure dementia. During the course of Alzheimer's disease, two proteins build up in the brain to form structures. This leads to the loss of connections between nerve cells, and eventually to nerve cell death and loss of brain tissue.
Although drugs can slow memory decline or temporarily enhance neuro-transmission and alleviate behavioural symptoms, there is no turning back from dementia.
Research to help people understand the disorder
In South Africa, there is little data on dementia. A study at the University of the Free State suggested a prevalence of 6%, similar to figures worldwide. But death certificates seldom document Alzheimer's disease or other dementia. This means it does not feature high in statistics on causes of mortality or on burden of disease.
To redress the lack of prevalence data, we launched collaborative studies with Dementia-SA. We piloted culturally and educationally fair cognitive tests for dementia screening in Khayelitsha.
In addition, medical students assessed knowledge, awareness and beliefs about dementia in the township. Our study showed there is low awareness and knowledge about dementia among urban Xhosa-speaking people.
Although most people surveyed were tolerant towards people with dementia, nearly one in five knew of an older person who had been abused because of dementia. Abuse included being locked in the house, stolen from, starved, verbally and physically abused, neglected and raped.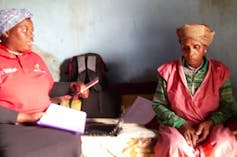 We are also working with the Donald Woods Foundation and Dementia-SA on a large dementia prevalence study in the rural Eastern Cape. Our study revealed that highly skilled and local community health outreach workers are crucial to successfully screen, provide health care services and follow up dementia cases.
Also, an innovative speaking book, in isiXhosa and English, helps us share educational information across all age groups about understanding and caring for persons living with dementia.
Government should step in
To prevent and reduce dementia, the South African government should introduce policies to modify lifestyle factors. Researchers argue that policy planning should be balanced across investing in research aimed towards reducing risk, early detection, and improving care after diagnosis.
Although HIV-associated dementia is a particular problem for Africa, other forms of dementia such as Alzheimer's disease have common risk factors worldwide. Any research should be in line with international perspectives. In 2012 British Prime Minister David Cameron launched the National Dementia Challenge. It aimed to:
make sure health and social care systems could deal with the crisis
radically step up research into cures and treatments
get society involved.
In South Africa we are a few steps behind the UK. Dementia Knowledge and awareness is lower, while stigma and abuse appear higher. People need to know how and where to find help for relatives. Better access to clinics providing diagnostic services and informed care is also needed.
Older people's needs and rights should be integrated into national health policies across all sectors - protecting vulnerable people with dementia from abuse and neglect should be a priority.