On December 20 2013, the 68th session of the United Nations General Assembly passed an adopted resolution declaring 2016 the International Year of the Pulse. Pulses – which include dried beans, chickpeas and lentils – are a good source of protein and amino acids and are a critical part of the food basket. They are important for food security, health and nutrition.
The resolution was adopted to reap the benefits that pulses have towards the environment where they increase soil fertility. Nutritionally, they also assist in maintaining a healthy weight, prevent and manage chronic diseases.
Due to the increasing concerns for the environment, food security, health and nutrition, pulses are one of the best foods to feed the millions of people suffering from chronic hunger, micro-nutrient deficiencies and chronic diseases. A majority of the people suffering live in Africa.
These concerns are set against a background of a continent that has the ability to produce its own rich diversity of nutritious plant foods and crops like pulses that could play a far more significant role in solving malnutrition in Africa. For example, indigenous cereals and pulses such as sorghum and cowpea which grow well where other crops fail such as in the arid and semi-arid areas can be used.
What are pulses
Dry beans, dry broad beans, dry peas, chickpeas, dry cow peas, pigeon peas, lentils, bambara beans, vetches and lupins are all plant foods which belong to the family of legumes. The term legume is used to refer to foods enclosed in a pod and pulses are only a subgroup of the legume family which is used in its dried seed form.
Besides being a good source of protein, pulses are good sources of fibre, calcium, iron and vitamins B, E and K. Depending on their genetic makeup, pulses can grow in extreme climatic conditions where other foods are difficult to find. Pulses make up most of the average diet in developing countries due to their low cost.
Even though the production and consumption of pulses has declined, they form almost 4% of the major crops grown in the world. In Africa, the term indigenous food crops does not only refer to food crops from the continent, they include crops that have been introduced and are recognised as naturalised or traditional crops.
An example of this are the pulses originally from Asia now considered to be indigenous to Africa. The most commonly consumed pulses in South Africa are cowpeas and mung bean produced in the Limpopo, Gauteng, Mpumalanga, North West and KwaZulu-Natal provinces.
South Africa's problem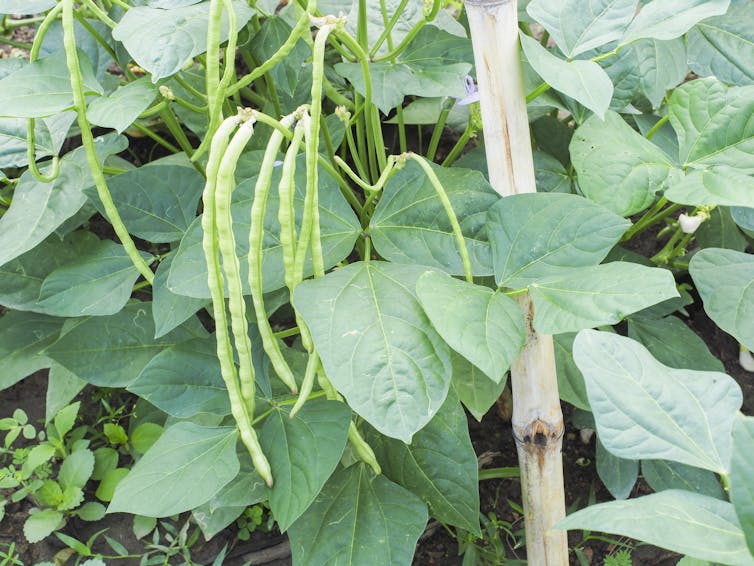 In South Africa, sorghum and cowpea have good potential. They produce higher yields than less resistant crops like maize and wheat. But they are produced in smaller quantities by subsistence farmers for home consumption. The decrease in use of indigenous foods is mainly a result of dietary changes due to nutrition transition.
One in four children in South Africa have also been found to be too short for their age - their growth is stunted. One in three people in the country, are also faced with hunger due to food insecurity.
All these signs of growth faltering begin in early childhood. More so, a considerably larger proportion of South Africa's population has been said to experience what is termed, hidden hunger. This kind of hunger is characterised by growing numbers of overweight, obesity and micro-nutrient malnutrition, which can easily be solved by providing a cheaper, yet good source of nutrition from plant foods like pulses.
The desire for convenience, driven by urbanisation and nutrition transition has increased the consumption of highly processed, less nutritious foods. The high processing and refining of foods unfortunately come at a higher cost to consumers.
The availability of convenient westernised type of diets has led to the neglect of locally available healthier and less expensive food options. These western types of diets offer high levels of energy and a low micro-nutrient content leading to overweight, obesity and micro-nutrient malnutrition.
Foods indigenous to Africa, however have the ability to provide adequate nutrition. Currently, indigenous foods use is slowly diminishing. Indigenous foods are mainly used by small holder farmers for their own consumption, hence they are produced in smaller quantities.
Sorghum and cowpea – lost food resources
There is need for greater creativity in identifying ways to assist government interventions for the malnutrition problem. Pulses like cowpea can be used as a cheaper source for nutrition. South Africa's government are currently using some interventions like supplementation of vitamins, fortification of processes flour and bread and child support grants to deal with the issue of malnutrition.
In a recent study we found that 40% of children between the ages of two and five could get their required protein intake in a ready-made meal which included sorghum and cowpea. Proper marketing and re-introducing indigenous foods in the diet can help to increase the use of such foods. The same mix could also provide essential amino acids like lysine that is typically missing in maize. Lysine is an essential amino acid because it cannot be synthesised by the body, but can only be obtained through the diet. It can also provide children aged two to five with the recommended iron and zinc.
Africa needs to make use of indigenous foods. As the year of the pulse, 2016 is the year that they are made use of in more creative ways. To add to that indigenous foods are climate resilient and have a low carbon footprint because they can be produced locally with minimal inputs.