We all know hygiene is paramount in hospitals, necessary to protect patients and staff alike. But while medical staff usually wear protection when conducting examinations on infectious patients and hospitals have isolation wards, the same doesn't always extend to our furry (or feathered) friends.
This was recently confirmed in our survey of Australian veterinarians, published in Preventive Veterinary Medicine, where we found:
about a third of veterinary practices in Australia don't have complete infection control kits available
about a quarter don't provide any training to staff about their use
around a third of practices don't have isolation units for infectious cases
many don't have separate staff eating areas.
Veterinarians do use personal protection, but their level of use is less than recommended and is quite variable. Most of them use adequate protection for performing postmortems, surgery or dental procedures but as many as 70% don't use any protection for treating animals with signs of respiratory and neurological diseases, and about half don't use any protection when treating animals with signs of gastrointestinal or skin disorders.
It's not a new phenomenon, either. Such bad habits have continued for decades.
No one's immune
It was just another working day of the autumn of 1996. I examined a sick calf – checked its temperature, palpated its flank and examined its mouth. There was nothing unusual; it was just like other cases of fever with no other obvious abnormalities. However, three days later I was proved wrong when the farmer reported that the calf had died of rabies.
The calf had what we call "dumb rabies" – a form of the disease in which the animals don't show typical signs of rabies such as excessive salivation and aggression. They only have very non-specific symptoms like lethargy and fever.
I was shocked and then angry with myself. I had examined the mouth of the calf without wearing gloves, meaning that I could have received a dose of the rabies virus from the animal's saliva. Not wearing proper protection meant it wasn't only the rabies that was "dumb" but also my reckless behaviour.
While that incident happened in India, and Australia is lucky not to have rabies, we do have many other diseases that can be transmitted from animals to humans and our veterinarians are dealing with unknown dangers every day. Just last month two horses in Queensland reportedly died due to Lyssavirus, a close cousin of rabies virus. Fortunately, the veterinarians had used proper protection but nine people in contact with the horses had to be offered a course of rabies vaccine, very similar to the one I received after examining the calf.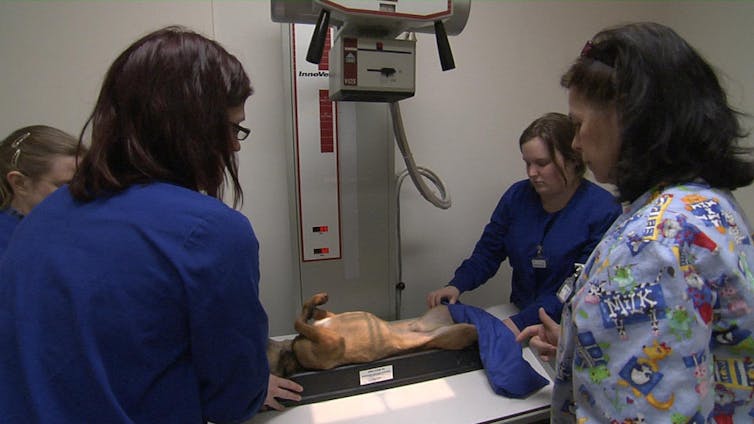 More than 15 years have passed since my incident with the calf – and we have moved from Windows 95 to iPhone 5 – but you would be surprised how little the way veterinarians handle their patients has changed.
With low levels of protection found in this study, it is not surprising that we found that 45% of vets – almost one out of every two vets – had contracted infections from animals during their careers. Although many of the infections are mild, such as ringworm, others are very serious and life-threatening such as bacterial infections Q fever, brucellosis and leptospirosis, which is very concerning.
Why aren't vets using adequate protection?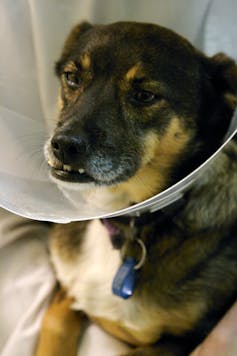 You would wonder why some vets don't use adequate protection when they know that they can get infections from animals. There are many reasons - some of which we uncovered in our study but some of which are still unknown and require further investigation.
What we do know is that education and awareness plays an important part. Our study found that those who were aware of industry infection control guidelines or those who had undertaken postgraduate training were more likely to use adequate protection.
Vets' perception of the risk of acquiring infection themselves from animals is an important driver. It sounds obvious, but we found those who believed they were likely to contract infection from animals were more likely to use adequate protection. In addition vets "consciously considering using protection in every case" were more likely to use adequate protection but those just "hoping for the best" were less likely to use adequate protection.
Interestingly, many of the factors that we thought could discourage use of protection were not considered that important by a majority vets. For example, less than 20% of the vets believed that cost of protection kits, concerns about heat stress when wearing protection, adverse animal reactions to protection or negative client perceptions about vet wearing protection were likely to discourage use of protective equipment.
What can be done to improve protection?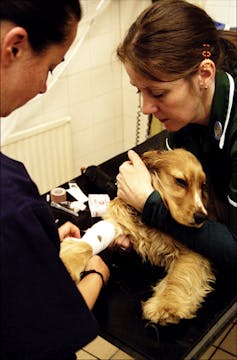 The first thing that can be done is to make vets aware both of the risk and of the infection control guidelines. Australian Veterinary Association has done a great job by preparing guidelines for Veterinary Personal Biosecurity and a video of how to use protection, but more can be done to engage veterinarians.
Veterinary practices should be encouraged to make infection control kits available to their staff and train them in their use. All practices should be encouraged to have written protocols for infection control. At a bit more expensive level, veterinary practices could use engineering controls (such as design their practice in a way to reduce the risk) but even using simpler approaches has been shown to reduce the risk of infection in human health studies.
Veterinary schools can put further emphasis on infection control and biosecurity in their curriculum. One of our studies indicated that the infection control training in veterinary schools has improved over time, which is encouraging, although there is a need for a greater hands-on exposure which will support improvements in veterinary practices as new graduates establish their careers.
Finally, we need to conduct further research into the psychological drivers for not using appropriate protection to prevent cross-infection to other animals, improve the health and wellbeing of our vets, and make sure they can perform their duties with confidence. We don't want anyone to get the goosebumps as I did after hearing the news that the calf I examined had rabies!