The departing words of The Age's editor-in-chief, Mark Forbes, who resigned this week amid allegations of sexual harassment, spoke to a gender ideal at a time of reputational damage for the newspaper:
… our dealings with all women must be respectful and equitable at all times.
These words reflect the socially progressive agenda (relative to the times) of the 159-year-old masthead from the days of the Syme brothers to the digital age. Yet, as progressive as The Age can be, why has it never had a female editor-in-chief?
The answer is clearly more complex than the paper's editorial position. It leads to a much broader conversation about gender representation in Australia's public and private institutions.
Australia trails the world
This conversation coincides with the recent appointment of Susan Kiefel to be Australia's first female High Court chief justice in 113 years. Like the ascension of Australia's first female prime minister, Julia Gillard, in 2010, Kiefel's new role sends a signal to other women and girls that such career heights can be achieved.
But, as significant as these are, they do not erase the fact that women remain systemically under-represented at the top levels of our most powerful institutions – including the media, universities, government, judiciary and corporate sector.
Take Australia's federal parliament, for example. There, female representation is low by world standards.
Australia's ranking of 50th in the world for the representation of women in parliament is behind countries like Algeria (37th) and Ethiopia (17th).
Rwanda leads the world, with 64% of its parliamentarians also women. Rwanda's success in getting women elected is driven by gender quotas – at least 30% of seats are reserved for female candidates.
After the 2016 federal election, Australian female representation in parliament rose slightly from 26% to 28.7%. This is a vast improvement on the absence of women in the parliament in 1977. This is largely due to rises in the number of women in Labor ranks, which has been driven by quotas.
In contrast, the number of Coalition women has steadily fallen since the Howard era.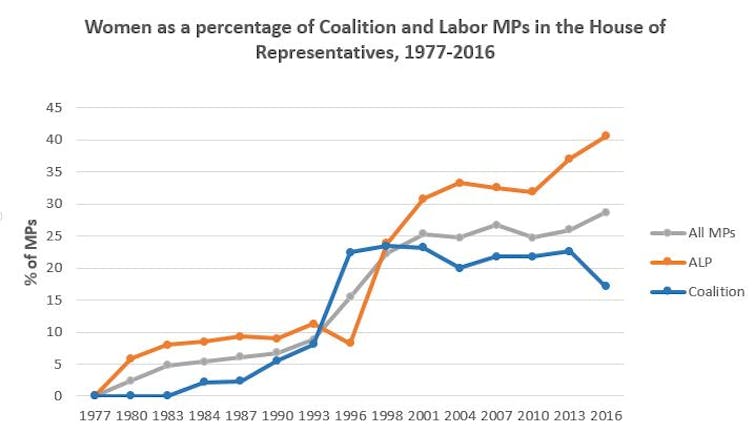 The representation of women in the lower houses of state parliaments is also not equal. It ranges from 25% (Western Australia) to 44% (Tasmania).
Labor's numbers of women MPs have steadily increased with the adoption of quotas in 1994. Since then, the gap has widened between the two major parties in terms of female parliamentary representation.
Put simply, gender quotas work. They exist in more than 100 countries – and, in the past two decades, the proportion of women in parliaments across the globe has almost doubled.
A similar pattern exists in Australia's corporate sector: women are underrepresented in top-tier roles. The proportion shrinks as women move up the management levels to CEO. Currently, the percentage of women on ASX 200 boards is 23%, up from just 8.7% in 2010.
In a bid to increase the representation of women on public boards, the Victorian government changed its rules in 2015 to require at least half of all new appointments to courts and paid government board positions be women.
Alternatives to lift the numbers of women
Other than quotas, how can the under-representation of women be improved?
One initiative, modelled on the Harvard Kennedy School program Harvard Square to the Oval Office, is Australia's first Pathways to Politics program for women to support Australian women to elected office.
Launched this year by Australia's first female governor-general, Quentin Bryce, a select group of 24 University of Melbourne students and alumni completed the 12-week program and have shown early signs of success. Two participants, Susanne Newton and Stephanie Amir, were elected as Greens councillors to Darebin City Council in last month's Victorian local government elections. Another two participants became political staffers (one Liberal and one Labor) and two others ran for ALP preselection.
Applications for the June to October 2017 program open soon. Those selected are given the opportunity to learn from members of parliament, campaign strategists, advisers, consultants and elected officials.
So, if there is any lesson to be learned this month from the positive appointment of a female High Court chief justice and the negative story of The Age, it suggests that for women to be truly equitable they need to be not just included where decisions are made, but also made to feel welcome.
The question yet to be answered is: will the Fairfax board appoint a capable journalist who also happens to be a woman?