Health care is a tough nut for governments because it's the largest source of growth in government spending. Salary costs are the major part of this cost so workforce policy decisions have profound implications for health-care access and affordability.
Recent governments have made big policy decisions about medical training, but we still need to ensure we get results that resolve the problems we face. The next government needs to act on this quickly.
How we conduct medical training demands urgent action because, since 2000, Australia has trebled medical school intakes and boosted the importation of overseas trained doctors.
That's because we were short of doctors, right? Wrong!
The real issue
Among high-income countries, Australia has an above-average number of doctors for its population, as you can see below; at 3.3 per 1,000, this is many more than comparable English-speaking nations.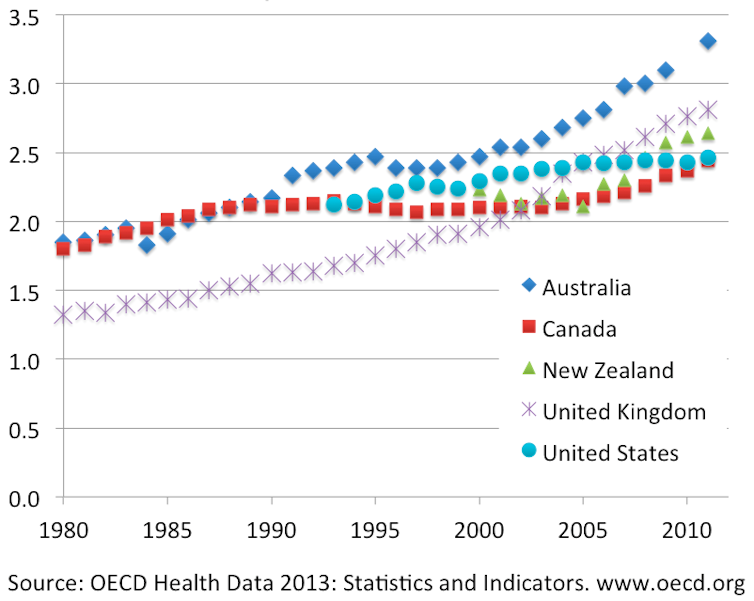 The real challenge is the concentration of doctors in big cities. And the imbalance between the number of doctors who provide a narrow scope of "sub-specialist" care (often jobs that are more lucrative and lifestyle-friendly) than roles providing a more comprehensive scope of clinical care.
As the graph below shows, maldistribution pretty much explains the real shortage of doctors in rural areas as well as in outer suburbs and generalist clinical roles.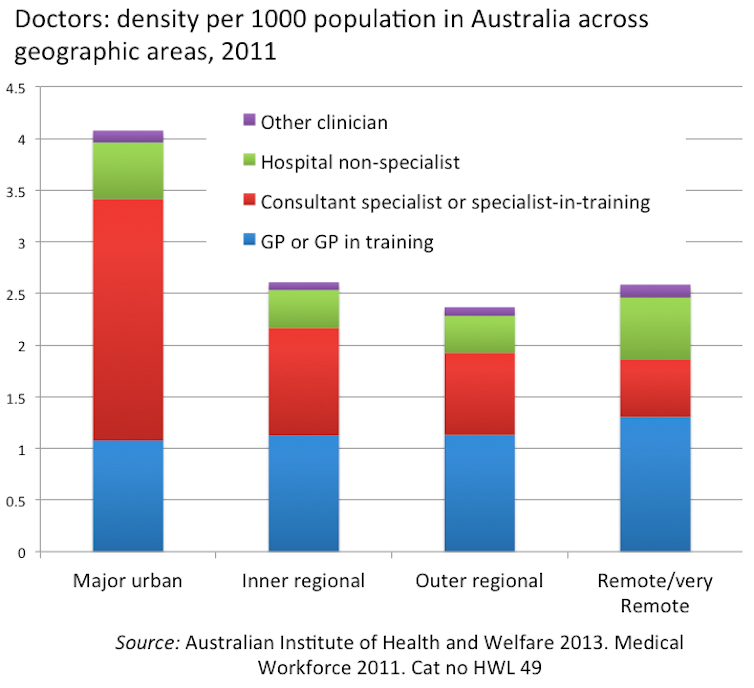 In spite of incentives and programs to address this maldistribution, the number of doctors in major cities is ballooning, particularly specialist consultants. A net number of 11,577 clinical doctors were added to major cities between 2007 and 2011 – three-quarters of the national growth for two-thirds of the population.
Only one in ten of these were general practitioners or GPs-in-training; the rest were consultant specialists and other hospital doctors.
The bush has seen growth too - but a good portion of this was due to vacancies being filled by overseas-trained doctors. Governments made this happen by providing working visas and bans on Medicare billing that restrict them to working in areas of need.
Shifting the focus
Clearly, we need to shift the focus of medical workforce planning from numbers to better use expensive medical labour.
After graduation from medical school, doctors pursue further training in one of the medical specialities, including general practice. In order to get doctors working in the communities and roles where they are most needed, they should be trained in those locations and specialities.
Efficient use of expensive medical labour is important too – this means efficient and flexible models of team-based care with nurses, allied health workers, extenders and assistants.
With money increasingly tight, we simply cannot afford to feed the apparently insatiable appetite for sub-speciality medicine in major cities, nor the expense of narrow disease-focused care that it leads to.
This arrangement of medical care is actually not good for patients either. Anyone with a loved one who lives with chronic and complex health conditions knows that health care that's delivered organ by organ is not good for health, suffering or human dignity – let alone the bank balance.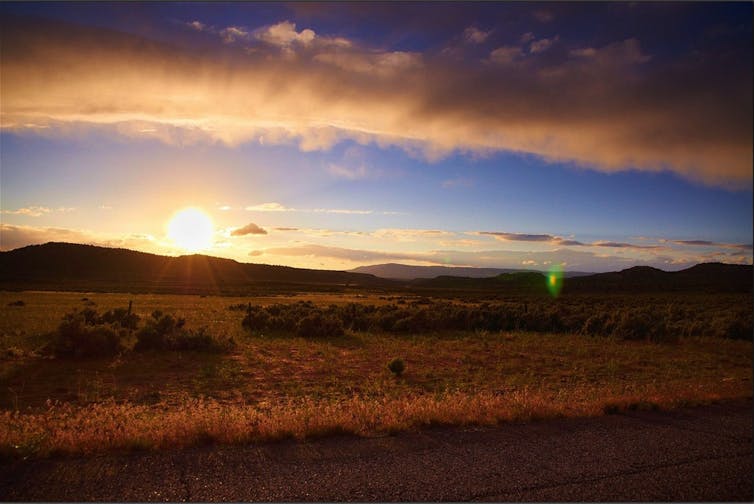 This is why the Commonwealth government's recent review of health workforce programs considered generalism in clinical care and regionally-based training as key health workforce investments.
Moving in the general(ist) direction
National reforms toward a regionally-managed health system, transparent funding streams, more flexibility in public-private arrangements and regionally-organised primary care are now well underway. It's time to add medical workforce reform to the mix.
We have already invested in developing rural and regional health workforce training capacity through university departments of rural health, rural clinical schools and regional university medical, nursing and other health professional schools. This infrastructure can be used to support expanded regional training pipelines for medical specialities.
Rural generalists – country GPs who can provide primary care in the community as well as hospital, emergency, population health and extended speciality service – have always had a central role in the bush and their numbers should be bolstered. There's scope to expand their effective and value-for-money roles into cities.
In emphasising the role of the generalist, we must re-assert the effective and judicious use of the medical consultant – the specialist doctor with focused expertise for the rare or tricky problems. E-health and collaborative tele-health solutions provide us with great tools to do this in new, technologically-savvy ways.
With the surge of medical graduates on its way, it's time for action. If these people are trained in sub-speciality medicine in big-city teaching hospitals, the unprecedented taxpayer investment in this medical workforce "solution" might yet sink the health system financially - and exacerbate the doctor drought in the bush!