We know that children from less affluent homes are much less likely to get good GCSE and A-level results, access the most selective universities and secure leading jobs. But we know less about the impact that other factors – such as their gender, ethnicity or where they live – have on a pupil's academic outcome.
Our research, published by the Sutton Trust charity, found that some young people experience a "double disadvantage". Being a boy and poor, especially being a boy of white UK background, much diminishes the likelihood of going on to advanced level studies. Growing up in a poor neighbourhood also has a negative impact on long-term outcomes up to age 18.
Overall, we found a significant gender divide: boys were much less likely to carry on with academic study after their GCSEs than girls. Drawing on data from the EPPSE longitudinal cohort study, I, along with my colleagues Katalin Toth and Kathy Sylva from the University of Oxford, found that two thirds of the girls in our sample went on to take AS, A-levels or another advanced level qualifications, compared with just 55% of all boys.
Our study shows that the adverse impact of family disadvantage was also particularly evident for boys. Disadvantaged boys were less likely to go on to advanced level studies than disadvantaged girls, with just 40% of them carrying on an academic route compared with 55% of their girl peers.
Living in a poor neighbourhood also compounded the effects of family disadvantage: poor boys that lived in the poorest neighbourhoods were less likely to take A-levels than poor boys who lived in more affluent neighbourhoods. Being brought up in a neighbourhood with a higher proportion of children living in poverty predicted poorer attainment at GCSE and a lower likelihood of going on to advanced-level studies.
Impact on young futures
The EPPSE study followed 3,000 young people from age three to age 16 between 1996 to 2014, and we were funded by the Sutton Trust to follow up this national sample to age 18 to establish whether they had gone on to take AS or A-levels.
In our sample, just 29% of disadvantaged white UK boys living in the poorest neighbourhoods went onto this advanced level study. This compared with around 46% of disadvantaged white boys living in the most affluent neighbourhoods and two-thirds of boys from more advantaged families. Similar patterns occurred for girls too, but the attainment gap was especially marked for boys.
Taken together, these findings point to the powerful influence that different aspects of a student's background have in shaping their long-term academic outcomes and destinations after the age of 16. A teenager's chance of entering advanced level study is shaped not just by their family's income and socio-economic status; other characteristics, particularly gender and ethnicity, also play a role.
What is particularly notable is the creation of what we term a "double disadvantage" that reduces the chances that a pupil will go on to study AS or A-levels.
Some young people, particularly white working class boys living in the poorest neighbourhoods, are the least likely of all pupil groups to progress onto advanced level studies. This matters because such qualifications are important in determining the likelihood of entering higher education and future earning potential. Drawing on our research following students from age three to age 18, we argue that the boys most at risk of failure are likely to need additional encouragement and support to help them engage in activities that can help promote good academic outcomes, such as reading for pleasure and homework.
Cuts don't help
Politicians and civil servants should not to assume that all pupils who are eligible to receive extra pupil premium funding have the same needs regardless of where they live. As the government moves to promote "fair funding" amid calls for a new national funding formula, we believe it important to recognise the case for extra funding of those facing this double disadvantage.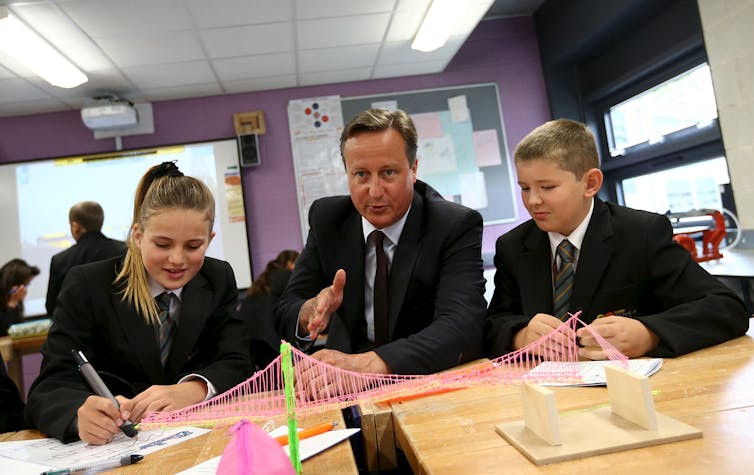 More attention should be paid to the combined impact of place and family poverty. We must make sure that the benefits of the pupil premium are not offset by reductions in the funding targeted at the disadvantaged communities in which many of the poorest pupils live.
Unfortunately over the last five years there have been major cuts to local authority budgets, particularly affecting those local authorities that serve the most disadvantaged populations. Instead, we need joined-up thinking with an explicit alignment of area-based and school-based policies to help address the consequences of "double disadvantage".