The decision by Animals Australia/RSPCA to allow their footage of slaughter of cattle and sheep overseas raises interesting questions about how animal welfare should be managed in this country.
Was it right to expose the public to horrific images that would cause pain and suffering in human viewers in an attempt to diminish it in the animals?
Would it have been better to approach government first?
Was there sufficient evidence to warrant the instantaneous ban on export to Indonesia or should it have been independently investigated in situ first?
Researching opinions
To get answers to some of these questions Catherine Tiplady in my Centre for Animal Welfare and Ethics at the University of Queensland surveyed the public response to the ABC Four Corners programme.
She found that about three quarters of those surveyed felt not only pity for the cattle, but also sadness and anger in response to the footage. So even though many of us are routinely exposed to disturbing images on our screens, our senses are not dulled to them.
Most importantly over three quarters of those surveyed were pleased that the footage had been shown. They wanted to know about this suffering and do something about it.
What they mostly did was to discuss it with their friends (94% did), but only a small minority (26%) said that they wanted to take action to end live export. Most will trust government to make the right decision.
Where should the footage go?
So why didn't RSCPA and Animals Australia go direct to government with this footage? They can probably claim, based on previous experiences, that a direct approach to government would have met with little response.
Government knew that the slaughter was being conducted in this way, but they chose to do nothing about it because of the value of the trade to the Australian economy.
When government fails to act, advocacy groups are increasingly relied upon to be the watchdog for the community.
Slaughter overseas had all the right ingredients to raise concerns in the community: painful procedures routinely conducted on defenceless cattle by foreigners.
Changing opinions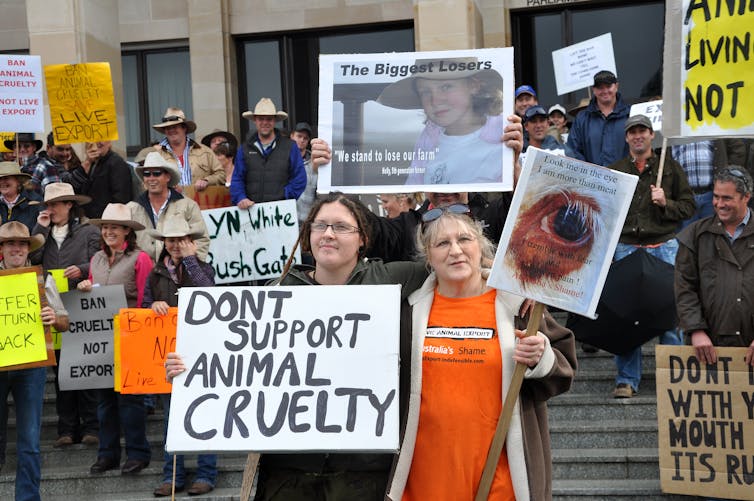 Exposing this has been a major coup for RSPCA and Animals Australia, and it was therefore no surprise in our survey that approximately half of all respondents reported a more positive attitude towards these two organisations and a more negative attitude towards Meat and Livestock Australia/Livecorp.
But was it ethical to cause human suffering to save animals from suffering? One can argue that the human suffering was temporary and voluntary, in contrast to the continued suffering of the animals.
But what about the small minority (20%) of people in our survey that said it was too graphic, those that could not sleep for days afterwards or the people, and there were some in our survey, who had to seek counselling?
Could they have been spared the stress by more explicit warnings or would they have wanted to watch it anyway?
Are animals suffering more?
The government's kneejerk reaction may yet cause more animal welfare problems than it solves, as cattle wait to be fed or trucked to slaughter in Australia.
Cattle producers do not want to allow their animals to go hungry, but they have to follow market economics to make a living. The stress to cattle producers is of currently untold proportions, but time will tell just how many suffered personally because of the government's action.
Until animal welfare is placed in the hands of an independent commission, funded by government for the people of this country, we will continue to get the extreme actions by advocacy groups and extreme reactions by government.
A commission could review current practice and knowledge, recommend research as necessary and provide advice on changes in animal welfare standards to the most appropriate tier of government.
Sometimes the best decisions are not the immediate ones.