When North Korean leader Kim Jong Un in June pledged to work toward "complete denuclearization of the Korean Peninsula" by 2020, the White House hailed the agreement as "a tremendous moment for the world."
The agreement came after a year of tense negotiations between North Korean leader Kim Jong Un and U.S. President Donald Trump – an undiplomatic diplomatic process that included insults, threats, name-calling and canceled diplomatic visits.
"I was really being tough. And so was he," Trump later said. "And we'd go back and forth. And then we fell in love. OK?"
With all the bilateral drama, it's easy to forget that this nuclear showdown does not involve just the U.S. and North Korea.
The China-Korea connection
The Korean peninsula has been in a protracted conflict since 1950, when Communist North Korean troops invaded South Korea.
North Korea has been considered a dangerous nuclear power since withdrawing from the international nonproliferation treaty on nuclear weapons in 1985, with neighboring Japan and South Korea most at risk of nuclear attack.
Both are strong U.S. allies who essentially support Trump's negotiations with Kim's regime.
Less certain is the position of China, North Korea's Communist northern neighbor.
China accounts for 90 percent of North Korea's foreign trade and is perhaps the only true "friend" North Korea has.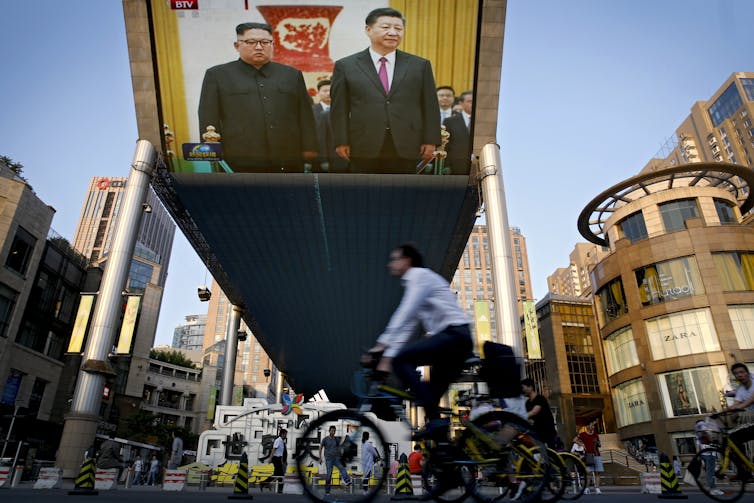 It is also an economic behemoth with its own ambitions of global dominance.
In recent years China has flexed its foreign policy muscles, paying for major infrastructure development in Africa, Pakistan and the Caribbean. Its diplomacy budget has almost doubled since Xi took office in 2013.
Chinese Foreign Ministry Spokesperson Lu Kang has assured the United States that China supports "the U.S. and [North Korea] in actively seeking a political settlement of the Korean Peninsula issue" and is "committed to achieving denuclearization."
Korea experts have their doubts.
Many believe China fears that a successful Trump negotiation could lead the U.S. to replace China as North Korea's top ally. Its government "does not want a reunified Korea, indebted to Washington, sitting just across its border," Richard McGregor, senior fellow at Australia's Lowy Institute, told CNN in May.
So where does China's government really stand on the U.S.-led denuclearization of North Korea?
China defends North Korea
To answer this question, we analyzed one year of Chinese news coverage and commentary on North Korean denuclearatization.
Because journalism in China is heavily state-controlled, media analysis can shed light on government positions that may not be public as official policy.
Our project examining China's view of the U.S-North Korea negotiations is part of ongoing research into the domestic media coverage of global affairs in Russia and China, two countries that contest America's dominance in the current world order.
We read China's position on the Trump-Kim process as delicately balanced between defending its Korean ally while signaling its respect for the international community.
Chinese media makes sure to report North Korea's side of the argument, tacitly supporting Kim Jong Un's need for security while questioning American intentions in the Asian region.
For instance, Xinhua reported in Oct. 2017 that "Kim justified the development of nuclear and missile programs by [North Korea] as the only way of defense against 'protracted nuclear threats' by the United States."
As an op-ed from the English-language Chinese daily Global Times further argues that the United States uses North Korea "as a pretext to justify its military presence in Northeast Asia."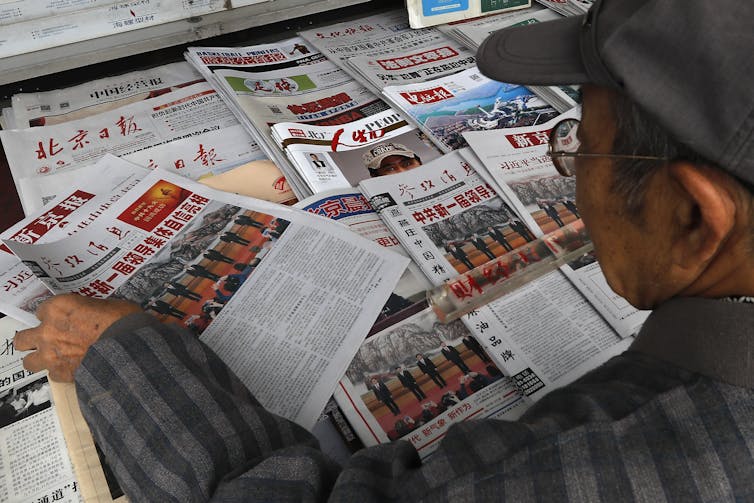 When Chinese media does denounce aggressive North Korean military actions, such as intercontinental missile tests, the articles usually go on to portray the United States' anti-ballistic missile systems and joint military exercises with Japan and South Korea as far more destabilizing for the Asia region.
China opposes "any strategic military deployment by the U.S. that will cause threats to China's security under the excuse of dealing with the peninsula situation," declared China's Global Times in 2016.
Towing the line
Still, China is careful to uphold international standards when it comes to North Korea.
It advocates for a cooperative and dialogue-based peace process and has endorsed and implemented all United Nations Security Council sanctions on North Korea.
After North Korea's nuclear tests in fall 2017, for example, the U.N. unanimously adopted severe economic sanctions that further isolated the regime. China criticized U.S. rhetoric about Kim's regime as overheated, but ultimately signed off on the sanctions.
In Chinese media, such actions – defending North Korean sovereignty while supporting the international community – confirm China's role as a fair arbiter. China sees itself as perhaps the only nation appropriately balancing North Korea's economic needs with the world's security concerns.
For Chinese media, this confirms China's importance in global diplomacy. When President Trump said that "China has aided efforts with North Korea," his comment was widely quoted.
Will China help denuclearize North Korea?
Ultimately, our analysis finds that China's global aspirations have not yet led President Xi to openly dispute American leadership in resolving world conflicts.
China is likely to play a supporting role in the gradual denuclearization of North Korea, even as it seeks to shape that process to ensure that Chinese influence and prestige in the region is upheld.
Chinese media has even praised President Trump's June 6 summit with Kim, saying it warmed relations between the nations and laid a foundation for further progress toward peace.
The Chinese government may well work "on both sides towards this goal," as Foreign Ministry spokesperson Geng Shuang said in a December 2017 press conference.
But in the end, we believe Xi is more of a U.S. partner than foe when it comes to Korea.