Zaha Hadid built a career that was both celebrated and divisive. At the time of her death last week, Hadid, 65, had achieved an array of professional accolades including the Pritzker Prize (2004) and RIBA Gold Medal (2015). But she was also caught up in controversies over major projects such as her now-rejected design for the Tokyo 2020 Olympic Stadium.
Hadid was a "starchitect". Her designs for projects ranging from the London 2012 Olympics to the world's largest airport passenger terminal in Beijing attracted international acclaim.
But what happens when a celebrity architect's career ends abruptly, leaving numerous projects mid-construction, awaiting approval, or still on the drawing board?
The desire to have "a Hadid" will certainly skyrocket now that there is no possibility of new Hadid designs in the future.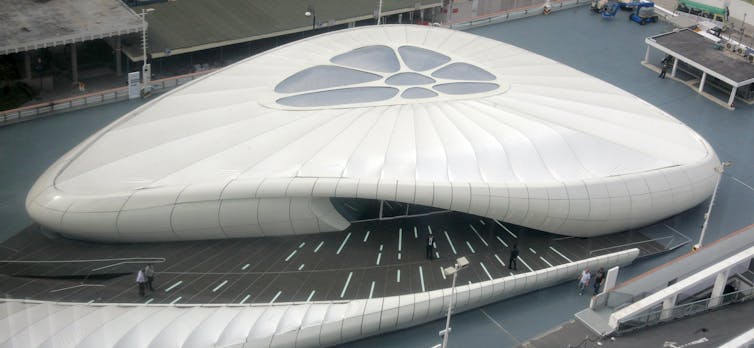 But what of the planning and appeals processes that her Australian projects are currently undergoing? And given the premium that will now be placed on her work, what will become of those designs that are half-finished or already rejected?
Hadid's firm had three Australian projects in various stages of planning approval at the time of her death. All have met with some resistance.
Brisbane residential towers Grace on Coronation, working with Sunland Group, received Brisbane City Council approval in 2015, but was criticised for diminishing the aesthetic values of its neighbourhood and is currently the focus of a claim in the Planning and Environment Court.
Another Sunland project in Gold Coast, The Mariner, is currently under planning review, but has been objected to by its potential neighbour, Sea World.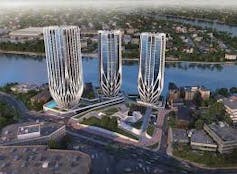 A third project, in collaboration with developers Landream, Melbourne's 582-606 Collins Street was only submitted to the Planning Minister in December of 2015. It was significantly reworked mid-design due to changes in Melbourne's planning regulations.
Hadid's practice will doubtless continue with the numerous projects underway. Developers involved with the Australian projects are committed to continuing them: the managing director of Sunland Group recently said the company hoped that both the Brisbane and Gold Coast designs,
will some day form part of Australia's urban landscape to become a lasting legacy of Zaha's final works.
In the same article, a spokesman for Landream confirmed that they were continuing to work towards approval for the Melbourne project.
It will be interesting to see how the Australian projects are resolved. Will we secure all three? Will Hadid's high profile work in Australia draw other internationally prominent architects to our cities?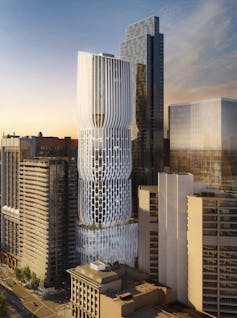 As for the issue of rejected or half-finished designs, we can look to the posthumous careers of other internationally renowned architects for some indication.
Before Spanish architect Enric Miralles died suddenly in 2000 at the age of 45, he was working on the new Scottish Parliament building. A political and media storm was raging around ongoing issues of the design and construction.
After his death the project was completed by partner firm RMJM – though it continued to be marred with problems – and ultimately won the coveted RIBA Stirling Prize in 2005.
Frank Lloyd Wright, one of the original "starchitects", continues to have designs built or proposed in his name despite having died in 1959.
Said to have left around 500 incomplete or unrealised designs, Wright's work is carefully managed by the Frank Lloyd Wright Foundation. In 2005, a residential design originally drawn up by Wright in 1950 was completed on an island in Lake Mahopac, New York, for a new client.
In late 2014 a request to construct a 1947 Wright design (originally intended for a site in California) was overturned by regional planners in the UK.
In a 2006 Guardian article, This is his finest work, Steve Rose suggested that some of the resistance to new Wright designs may come from the owners of existing Wright houses who,
have a vested interest in preventing 'new' Wright houses coming on the market.
This reveals another side of the celebrity architecture/iconic structure phenomenon.
As demand remains high and the supply of Hadid's designs dwindle, will we see a similar rivalry emerge between those who have Hadids, those who could have them if only the planning approvals could be passed, and those who want them enough to spend years negotiating with her beneficiaries to secure the rights?