Tasmania's Labor-Green minority state government is in deep political trouble. Five months out from an anticipated March state election, the government is not waving but drowning.
Labor has been in power since 1998 and the minority government was formed after the 2010 election. However, recent polling indicates that the Labor-Green alliance looks likely to suffer a similar fate to the Rudd-Gillard minority federal government: a significant defeat and the election of a majority Liberal government. A ReachTEL Mercury poll of more than 2,700 voters conducted on October 31 indicated a statewide vote for the Liberal Party of 49.2%, with Labor on 23.2% and the Greens on 14.8%.
This would translate into 13-14 seats for the Liberals, 7-8 for Labor and 3-4 for the Greens in Tasmania's 25 seat House of Assembly. The ReachTEL Mercury poll broadly mirrors the outcomes of polls conducted over the past 18 months. However, this poll has higher voter support for the Greens than most of the preceding polls.
Tasmania's Hare Clark proportional voting system with multi-member electorates (five members for five electorates) cushions the gravity of a crushing loss in the 25-seat House of Assembly. But there are few pundits in Tasmania anticipating anything other than a win for the Will Hodgman-led Liberal Party.
If you believe the saying that governments lose elections and opposition parties don't win them, what has happened to the Labor-Green minority government in Tasmania since 2010? The alliance was formed on less-than-solid foundations in 2010. Labor suffered a 12% swing against it and the Liberals prematurely claimed victory, only to see Tasmanian governor Peter Underwood endorse the Labor incumbents' opportunity to secure government in a parliament where Labor and the Liberals both had ten seats and the Greens had five.
Premier David Bartlett secured a deal with Greens leader Nick McKim that included the Greens securing two Cabinet seats – but with limitations to collective responsibility, the Greens ministers could abstain on some deliberations. There was no formal minority government agreement and when David Bartlett left parliament in 2011 for family reasons, Lara Giddings became premier and inherited the deal.
A stagnating economy with high unemployment has generated a broad sense of despair. Many Tasmanians feel that this government's progressive policy priorities - euthanasia, same-sex marriage, animal welfare and removal of plastic bags from supermarkets – are misplaced.
Labor's powerbrokers have raised a number of concerns five months out from an election. Among these is the impact minority government with the Greens is having on perceptions of Labor's "core values" and its capacity to win the Tasmanian election. State Labor MP Brenton Best has repeatedly called for Giddings to resign and be replaced by economic development minister David O'Byrne.
Giddings and deputy premier Bryan Green have also been hauled before the Labor Party's administrative committee and asked to break the alliance and restore Labor's core value credentials to avoid an election wipeout.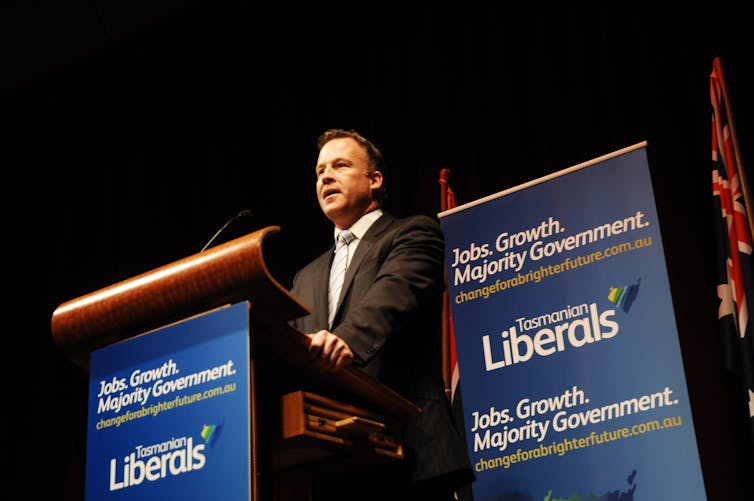 However, Labor's angst needs a reality check. Labor can't sack its Greens Cabinet ministers because this would destroy the stability promise of the minority government. The House of Assembly will rise on November 22 and this government needs to deliver stability until the election is called. The election campaign will allow Labor to promote its own spokespeople in education and human services, the two portfolios allocated to the Greens.
Labor can't "save the furniture" by replacing Giddings with O'Byrne, in the same way the federal arm of the party arguably did by replacing Julia Gillard with Kevin Rudd. O'Byrne is simply too smart a politician to realise his ambition of Labor leadership with an honourable defeat. At present, O'Byrne will have enough to do merely to retain his seat in Franklin, where he is in a contest with Giddings to retain - in a worst case scenario - Labor's only seat.
Labor received a significant opportunity late last week to reclaim its political turf and distance itself from its Green minority government partners. The receivers of collapsed timber company Gunns opened an expression of interest process for the company's significant softwood and hardwood plantation resources, freehold land, a pulp mill site at Long Reach on the Tamar Estuary and the permits for its construction. The expression of interest period closes at Christmas.
The speculation that there are genuine international investment interests in the assets and pulp mill permits - that could be sold for a relative "song" - has revived the political opposition to the project. This is largely led by the Greens and environment groups in Tasmania, long opposed to the original project, its assessment process, and site.
Labor and the Liberals continue to support the project. The timing of this announcement and the timelines for potential investment - running in parallel with a state election campaign - will give all political parties a significant opportunity to put their "core values" to the only contest that matters: what Tasmanian voters really think.