President Donald Trump is leading an assault on family planning around the world.
Most recently, his administration cut off U.S. contributions to the United Nations Population Fund, which provides and funds reproductive health services in poor countries. That follows his reinstatement of what's known as the "global gag rule," the executive order enacted by all Republican presidents since Ronald Reagan barring foreign nongovernmental organizations (NGOs) that receive U.S. funding from even mentioning abortion.
But Trump wants to go even further than his GOP predecessors by slashing spending on global health efforts funded through the United States Agency for International Development (USAID). Deeper family planning retrenchment would, however, put millions of lives at risk.
US family planning assistance
Trump's proposed 28 percent cut to the foreign aid and diplomacy budget could translate into a US$175 million reduction in USAID's family planning spending from 2015 levels.
---
---
The magnitude of these cuts pales in comparison with the nation's $4 trillion budget and the administration's overall plan to reduce non-military spending by $54 billion. But the potential impact on the lives of women, children and men in developing countries outweighs their monetary value.
Rolling back U.S. support for family planning in developing countries is dangerous for two main reasons. First, contraception saves lives by limiting the total number of pregnancies, including those endangering mothers' lives. Second, as I explain in my book, "Intimate Interventions in Global Health," past U.S. funding for family planning had an unintended upside: it helped form the backbone of many countries' early HIV-prevention efforts and created organizations that remain central to the response to HIV.
The U.S. government has identified 24 priority countries for family planning assistance, including 16 in sub-Saharan Africa. In these countries, on average only half of women who wish to avoid pregnancy are using modern contraception. That means U.S. funding can go a long way toward helping these women have the number of children they desire.
Contraception saves lives and strengthens health systems
Contraception lets women and men exercise reproductive freedom and averts maternal and infant deaths. According to the Guttmacher Institute, which researches sexual and reproductive health, U.S. foreign assistance for family planning in 2016 funded contraceptive services for 27 million girls, women and couples, helping avert 6 million pregnancies and 11,000 maternal deaths.
Fewer unintended pregnancies also means fewer maternal deaths due to unsafe abortion. Sub-Saharan Africa has both the world's highest fertility rate and the least access to safe abortion. U.S. family planning assistance in 2016 helped prevent 2 million unsafe abortions resulting from unplanned pregnancies.
For the 22 priority nations with good data, the fertility rates average 4.5 children per woman, ranging from 2.3 in Bangladesh and India to 6.6 in the Democratic Republic of the Congo. In comparison, the U.S. total fertility rate is 1.9 children per woman.
---
---
Designed to slow global population growth and encourage socioeconomic development, U.S. spending on family planning in sub-Saharan Africa in the 1980s also yielded benefits beyond family planning.
Specifically, U.S.-supported family planning organizations became the first responders when the HIV epidemic emerged. For example, to promote contraception, a group of Nigerian medical professionals founded the Society for Family Health in Nigeria in 1985 in partnership with PSI, a U.S. nonprofit previously known as Population Services International that gets government funding.
In the 1990s, the HIV epidemic took off in Nigeria amid political chaos and government denial of the disease. As one of the main sources for condoms, the Society for Family Health helped prevent the spread of the as-yet untreatable virus. It remains both a key player in the response to HIV and a major recipient of U.S. global health funding. Similar results were echoed across Africa.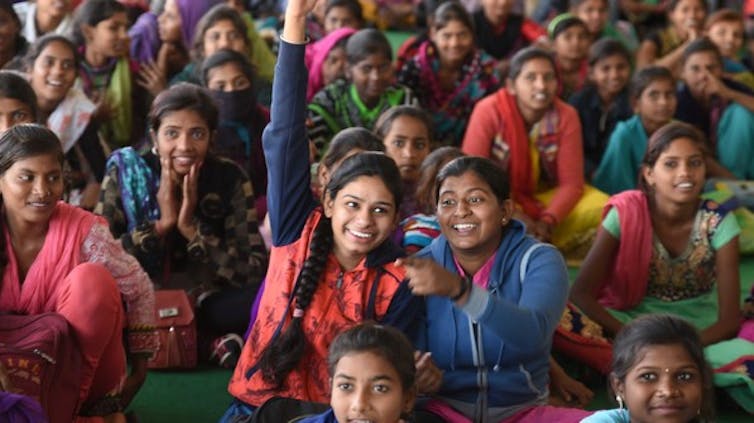 In "Intimate Interventions in Global Health," I also detail how U.S. family planning helped build infrastructure for women's health research in Senegal that became useful for the fight to stop HIV's spread. Key researchers working at the Social Hygiene Institute, including Senegalese doctors Soulemayne Mboup and Ibrahim Ndoye, argued in the 1980s that effectively running family planning programs required comprehensive knowledge of sexually transmitted infections among women. USAID agreed and invested in laboratory capacity, which ultimately supported Senegal's successful response to the epidemic.
What to expect once the US cuts global health spending
For sure, the impact of the U.S. government's cessation of United Nations Population Fund support will be largely symbolic. In 2015, Washington's $76 million contribution amounted to about 7.5 percent of the global agency's $993 million budget.
Previously, when the U.S. has refused to support the global agency, other countries stepped in to fill the gap. It's unclear whether other countries or additional funders, like the Bill and Melinda Gates Foundation, would be willing to do so if Congress embraces Trump's broader proposed cuts to global health assistance. (The Gates Foundation spent $144 million on family planning in 2015, slightly less than a quarter of what USAID spent on family planning that year.)
Family planning funding alone could not stop HIV from infecting the 1.2 million Americans living with the virus that causes AIDS, but it did help slow the virus's spread in sub-Saharan Africa, particularly when governments widely denied the need to make treatment and prevention high priorities.
Cutting U.S. funding for global health efforts, including family planning, would leave the poorest countries ill-prepared for epidemics, pandemics and other emerging health threats – including the kinds that easily cross borders. This negligible budgetary savings will ultimately cost rich and poor nations in the future.