Welcome to Beating Around the Bush, a series that profiles native plants. Read more about the series here or get in touch to pitch a plant at batb@theconversation.edu.au.
---
There's a tree that once covered the whole of Australia, then dwindled to a dozen examples, and is now spread around the world. We call it the Wollemi pine (Wollemia nobilis), but you could call it the dinosaur tree.
Fossil evidence indicates that between 200 million and 100 million years ago, Wollemi pine was present across all of Australia. A dryer, more flammable continent is likely to have driven the tree to near extinction over the millennia, leaving just a very small remnant of the Wollemi in a secluded deep gully not far from Sydney.
---
Read more: Where the old things are: Australia's most ancient trees
---
And there these trees remained, hidden, until they were discovered by a canyoning national park worker in 1994.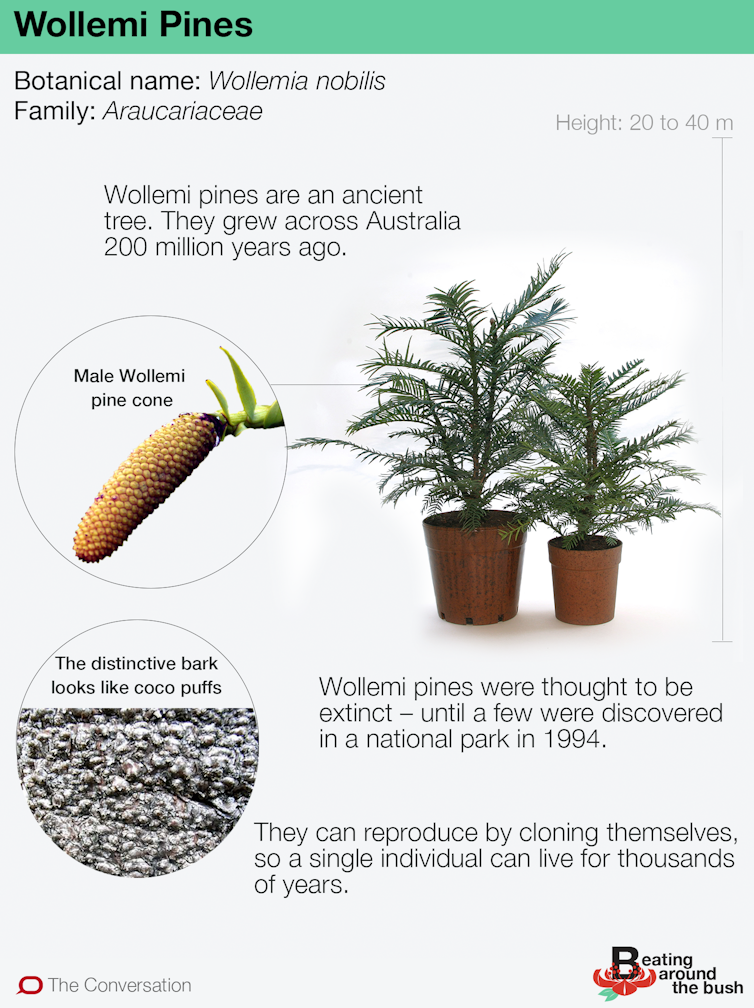 A spectacular discovery
The reaction to the discovery of this tree, thought to have disappeared 100 million years ago and only known through its fossils, was spectacular. Great secrecy was maintained around the site of the find. Because there were so few, the individual trees in the gorge were given their own names to celebrate their importance and acknowledge the efforts of those trying to protect them.
Scientists, arborists and botanists swung into action to discover ways to propagate more trees and establish other colonies of the Wollemi as insurance against that single refuge being lost.
---
Read more: Sandpaper figs make food, fire, medicine and a cosy home for wasps
---
There was a great sigh of relief when it was discovered that trees could be successfully cloned. New trees were potted up in the Sydney and Mount Annan Botanic Gardens. The interest in these original cloned offspring was so great that they were auctioned by Sotheby's, with the profits going back to support more research into this little-known living fossil.
Students and staff from my school at the Australian National University pooled together to bid for a clone of the Wollemi, christened the "John Banks" – named for our colleague Dr John C.G. Banks, who was one of the first researchers to describe the tree's dendrology. We planted our tree in memory of John, with a cage around it because it was so rare and valuable.
Sent around the world
In 2006, just over a decade after the original discovery, huge numbers of cloned Wollemi pine seedlings were released from the official nursery in Queensland.
Every major nursery in Australia stocked potted Wollemi pines for sale to a public who were keen to own a piece of ancient life and help ensure it didn't go extinct. Enthusiasts around the world also bought their own dinosaur trees.
But it's not just gardeners who have spread the Wollemi back to all corners of Australia and across the seas. Special Wollemi pines are also in the diplomatic service, having been presented by Australian prime ministers and foreign affairs ministers to various dignitaries.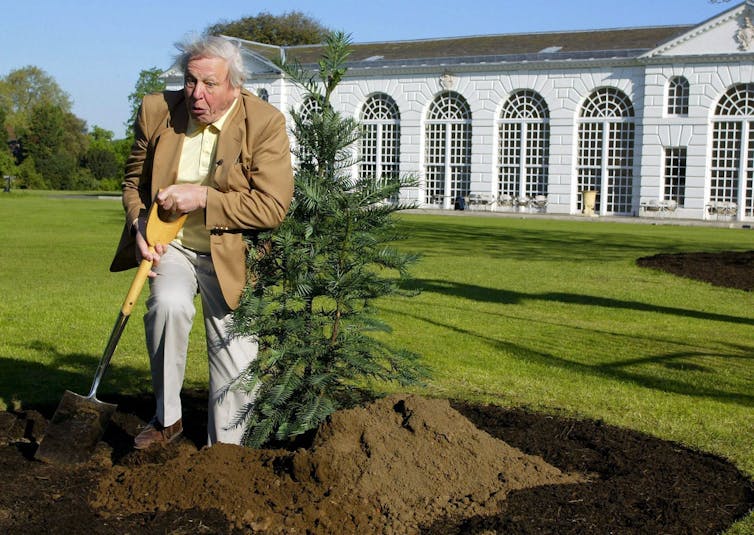 Seedlings are an obvious choice to represent long-term friendship and trust, as the act of planting a tree is one of hope for the future and a common good. A seedling that can trace its history back more than 100 million years, and which represents the reversal of an extinction, is even better.
Wollemi were thought to be extinct long before humans arrived in Australia, so there is no opportunity for humans to have used it in any specific way. However, ancient species may have properties or traits that are no longer present in evolved plants and these may be useful. For example, extracts from Wollemi pine leaves have been found to be successful in inhibiting a pest that affects winter wheat production – which may help control an expensive problem without herbicides.
Scientists found that extracts from the leaves of the Wollemi contained chemicals that had never previously been described and which suppressed annual ryegrass (Lolium rigidum). The ryegrass, like many modern weeds, has evolved in the absence of Wollemi and thus was unlikely to have developed resistance to its chemistry.
How does it grow?
Little was known about Wollemi pines when the remnant was found. We knew the conditions of the gorge where they grew, but not whether these were optimal. Could the tree survive in hotter or cooler, drier or wetter, more clay or gravelly soils?
We now know from planting experience outside the national park that Wollemi pines can grow on exposed rock slopes, surviving frost and temperatures lower than -5℃ with the help of a waxy coat it puts on top of its growing buds. They can also survive heat greater than 45℃ in full sun.
Some Wollemi pines have been known to happily sit in small pots on verandas or decks, growing to over 3 metres – only to die within weeks of being transplanted into carefully prepared holes. They can be slow-growing, but given good light and moisture they can grow more than 50cm per year. Horticulturalists and the Sydney Royal Botanic Gardens continue to work on finding the best ways of tending these pines.
---
Read more: Bunya pines are ancient, delicious and possibly deadly
---
Wollemi pines, unlike their nearest neighbours in the Araucariaceae, can also produce coppice or epicormic shoots in response to drought or fire. It is likely that this ability is responsible for the survival of the original remnants in the national park, with new upper stems regenerating from below-ground stocks century after century.
A potential issue with clonal reproduction is the lack of genetic diversity, which could make the pines susceptible to further environmental changes or pests. However, many trees are maturing and producing viable seeds, and there is certainly diversity in the phenology with some Wollemi of the same age producing female cones, some male cones (and some both).
---
Read more: Mountain ash has a regal presence: the tallest flowering plant in the world
---
Despite the ability to survive cold and heat and even recover from damage using epicormics, Wollemi pines may not make ideal street trees, as the branches on the trunk shed relatively quickly. City residents regularly complain about trees shedding leaves, bark or branches. But in the right place in a backyard – with low frost intensity, warm summers and enough moisture – you can grow your very own dinosaur tree.