With the FIFA Women's World Cup barely underway, it has already made history. The 53,000 spectators who turned up to see hosts Canada defeat China 1-0 on June 6 was a record attendance for a football match on Canadian soil – and surpassed the organisers' already high expectations. The final on July 5 in Vancouver has been sold out since April. Overall, more than 900,000 tickets have been pre-sold for the 52-game tournament, with prices ranging from C$22 to C$165 (£12 to £87).
This builds on what we saw at the London Olympics three years ago. As many as 70,584 spectators saw Team GB beat Brazil at Wembley, while the 80,203-strong crowd at the final between the US and Japan set a new attendance record for an Olympic women's football final. No doubt about it, large numbers of people are now interested in women's football and will pay to see the world's best players in action.
Playing for a cuppa
Having played elite-level football at national and international level over the last 20 years, I have experienced the rocky road towards greater gender equality first hand. The crowd sizes are signs of tremendous and hard-fought progress. I vividly remember some of my German teammates reminiscing about the tea service they received from the German football association for winning the European Championships in 1989 (two years before the first official Women's World Cup). Had Germany won the 2011 World Cup, the prize money would have been €60,000 per player – a significant increase, even if it pales in comparison to top male footballers' weekly salaries.
Women's football has been described as the fastest-growing sport on the planet. The number of teams competing in this year's tournament has increased from 16 to 24. Goal-line technology, introduced by FIFA to its flagship men's competition in 2012, is being used for the first time in the women's tournament. FIFA's broadcast production arm has promised the "biggest and most advanced broadcast production for a women's football tournament". And for the first time, all games are being covered by the BBC in the UK, Fox Sports in the US and SBS in Australia.
The sport has even entered the world of video gaming. FIFA 16, to be released in September this year, will feature a number of female players and teams (a move, it should be mentioned, that has been greeted with expressions of misogynist outrage by parts of the gaming community).
Resistance to progress
Despite all these positives, progress is often inconsistent, erratic and frequently met with fierce resistance by those keen to protect the male-dominated status quo. Here in Scotland, we have seen a number of dismissive newspaper articles in recent years. One suggested that the Scottish FA's £1.2m financial investment in women's football wasn't "justified", because women just didn't perform well enough and were taking money away from the men's game – a surprising argument considering the women's team was ranked 11th in Europe at the time, while the men's national team was ranked 29th (on a considerably higher budget).
A similarly derogatory article appeared following a European women's qualifier played at Fir Park a couple of years ago. More recently The Scottish Sun published a piece reminding the reader that "women's football will never be popular". This was just after Glasgow City FC had made history as the first Scottish team of either gender to ever reach the quarter finals of the UEFA Champions League (against Paris St-Germain, which they lost 5-0). The women's national team had also reached its highest ever rankings at the time (19th in the world and 11th in Europe).
Gender inequality and sexist attitudes continue to permeate all elements of the game and all levels of its organisational structure. After all, the FIFA president who proposed tighter and more feminine clothing for players in 2004 as a key strategy for improving the profile of the women's game was still in charge of world football's governing body until just a few days ago.
This is also an organisation whose first female executive-committee member, Lydia Nsekera, was appointed as recently as 2013. And other football executive bodies fare little better: Karen Esplund is the only female member of the UEFA executive committee; Heather Rabbats became the first woman on the board of the English FA in 2011; and there are no women on the Scottish FA's board.
Pitch imperfect
One very controversial issue surrounding the Canada World Cup gives another glimpse of the fundamental differences between men's and women's football. The tournament is taking place on artificial grass, which is utterly unthinkable for any elite men's competition. Artificial turf is cheaper and easier to maintain, but players often feel that it changes the nature, flow and overall quality of the game.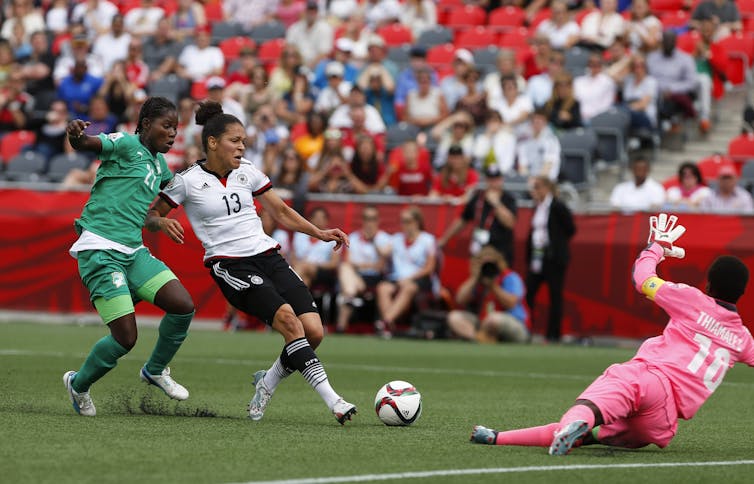 In October 2014 a coalition of 84 players from 13 different countries filed a lawsuit against FIFA and the Canadian Soccer Association claiming that these pitches amounted to gender discrimination. It was was led by some of the most prominent names in the women's game, including US captain Abby Wambach, German goalkeeper Nadine Angerer, Spain's Vero Boquete and French international Camille Abily. Perhaps unsurprisingly, however, it was dropped earlier this year as a number of players withdrew when pressured by their national associations. FIFA's stalling tactics had also meant that the case was unlikely to go to court before the start of the tournament. (The one silver lining: the 2019 tournament in France is to take place on grass.)
In short, women's football remains in a precarious position. Things are progressing, but football remains a largely male-dominated domain. Developments towards gender equality in one area are often accompanied by frustrating setbacks in others. The Canada World Cup gives us much to celebrate, but it is hard to shake the sense that until we see substantive shifts in how football is organised and governed, and how women's football is perceived, we are still a long way from where we need to be.