What the conflict would mean for British art was much debated in World War I – the question was already being asked in journals and newspaper reviews in the latter part of 1914. At the beginning debate was centred on the question of how the it would affect the art world – something compounded when the art market contracted in 1915.
Modern art and avant-garde activities were popular in all European countries when war broke out, including the Futurists in Italy and the Vorticists in London. Some avant-gardists carried on for a while but by and large found their audiences distracted by the much more compelling and shocking nature of the conflict.
Many younger artists, precisely those active in the avant-garde, either volunteered or were called up. Some lost their lives. In general terms, fewer artists than war poets died in the war because on average they were older than the poets and so less likely to serve in the most dangerous places. But some outstanding names perished: the French sculptor Henri Gaudier-Brzeska; the German expressionist artists Franz Marc and August Macke; and the Italian futurist sculptor and painter Umberto Boccioni. Of course, of the numbers who might have gone to art school and become artists but instead served in the war and never returned, we will never know.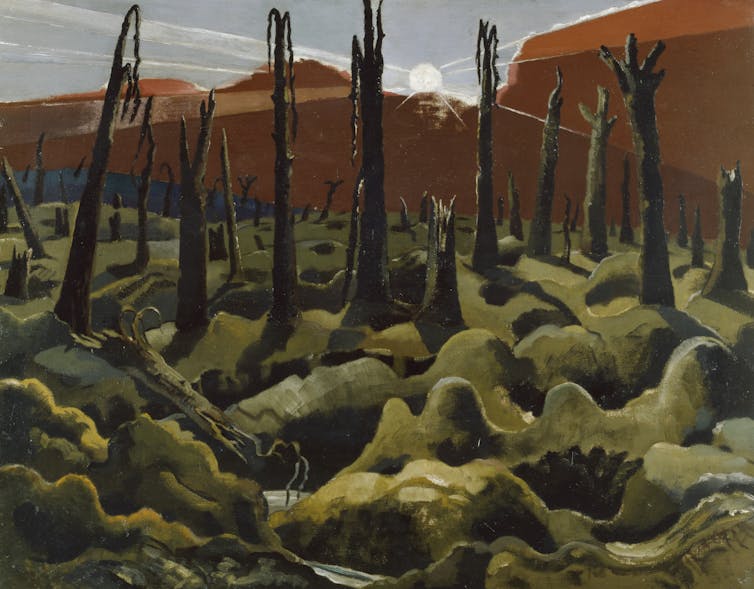 But by 1916, the question was no longer one of what the war meant for art, but what art could contribute towards the war. Britain and Canada, for example, had schemes for employing official war artists. These emphasised younger painters with direct experience of war service – the soldier-artists. Many of the most important paintings in these schemes were commissioned as memorials to the war, or history paintings.
To some extent these schemes rescued artists from the war. If they had not returned from the front line to make official art, the chances of artists such as Paul Nash or Wyndham Lewis surviving would have been sharply reduced. Official employment got them out of the firing line.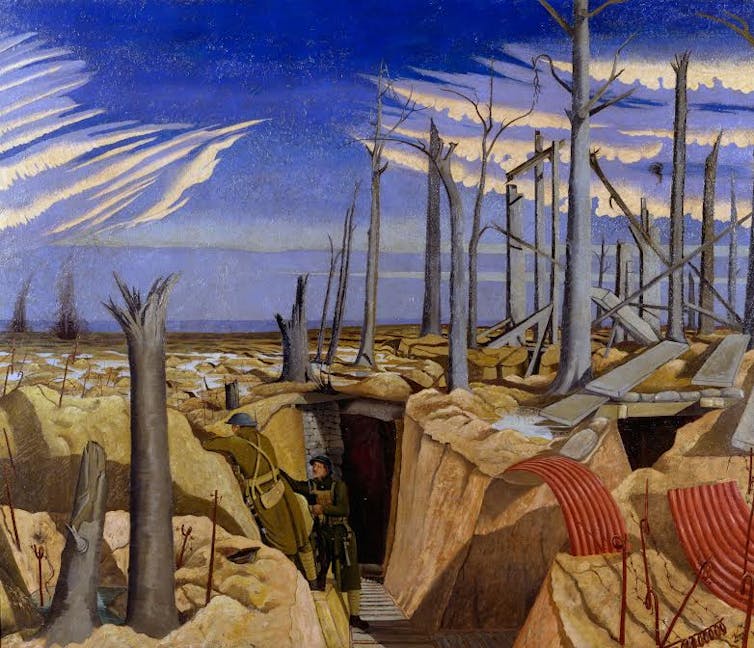 Nash, for example, came of age as a painter through his official employment. William Roberts produced striking and acerbic drawings through his full-time employment as an official artist from early 1918. But official schemes also put artists under tremendous pressure to provide insights into what the war was like for a home audience. Many of the artists stopped painting war scenes as soon as their official commissions finished, but the job did allow many to re-establish themselves as artists.
There was one exception. Stanley Spencer's decorations for Sandham Memorial Chapel Burghclere were completed between 1927 and 1932. Although the genesis for the decorations is present in drawings and paintings Spencer made at the end of the war, it was a decade before the experience crystallised into this compelling series of works. He later described his war experiences as a disruption to his development as an artist and as a loss of innocence.
But Spencer's paintings at Burghclere, culminating in the great Resurrection of the Soldiers on the altar wall, are some of the most significant works to come out of the Great War and an attempt to redeem that loss of innocence.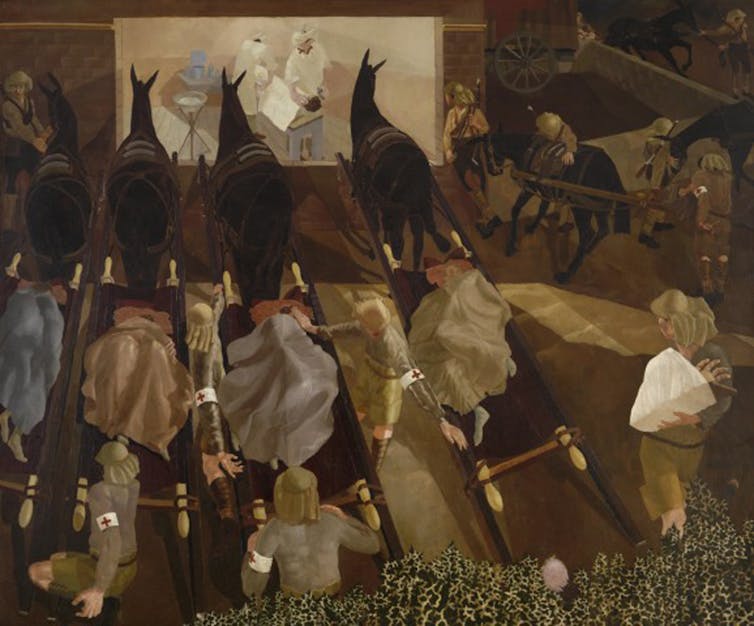 After the war, modern art took off in contradictory and complex directions. From some quarters there was a call to a return to order, a cult of classical forms and references. This could be interpreted as a consequence of the war, but equally could just be a matter of artists becoming more established. On the other hand there were new art movements that aligned themselves with anti-war protest and social revolution: Dada among them.
Of course the war disrupted the art world as it did all aspects of civilian life. Many artists served on the front line and some were politicised as a result of their war experiences. War experiences affected different artists in different ways leading some to align themselves with right-wing causes, while others were active on the left. Just as we can never know how many soldiers might have become artists if they had not served, we will never be able to fully account for the war's effect on art.