No-one should be surprised that Thailand's former prime minister, Yingluck Shinawatra, has been impeached by the military-appointed National Legislative Assembly. This was one more act in a political tragedy in which elected politicians have been repeatedly defeated by the military and judiciary.
Despite rumours of a behind-the-scenes "deal" being done, when the assembly voted it was almost unanimous in impeaching Yingluck and banning her from politics for five years last week. These events were scripted, directed and produced by the military junta. Perhaps the only surprise was that Yingluck defended herself, her government and electoral democracy.
The impeachment was a show trial. An unelected assembly, packed with generals and Yingluck's political opponents, threw out an elected politician who had already been sacked by the Constitutional Court before the May 2014 coup. That putsch – itself illegal – ejected the elected government, scrapped the 2007 constitution and set its own rules to retroactively impeach Yingluck from a position she no longer held.
The allegations against Yingluck were vague. They asserted dereliction of duty in overseeing a rice subsidy scheme, causing 500 billion baht in damages to the economy, mismanagement and corruption. Little convincing evidence was presented.
The rice subsidy scheme was part of her Pheu Thai Party's election platform when it won a landslide election victory in 2011. Thai governments have long intervened in the rice trade. The scheme Pheu Thai promoted was a variant of a policy begun more than 30 years ago.
The policy was changed substantially in 2001 by Thaksin, Yingluck's brother, after he was elected. Yingluck's scheme was meant to move state funds to farmers to reduce poverty and stimulate consumption. Yingluck's scheme was expensive but also politically popular.
But none of this matters much in a political landscape of division that sometimes resulted in violence. The failures of the scheme were simply an excuse for another political execution.
Not unlike her brother's situation when he was ousted by a coup in 2006, it was Yingluck's electoral popularity that brought her downfall. Thailand's political elite is suspicious of elected politicians and fears that "populist" policies threaten its social, economic and political control.
Often referred to as a royalist elite because of its allegiance to the monarchy and the support it has from palace figures, its actions have expunged three elected administrations since 2006. In that period, there have been two military coups, five prime ministers removed by the military or judiciary, and more than 200 pro-Thaksin politicians banned.
On top of these attacks on electoral democracy, hundreds of red shirts, Thaksin supporters and democracy advocates have been jailed. More than 100 people have been killed in political violence, mostly perpetrated by the military.
Having regained total control in May 2014 and ruling with an iron fist, the obvious question is why the military feels it must punish Yingluck. There are several reasons.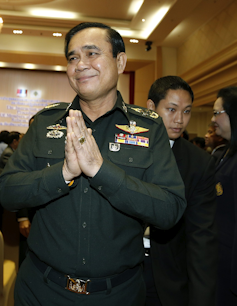 First, the junta is confident that it has broken the opposition associated with the Pheu Thai Party and the red shirt movement. Second, the junta is reasserting its anti-Thaksin credentials with the royalist street movement that paved the way for the coup and which has representatives in the assembly and other appointed bodies.
Third, and related, it wants no opposition as it crafts a new constitution that will alter the political rules to prevent any popular political party winning any national poll. Finally, the military wants to continue to steer political developments. There's a good chance that the coup leader, General Prayuth Chan-ocha, will stay on as prime minister after elections.
The punishment is not over for Yingluck. The attorney-general's office has brought charges against her that could mean ten years in jail. Other courts are processing charges against several senior members of her party, including two former prime ministers.
Such actions are meant to silence critics and neuter the Pheu Thai Party. Extensive purges in all government agencies have removed officials deemed sympathetic to Pheu Thai, replacing them with political allies, many from the military.
When street protests sought to bring down Yingluck in early 2014, a complaint made of the military was that, following the 2006 coup, it did not demolish the "Thaksin regime", allowing pro-Thaksin parties to win elections in 2007 and 2011. The junta is making sure that doesn't happen again.
The junta hopes that the final act in this political drama will be an election where the result will at least be a royalist and pro-military government and more likely a military-dominated one.
Whatever the outcome, it won't be a democratic regime.